It was a rough holiday season for Express Inc. (NYSE:EXPR) as promotions hit hard. This Zacks Rank #5 (Strong Sell) also disappointed the Street when it guided lower for the first quarter of 2014.
Express operates 630 men's and women's specialty apparel stores targeting 20 to 30 year olds in high-traffic shopping malls, urban neighborhoods and lifestyle centers.
Too Many Promotions Over the Holidays
On Mar 12, Express reported its fiscal fourth quarter and full year results and missed the Zacks Consensus for the second quarter in row. Earnings were $0.57 versus the Zacks Consensus of $0.59.
Heavier than planned promotions impacted both top-line and margins.
Same-store sales rose 1% while e-commerce was a bright spot, gaining 14% to $138.8 million.
Gross margin, however, fell 300 basis points year over year to 32%. In a positive development, inventories were lean ending the quarter and heading into spring.
First Quarter Guidance Disappoints
While the holiday quarter was rough, fiscal 2014 started out with more of the same. Traffic was down "significantly", although the company didn't go so far as to blame the weather. Comparable sales were negative and the promotional environment remained intense.
Express guided the quarter in the range of $0.12 to $0.18. This was significantly under the Zacks Consensus of $0.46.
In response, the analysts moved to cut estimates, with 4 estimates being lowered in the last 30 days. The first quarter Zacks Consensus Estimate fell to $0.15.
8 estimates were also cut for the full year, as the fiscal 2014 Zacks Consensus Estimate dropped to $1.16 from $1.59 in the last 30 days.
Earnings are expected to decline 15% in fiscal 2014.
Shares Hit a 1-Year Low
Shares sold off big on the earnings report and hit a new 52-week low.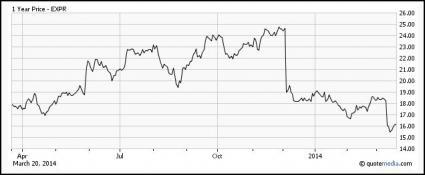 Express is trading with a forward P/E of just 13.8 which is under the average of the S&P 500 at 16.5. The price-to-sales ratio is also just 0.6. A P/S under 1.0 usually indicates value.
Shares are looking cheap here but with the highly promotional environment continuing into the new year, and weather continuing to play havoc with consumers far longer than anticipated, it could be awhile until the earnings picture turns around.
If you don't want to wait for the turn around and still want to own a retailer, you might want to consider specialty shoe retailer Foot Locker Inc. (NYSE:FL). It is a Zacks Rank #2 (Buy) and is expected to grow earnings by 10% in fiscal 2014.