DryShips, Inc. (NASDAQ:DRYS) is a company which provides mostly water-based transportation for all kinds of cargo. From DryShips' website:
DryShips Inc. is an owner of drybulk carriers and tankers that operate worldwide.

Through its majority owned subsidiary, Ocean Rig UDW Inc., DryShips owns and operates 10 offshore ultra deepwater drilling units, comprising of 2 ultra deepwater semisubmersible drilling rigs and 8 ultra deepwater drillships, 3 of which remain to be delivered to Ocean Rig during 2013 and 1 during 2015.

DryShips owns a fleet of 42 drybulk carriers (including newbuildings), comprising 10 Capesize, 28 Panamax, 2 Supramax and 2 newbuilding Very Large Ore Carriers (VLOC) with a combined deadweight tonnage of approximately 4.4 million tons, and 10 tankers, comprising 4 Suezmax and 6 Aframax, with a combined deadweight tonnage of over 1.3 million tons
DryShips has traded very well over the last year - yielding 85.4% since bouncing off of a collapse in the dry shipping industry that occurred as a result of the '07-'08 financial crisis. In the last six months, the company's yield has been low, despite a one-time run-up to $5 at the end of 2013.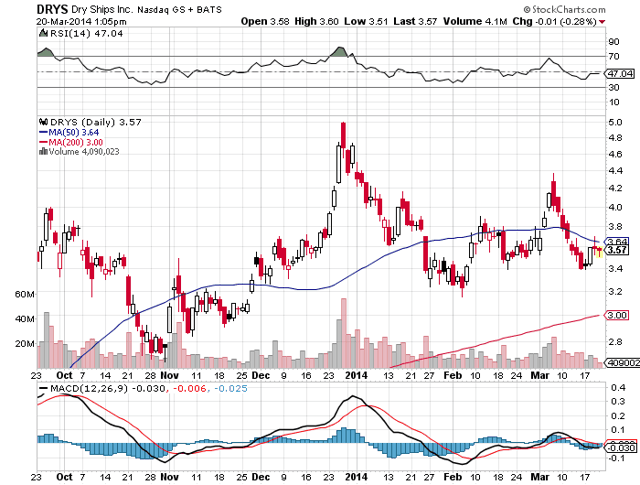 In past articles, the two reasons I had cited for avoiding DryShips were low shipping rates, as well as dilution from a financing that the company had implemented.
My last article, from February 10th, was called "Will I get Bullish on DryShips?" To that question, I answered:
I'm sure that I will, it's when that's the question. I'll give you a hint - it has to do with shipping rates, and right now, shipping rates continue to fall off.
Now, it's looking like we're seeing a consistent turnaround in shipping rates, and that should be enough to give investors a prompting to look at DryShips as an investment again.
Seeking Alpha reported this morning:
Drybulk shipping rates are up big during past five weeks and rose again overnight.
The Baltic Dry Index rose 3.2% overnight and has surged 49% since Feb. 12; the BDI has gained in 24 of the last 26 sessions, led by a 211% rise in capesize rates.
Capesize rates climbed 6.9% (or $1,664/day) overnight to $25,659/day, while panamax rates rose $4/day to $9,019/day and supramax rates added 0.4% ($48/day) to $12,598/day.
It hasn't just been lately, either. Dry shipping rates have been having a good past month, something I've been keeping an eye on. In addition, DRYS hasn't become super-expensive at the same time.
- source Bloomberg)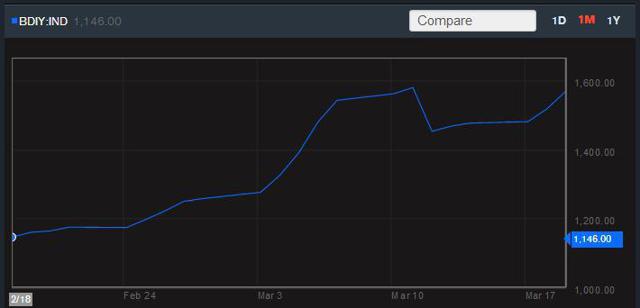 There is newfound dilution for DRYS coming in the form of the company's most recent financing, but with the price still sitting at mid-$3 levels - after breaching $4 in December 2013 - it looks like the price might be right for DryShips here.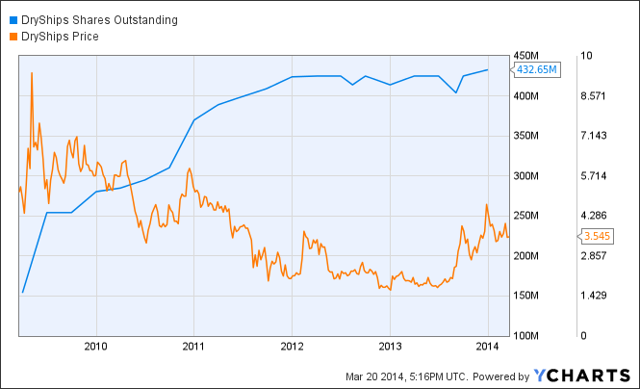 DRYS Shares Outstanding data by YCharts
Other shippers affected by the Baltic Dry Index:
Disclosure: I have no positions in any stocks mentioned, and no plans to initiate any positions within the next 72 hours. I wrote this article myself, and it expresses my own opinions. I am not receiving compensation for it (other than from Seeking Alpha). I have no business relationship with any company whose stock is mentioned in this article.