Apple's (NASDAQ:AAPL) content/software/services business is often an overlooked business unit, and for a good reason, given it only accounts for ~8% of Apple's overall revenue. However, I believe that the content distribution business will be a bigger component of Apple's revenue growth and profitability as emerging Asian smartphone makers continue to erode Apple's smartphone market share, and that Apple is forced to generate additional dollar per device to drive revenue growth rather than through device volume.
I estimate that the content distribution business sports >90% gross margin compared with Apple's corporate average of 37%, and will likely drive Apple's future profitability amid the gradual ASP decline of the smartphone market.
At 12x FY14 P/E, the stock looks expensive given its 6% revenue growth and 8% EPS growth. Dividend yield is not highly attractive at 2.4%. But with US$40b in cash, Apple could use the cash to expand to new product categories (i.e. wearables, home automation), which I believe will be a catalyst for the stock. An additional catalyst could come from a dividend hike to attract yield-oriented investors, in my view.
Hardware is an unsustainable profit model
Apple currently generates profits mostly from the sale of its hardware products, such as mobile devices, PCs and NB. Mobile devices (i.e. iPhone and iPad) account for 76% of total revenue.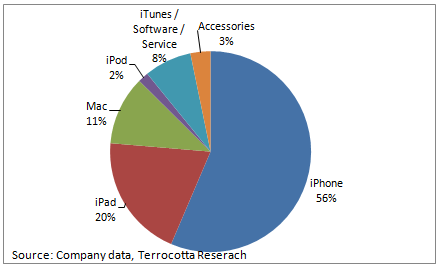 The iPhone competes in an increasingly mature and penetrated high-end smartphone segment that is witnessing decelerating growth due to a slower replacement cycle.
On top of that, competition is heating up from the emerging Asian players that introduce devices with high-end specifications at cost or at significantly lower price points to erode Apple's previously dominant position in the smartphone market. We note that since 4Q11, Apple's market share has been on a downward path (along with Samsung), while the Chinese players have been gradually expanding their market share.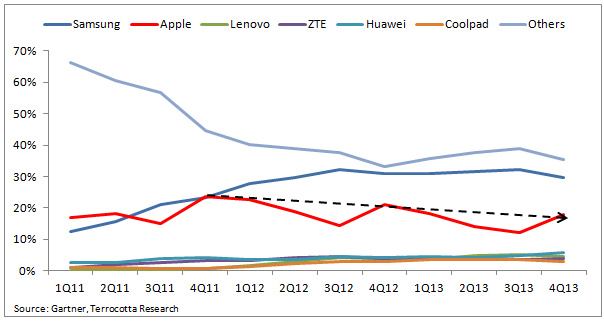 The competitive threat from the emerging market players is coming from both the established players (i.e. Lenovo) and emerging Chinese branded players (i.e. Xiaomi), as well as Indian players (i.e. Karbonn). I note that Apple's hardware specs cannot stack up against the emerging Asian players, even when we use its latest flagship iPhone 5S as a comparable. When the emerging players have already migrated toward higher-resolution display, bigger pixel cameras and faster processors, Apple's iPhone 5S is still lags behind in speed, display and camera.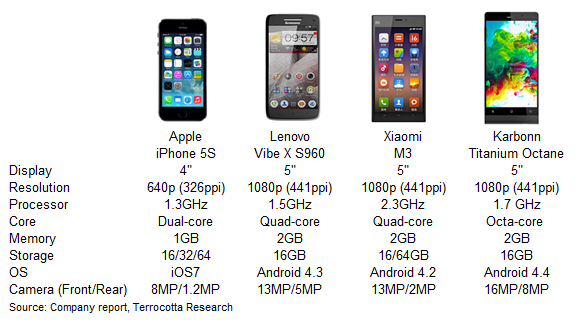 As these emerging players introduce handsets that are competitive to the iPhone, ASP erosion is likely to continue in the near term. I note that ASP in North America is expected to decline at 8% CAGR from 2011 to 2016, according to iSuppli data. North America ASP is expected to decline only at 0.6%, mainly because of less competition and carriers' control over handset distribution.

However, it is worth noting that over 50% of Apple's revenue comes from outside of North America and its retail locations, so ASP erosion in Asia, Europe and Latin America will have a negative impact on Apple's revenue and margins, in my view.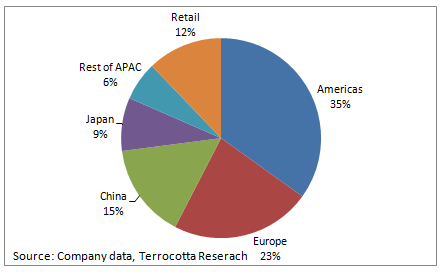 Content strength to offset hardware weakness
I believe that in order to offset the inevitable ASP decline and margin erosion due to the competitive smartphone market, Apple should focus on expanding its content distribution business so it could maintain, or expand, its margin profile and profitability.
I see Apple as a key beneficiary of the app evolution due to its robust ecosystem, content depth and breadth, strong relationships with app developers and first-mover advantage.
Apple's iTunes/Software/Service revenue consists of iTunes content (ie. music, movies, TV, books, apps), software (both Apple and third-party software) and Apple services (i.e. Apple Care, Google Search). The make-up of content revenue is a combination of gross billing and net billing.
For iTunes content, excluding apps (i.e. music, movies, TV, books), Apple recognizes them on a gross basis, because Apple sets the price after purchasing them at wholesale price and resells them via iTunes.
For apps (i.e. Games, productivity, etc.), Apple recognizes them on a net basis, because the developer sets the price and Apple only receives 30% of the revenue share.
In 1Q14, content sales were 8% of total sale, compared with only 2% in 1Q12. For CY2013, content sale was 10% of total sale, up 200bps from CY2012.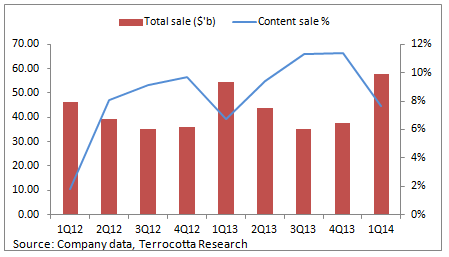 Given that Apple utilizes a content/software ecosystem that it holds control over, users are typically locked onto the platform, which result in high switching cost after the user has invested a considerable amount of time and investment into the content and the ecosystem. Apple's iOS strategy and the mass commercialization of iTunes broadened its addressable market, and the easy-to-use iTunes platform generated strong user traction and drove the popularity of Apple's hardware products from the inception of iPhone to today.
However, I believe that Apple's hardware sales will face significant headwind as iPhone's unique factor gradually wanes amid a maturing high-end smartphone market and increasing competition from Asian competitors. That said, it is critical for Apple to maximize the dollar spend per device to drive content revenue, rather than relying on hardware sale to drive revenue.
According to Gartner, global app store revenue is projected to reach $35b this year, and growing at a 4-year CAGR of 30% from 2013 to 2017, when the market is expected to reach $76b. Apple generated US$16.7b in content revenue in CY2013, implying a 63% market share.

Despite being 17% of total app revenue, in-app purchase is expected to drive the overall app revenue with 68% CAGR from 2013 to 2017, when it is expected to make up to be 48% of total revenue.
In-app purchase revenue is driven by the continued dominance of free apps that derive in-app revenue.

I believe that Apple can leverage its brand, user base and ecosystem to expand its revenue sharing agreement with the developers over in-app purchases when users use the app via Apple's Game Center. For example, players could make in-app purchases via Game Center, and Apple could receive a 30% commission for the purchase (similar when a user purchases an app).
High-margin content to offset declining hardware margin
I expect content to generate more than 90% in gross margin and 70% in operating margin after paying content cost. I note that Qihoo (NYSE:QIHU), a Chinese app distributor, and 91Wireless, the app distribution arm of Baidu (NASDAQ:BIDU), both sport close to 90% gross margin. Because Apple has considerable greater scale than both Qihoo and Baidu, I estimate that Apple could achieve >90% gross margin for its content distribution business, vs. corporate average of 37%.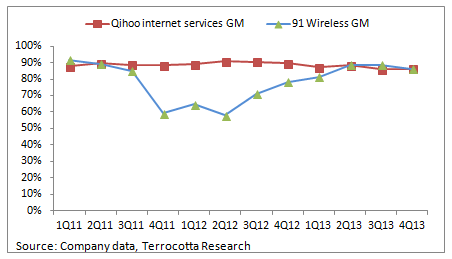 Valuation may be expensive, but new product categories are the catalyst
At 12x FY14E P/E while growing top line by 6% and EPS by 8% may seem expensive, but I am positive on Apple's long-term growth potential as it pursues new product categories (i.e. wearable tech, home automation, in-car automation).
I believe product category expansion and increasing dividend payout are two catalysts that could drive the stock higher.
Given Apple's proven track record of creating new product categories and turning them into multi-billion business (i.e. iPod, iPhone, iPad), I see wearable tech and home automation are two areas which Apple can expand into to drive revenue growth, along with ramping up its content distribution business.
Finally, with US$440b in cash and short-term securities, an increase in dividend payout could attract investors that are looking for long-term yield. The current 2.4% dividend yield can hardly act as a catalyst, in my view.
Disclosure: I have no positions in any stocks mentioned, and no plans to initiate any positions within the next 72 hours. I wrote this article myself, and it expresses my own opinions. I am not receiving compensation for it (other than from Seeking Alpha). I have no business relationship with any company whose stock is mentioned in this article.