When a company raises its dividend, potential income-driven investors tend to be a bit more interested as to what may be going on with that particular company. With that said, I not only wanted to examine W.P. Carey's (NYSE:WPC) most recent dividend increase, but also highlight a number of reasons behind my decision to remain bullish on shares of this particular REIT.
Company Overview
Headquartered in New York, New York, W. P. Carey, Inc., is a leading global net-lease REIT that provides long-term sale-leaseback and build-to-suit financing solutions for companies worldwide. It also acts as the investment manager to a series of income-oriented non-traded REITs. Its corporate finance-focused credit and real estate underwriting process is a constant that has been successfully leveraged across a wide variety of industries and property types. Furthermore, its portfolio of long-term leases with creditworthy tenants has an established history of generating stable cash flows, enabling it to deliver consistent and rising dividend income to investors for over four decades.
W.P. Carey's Latest Dividend Increase
On Thursday, March 20, W.P. Carey announced a quarterly dividend increase of $0.025/share to bring its upcoming dividend payout to $0.895/share. It should be noted that not only does this boost represent a 2.9% increase from its prior dividend of $0.87/share (paid on January 15), but was also 150% higher than its previous increase that was announced on December 12 2013.
The company's forward yield of 5.77% ($3.58), coupled with its ability to continuously increase its quarterly distribution over the last 52 quarters make this particular REIT play a highly considerable option, especially for those who may be in the market for a higher-yielding stream of quarterly income.
Recent Performance & Trend Behavior
On Wednesday, shares of WPC, which currently possess a market cap of $4.24 billion, a forward P/E ratio of 37.84, and an annual distribution yield of 5.77% ($3.58), settled at a price of $62.06/share.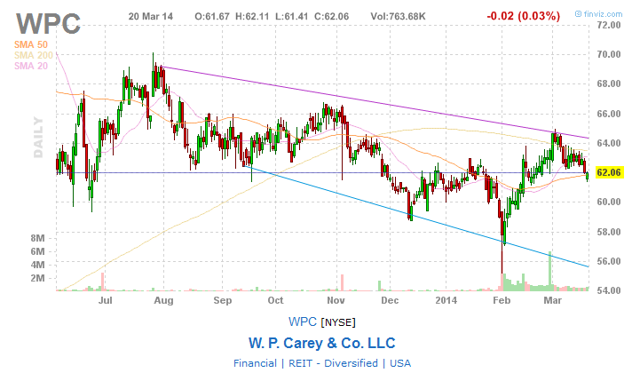 Based on their closing price of $62.06/share, shares of WPC are trading 1.65% below their 20-day simple moving average, 0.30% above their 50-day simple moving average, and 2.37% below their 200-day simple moving average. It should be noted that these numbers indicate a slight short-term, as well as a very moderate mid-to-long term downtrend for the stock, which generally translates into a moderate holding pattern for most near-term traders and long-term investors.
One Comparative To Consider When Looking To Establish A Position In Shares Of WPC
Although the above referenced numbers indicate a long-term holding pattern for the company's stock, I actually think its current trading factor to book value when compared to a number of its peers offers investors a considerable point of entry. For example, as of Thursday's close shares of W.P. Carey were trading just over 2.2x their current book value per share. Whereas, Essex Property Trust (NYSE:ESS) shares were trading at 3.41x their current book value per share of $48.29, and shares of Federal Realty Investment Trust (NYSE:FRT) were trading at 5.09x their current book value per share of $21.80).
Conclusion
For those of you who may be considering a position in W.P. Carey, I strongly recommend keeping a close eye on the company's near-term trend performance, long-term dividend behavior and its ability to continue to enhance shareholder over the next 12-24 months, as each of these factors could play a role in the company's mid-to-long-term growth.
Disclosure: I have no positions in any stocks mentioned, but may initiate a long position in WPC over the next 72 hours. I wrote this article myself, and it expresses my own opinions. I am not receiving compensation for it (other than from Seeking Alpha). I have no business relationship with any company whose stock is mentioned in this article.