By Sumit Roy
Commodity performance was evenly split this week as grains, palladium and WTI outperformed, while Brent, gold and natural gas underperformed. Stocks were on the winning side with a 1.7 percent gain during the week. The S&P 500 is back in positive territory for the year after briefly touching a new intraday record high at 1,884. The index is now up 1.3 percent year-to-date.
Macroeconomic Highlights
The Ukraine-Russia conflict and the Federal Reserve's March monetary policy meeting were far and away the two biggest news stories of the week. On the geopolitical front, Russia officials annexed Crimea. Western powers quickly reacted by placing sanctions on top officials in Russia, while Russia responded with some inconsequential sanctions of its own on various U.S. politicians.
So far, sanctions have been very limited in scope, with no impact on industries or trade. Thus, the impact to the global economy has been minimal.
Meanwhile, the Fed's policy decision on Wednesday was much more consequential from an economic standpoint. The Feds tapered QE by $10 billion, as expected, but surprised markets with a relatively aggressive forecast for interest-rate hikes.
In her testimony following the policy decision, Fed Chair Janet Yellen said the first rate hike could take place about six months after QE ends. On the whole, central bank officials see the benchmark Fed Funds rate rising to at least 1 percent by the end of 2015, indicating there could be a few hikes starting early next year.
Commodity Wrap
| | | |
| --- | --- | --- |
| Commodity | Weekly Return | YTD Return |
| Soybeans | 2.54% | 7.46% |
| Palladium | 2.02% | 10.08% |
| Corn | 1.91% | 13.98% |
| WTI | 1.04% | 1.52% |
| Wheat | 1.01% | 15.37% |
| Copper | -0.66% | -12.06% |
| Brent | -1.21% | -3.19% |
| Platinum | -2.42% | 4.81% |
| Natural Gas | -2.71% | 1.89% |
| Gold | -3.47% | 10.74% |
| Silver | -5.36% | 4.26% |
The relatively hawkish interest-rate forecasts from the Fed sent the U.S. dollar and interest rates higher and gold lower. Some of the geopolitical fear premium connected to the Russia-Ukraine situation also came out of prices, further pushing down the yellow metal (see No War Fear Premium In Gold, Fed Interest Rate Outlook Key).
By Friday, however, gold finally caught a bid. Next week's price action will be crucial. If gold can hold above the $1,330 short-term support level, that will be a bullish sign. Our base case assumption remains that prices will eventually move to the key double-top resistance at $1,425.
GOLD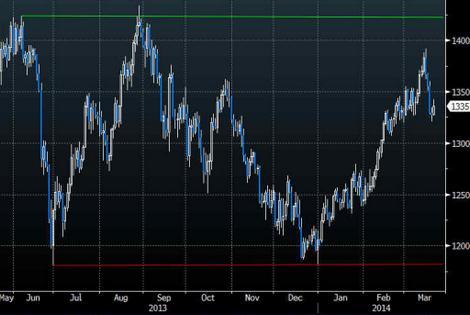 SILVER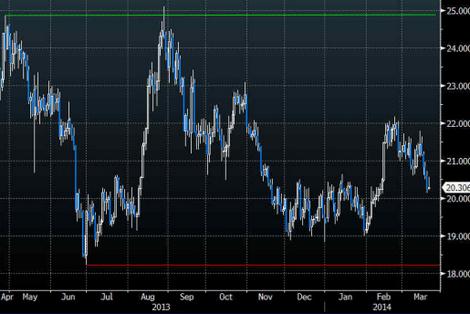 PLATINUM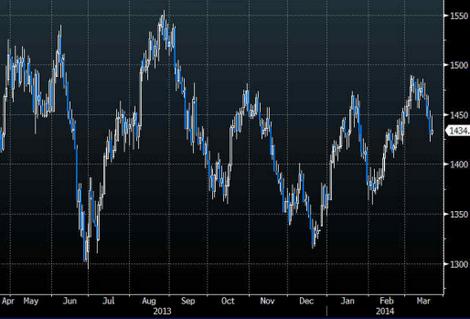 PALLADIUM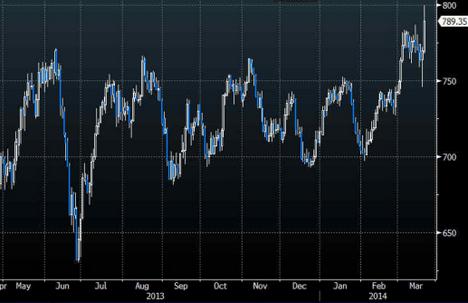 WTI outperformed this week on news that capacity on the Seaway pipeline would be expanded earlier than expected, increasing oil flows from Cushing, Okla., to the Gulf Coast (see WTI Rises With Cushing Glut Gone, But Pipeline Capacity Must Continue To Expand). The spread between WTI and Brent has been holding below $10 despite the upcoming low-demand "shoulder season" in the U.S., a reflection of the infrastructure build-out that has taken place over the past year.
Brent prices slipped this week, but managed to bounce off $105, an important technical level that has supported prices since last August.
BRENT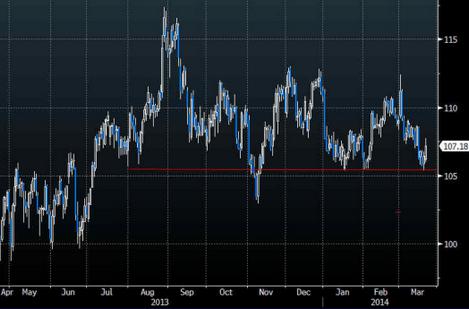 WTI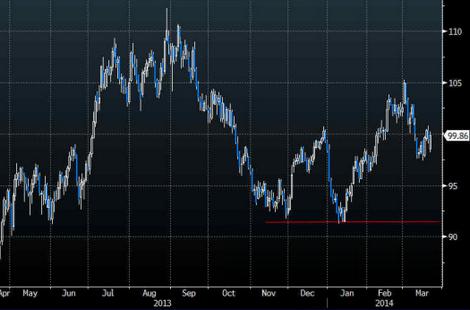 Grains remained at multi-month highs this week on concerns about grain shipments out of Ukraine. In our view, a lot of fear and weather premium are built into prices. Thus, we would not be buyers at these prices.
CORN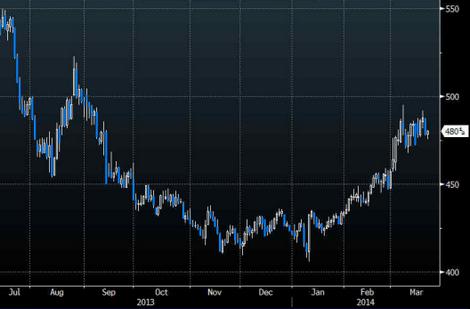 SOYBEANS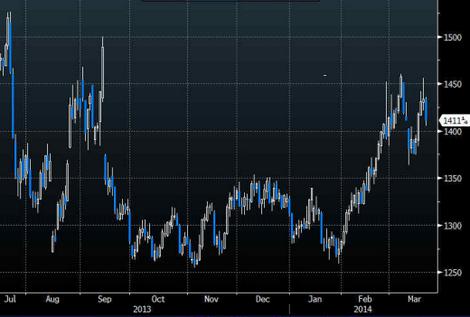 WHEAT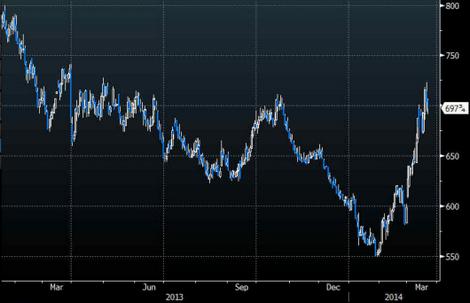 Copper hovered close to 3 ½-year lows near the $3/lb level as traders continued to speculate that Chinese stockpiles of the red metal tied to financing deals could be liquidated. Analysts at Goldman Sachs estimate that up to 1 million metric tons of copper could be sold as these deals are unwound. The risk of a significant downside move in copper is high.
COPPER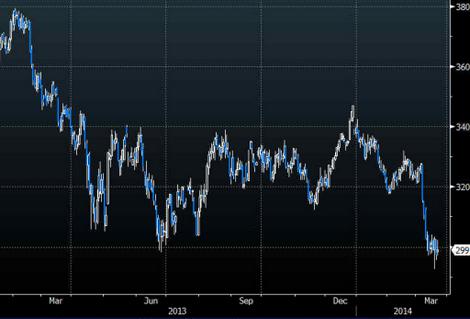 Natural gas slipped to a two-month low as traders looked forward to more moderate spring temperatures in the coming weeks. We are looking for a potential buying opportunity if prices get down toward $4/mmbtu (see NatGas Poised To Slide To $4; That's Good If You're A Buyer).
NATURAL GAS