Amongst one of the famous quotes of Otto von Bismarck is that "the secret of politics is to make a treaty with Russia". Much has been said about the visceral relation between Germany and Russia; while the EU has pushed for sanctions against Russia, it is far from clear that they will follow the American lead in widening the scope. One German company which is front and center in the symbiotic relation between Germany and Russia is German utility company E.On SE (OTCQX:OTCPK:EONGY) (market cap $36 billion). While the P/E hovers around 12, the average year to year return for EONGY barely exceeds 1%, and over the last five years -1.75%. Thus the coming showdown between Russia and the EU is crucial for its survival, since although it has recently pushed into renewables, it still remains heavily dependent on sales of gas and electricity. Its net income declined last year by 3%, although the company consistently pays dividends each year averaging 1.5-1.6 euros (with EPS at 1.12 euros, despite the decline). For these reasons, E.On makes no bones in its annual report that 'Russia remains a special focus interest".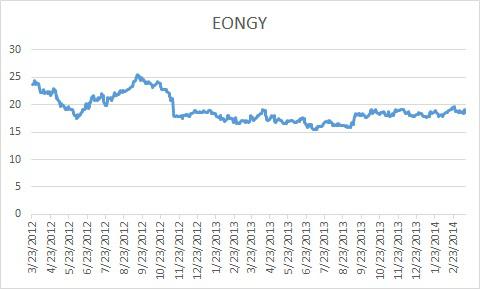 Source: Yahoo Finance
Caught between Russia and renewables. E.On is the seventh largest utility in the world, and the largest in Germany. However, last year, its sales and EBITDA were stagnant all across the board, as the following table shows. The only positive note is in exploration and production, while owned generation declined by 10%. Concurrently natural gas generating capacity declined by 4% overall, while the generating capacity of E.On's Russia unit remained stable. Regarding the EBITDA figures below, the company commented that the strong performance of exploration and production originated from a 48% increase in production from its North Sea fields. The weak results in the non EU countries (primarily Russia) was due to a decline in sales owing to adverse currency translation effects. In other words, E.On's Russian unit remained a significant driver of sales, despite the poor EBITDA performance, and, in particular, represented all of the company's power procurement and sales for non-EU countries. Renewables owned generation was only .6 billion KWh over the prior year. The larger picture from this is that the company is performing a delicate balancing act between its exploration activities in the North Sea, its Canadian venture (more on that below) and its continued dependence on Russia both for procurement and generation. For instance, E.On investments in Russia increased by 25%.
| | | | | |
| --- | --- | --- | --- | --- |
| | Generation | Renewables | Global commodities | Exploration and production |
| EBITDA Change between 2012 and 2013 | -21% | 6% | -75% | 104% |
| | | | |
| --- | --- | --- | --- |
| | Germany | Other EU countries | Non EU countries |
| EBITDA change between 2012 and 2013 | -12% | 7% | -26% |
Source: Company Publication

Push into Canadian LNG not to happen before 2020. E.On has signed a long-term contract for the purchase of 6.5 billion cubic meters of liquefied natural gas (LNG) for delivery for 20 years beginning 2020 from the Goldboro terminal in Nova Scotia. This volume amounts to 7% of Germany's annual natural gas consumption, and could be a significant factor in relieving the utility's dependence on its Siberian Yuzhno-Russkoye gas field (25% stake) and the Nord-Stream gas pipeline. The prices will be determined by spot rates. It should be noted that E.On currently has a 10 to 20 year contract for purchases of gas from Gazprom. Despite all these developments towards relative energy independence, as noted above E.On is expanding its presence in Russia.
High dividend payout ratios trump uncertainties. E.On has always maintained a policy of strong dividend payouts (ratios averaging 50%). The last year, the earnings available for distribution was 5.7 billion euros, and a proposal to distribute 60 eurocents per share will be submitted. This was down considerably from last year's dividend payout of 1.10 euros per share. It seems that the balancing act that this German company is performing despite the political and economic uncertainties (otherwise called good management) will see it through any escalation in the current geopolitical crisis. However, it is still worth noting how dependent this company still remains in its Russian venture.
Disclosure: I have no positions in any stocks mentioned, and no plans to initiate any positions within the next 72 hours. I wrote this article myself, and it expresses my own opinions. I am not receiving compensation for it (other than from Seeking Alpha). I have no business relationship with any company whose stock is mentioned in this article.