3D printer stocks have been taking a hit since Thursday after ExOne (NASDAQ:XONE) missed Q4 earnings estimates and provided the market with lower than expected guidance for 2014. ExOne reported Q4 revenue of $10.7 million, missing Wall Street's expectation of $12.1 million. Revenue fell 16% as compared to Q4 of 2012, but more importantly, revenue also fell by 8% on a q-o-q basis as compared to Q3 of 2013.
To be fair to ExOne, the 3D space has been falling for some time now on the back of many misses, so let's not blame everything on ExOne for the whole space. However, I have warned many times over the past couple of months that all stocks in the 3D space are grossly overvalued and that at any particular time, for any reason, we might see these stocks crumble, as they are doing recently.
Please recall it has nothing to do with management, the technology, or if these companies are a game-changer or not (they are). The issue at hand is valuations and nothing else. Especially more so in the case of ExOne, where the company today is still valued (even after a 50% tumble) at $570 million, on the back of $40 million in sales. I am sorry, but a 12x sales multiple is not natural for any stock, especially when both on a yearly and quarterly basis, revenue was down.
So let me explain again why it is important to avoid very high Price/Sales stocks:
Because all high multiple Price/Sales stocks are so far ahead of the fundamentals that any deviation from the astronomical expectations the market has of them can crash these stocks, even if revenue growth continues for many years to come.
And guess what, ExOne's forecast for 2014 was not bad by any means. The company is guiding 40%-50% revenue growth. But since the company missed this quarter, that changes everything from now on when you connect the dots on the Excel sheet analysts were modeling.
If you ask me, even with $60 million in sales for 2014 (top line forecast as per the company), this stock is still not worth $570 million in my book. In fact I would be very hesitant to buy it even at half its current price.
And if you want to know what happens when investors buy outrageously overpriced stocks, the chart below will be an eye-opener.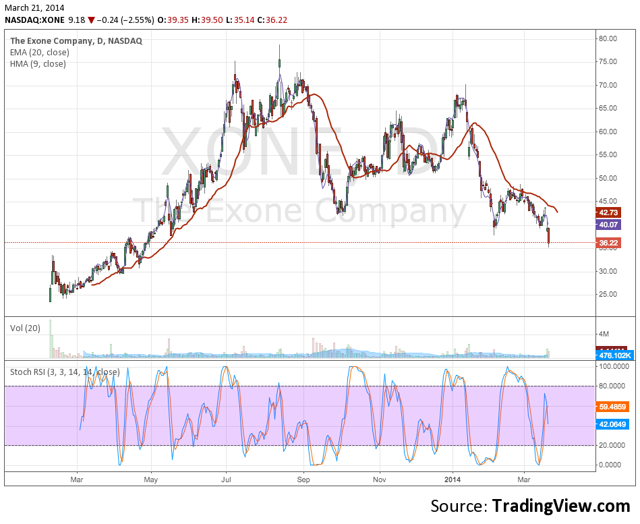 So far the vast majority of investors since ExOne's IPO are losing money. Sure investors are still above water with Stratasys (NASDAQ:SSYS) and 3D Systems (NYSE:DDD), but only those who have bought some time ago. And investors who bought 3D Systems at $90 will probably take a long time (if ever) to recoup their money.
And even if you are not losing money, remember that if the sector goes out of style, don't expect the market to price the sector at stratospheric valuations again. I mean it might, but it might not also.
The bottom line is that investors who pay stratospheric multiples for stocks over the long term tend to underperform the market. Sure they might get lucky and sell at the top, but they might not.
And if you think that the market will pay an arm and a leg for any stock over the long term just because it has some strange technology that will change the world, then chances are you are losing money already.
The 3D space is not the only high flying sector that's worth mentioning. I have also been saying the same thing about the fuel cell space and the SaaS space. Both the 3D and fuel cell space are currently correcting and I think the SaaS space will follow in the future.
Disclosure: I have no positions in any stocks mentioned, and no plans to initiate any positions within the next 72 hours. I wrote this article myself, and it expresses my own opinions. I am not receiving compensation for it (other than from Seeking Alpha). I have no business relationship with any company whose stock is mentioned in this article.