We received a lot of useful feedback for our previous article on Micron (NASDAQ:MU), "Micron Will Obliterate Q2 Estimates". Between the article and now, there were exactly 5 conferences where Kipp Bedard, Vice President of Investor Relations, and Ivan Donaldson, Director of Investor Relations, confirmed our view of Q2.
This is an updated model showing readers what our base assumptions are for the remainder of 2014.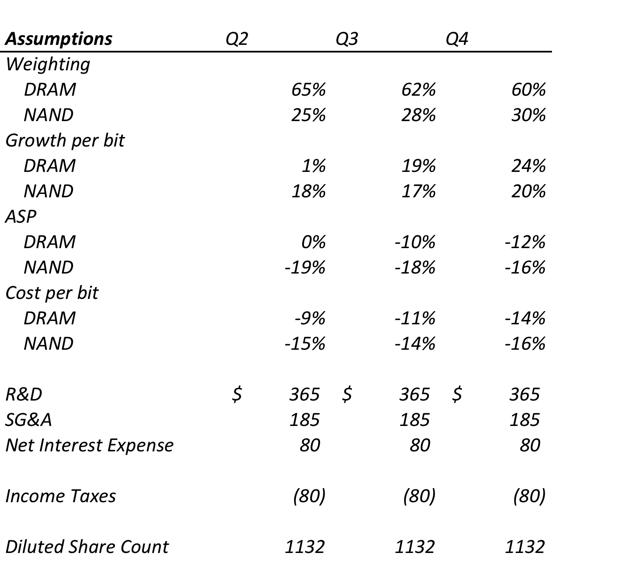 Q2:
Q2 projections were given to investors roughly half way through the quarter on the Q1 earnings call. There were a few key items that the management mentioned:
NAND:
Singapore Fab converted to NAND. NAND sales will be on the spot market initially contributing to the high teen decrease in ASP.
The switch to 16nm contributed to the mid teen decreases in cost per bit for NAND.
Growth per bit will be up in the high teens.
DRAM:
ASP and growth per bit will remain flat for the quarter. This guidance was given to us mid quarter, so we assigned a 50% probability of it being realistic while assuming the other 50% with our own projections.
Cost per bit will decrease high single digits due to more efficient yields.
Using assumptions above, here's the model: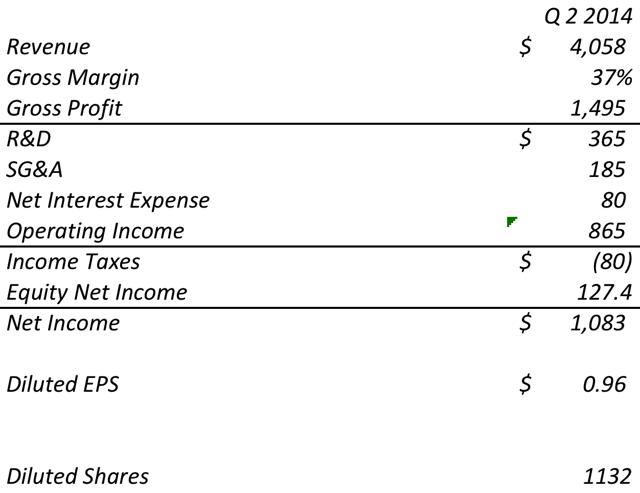 Note how this differs from our previous article, "Micron will obliterate Q2 estimates." Thanks to the collaboration of many wonderful Seeking Alpha contributors, Electric Phred pointed out that our gross margin was being overstated due to the negative impact of NAND pricing. We remodeled our forecasts, and this is now our final prediction: $0.96 non-GAAP diluted EPS.
This number includes all of the adjustments the management guided in the Q1 conference call. It also includes the new restated diluted share count due to the repurchase of the convertible debt in mid January.
Q3:
Q3 projections will only be two weeks away, and we will go out on a limb here to make some projections. We will update the model as soon as the Q2 earnings come out.
NAND:
NAND will comprise a larger portion of the sales thanks to the Singapore F

ab

.
ASP will be down in the high teens again, but cost per bit will follow close behind.
Growth per bit should see high teen increases thanks to higher attachment rates in PC sales.
Overall margin for NAND will be pressured once again going into Q3.
DRAM:
Growth per bit should start to pick up in Q3. Q2 is usually the slowest quarter of the year, and we expect mobile and server to pick up in pace as we go into the latter half of the year.
ASP will be pressured in Q3. We expect ASP to decrease in the low teens.
Cost per bit will follow closely with the decrease in ASP. The new renegotiation with Inotera will take effect, and Micron should see a nice decrease to its DRAM purchasing price.
Using the above assumptions, we arrive at these numbers: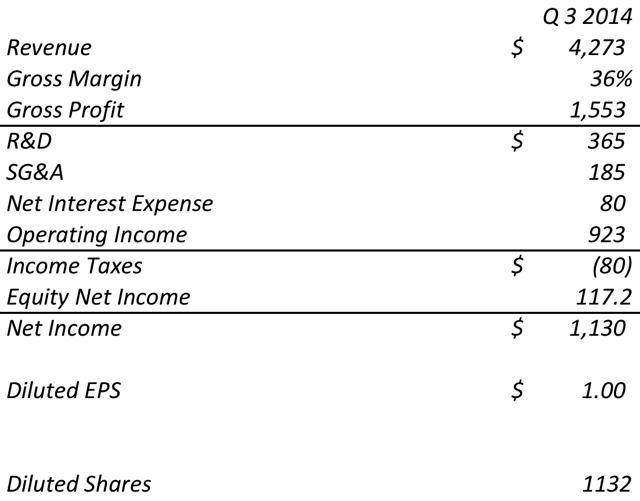 Gross margin will be slightly under pressure due to the negative impact from NAND sales; however, earnings should improve thanks to higher bit growth in DRAM.
Inotera income will be slightly lower due to the new agreement with Micron. We factored in an 8% decrease.
Q4:
Q4 should see the highest per bit growth in both DRAM and NAND. This quarter will be the key determinant whether or not Micron will be able to earn $4 EPS in calendar 2014.
NAND:
Cost per bit will finally catch up to the decrease in ASP. In recent conferences, Kipp had mentioned reducing ASP to increase promotions for certain OEMs. We feel that the decrease will likely come from the promotional deals.
Growth per bit will increase due to the promotional activities. We think that with holiday sales coming, OEMs will likely want to build inventory for SSDs.
DRAM:
Using some of Kipp's projections for fiscal 2014, we broke down what the DRAM environment would look like if his projections were true.

Cost per bit should decrease thanks to more efficient yields.
ASP will be down low teens once again, but cost per bit should decrease at a faster pace.
Using the above assumptions: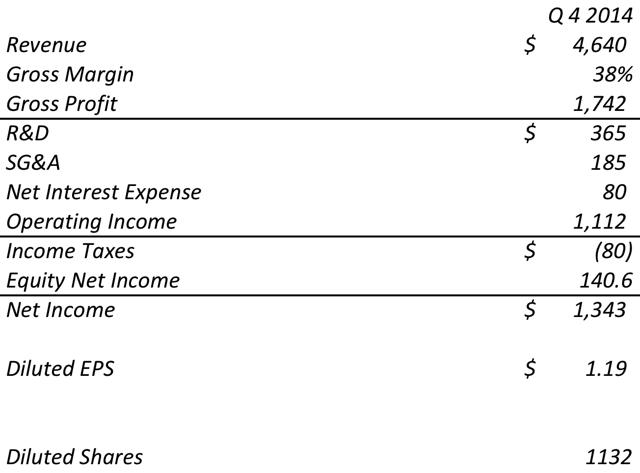 We projected Inotera earnings to increase materially thanks to lower cost per bit and higher bit growth.
The higher bit growth in DRAM will materially impact Micron's bottom line. As Kipp said in recent conferences, DRAM demand should outpace supply by 3-4 percentage points. We used his conservative assumptions in our model.
Q2 earnings beat?
As we said in our previous article, we still believe an earnings beat is almost reassured. What we aren't certain of is the Q3 guidance, and that will be crucial in determining the outlook for Micron.
We will attach a link to this article allowing readers to play with the numbers on their own.
Link.
In order for Micron to fall short of Q2 estimates, several factors will have to play in:
DRAM ASP to drop 10% in less than a month and a half.
NAND ASP to drop 28% in less than a month and a half.
Growth per bit for DRAM to decrease 20% in a month and a half.
NAND cost per bit to decrease only 5% in the quarter.
The reason why we are saying a month and a half is due to the timing of the guidance. Management gave guidance in the middle of Q2. Unless there are reasons to believe that management purposely misguided so that the stock can tank, we don't think it's reasonable to assume any of these scenarios. But for a skeptic's sake, here are the numbers.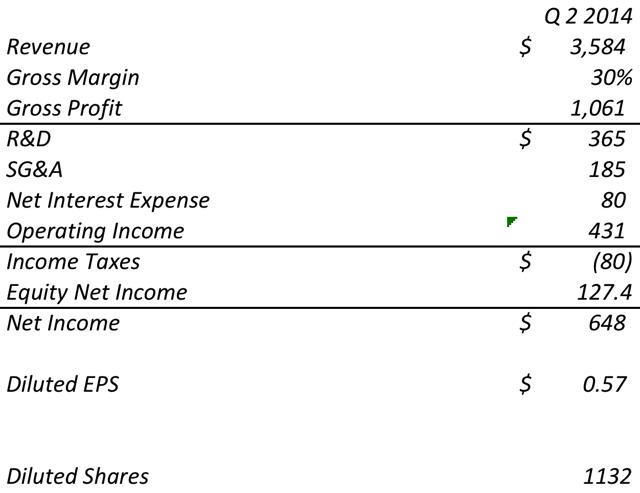 Valuation:
Unless there are catastrophic events, we think that the earnings volatility in our assumptions will be plus or minus $0.35, making our assumptions either $3.57 or $4.27 for fiscal 2014.
Although we can reasonably expect Micron to shine in terms of earnings, we have no foresight as to how the market will value Micron. An earnings multiple of 7 at 3.57 will equate to a share price of 24.99. That's why we believe there are a few things that need to be played out in order for Micron to realize a non-depressed multiple of 10.
Better earnings guidance.
Share buybacks.
Reduce convertible debt. Fair value of all converts currently stands at $6 billion.
Conclusion:
It has been a bumpy ride for Micron shareholders, but everything other than the fundamentals of the company is simply noise. We strongly advise shareholders to focus on what's important and what Micron can earn as a company rather than the daily fluctuations in the share price.
We would like to also encourage readers to point out any disagreements they have in our projections. Collaboration and useful criticism will allow us to make better predictions and avoid any costly financial mistakes.
Disclosure: I am long MU. I wrote this article myself, and it expresses my own opinions. I am not receiving compensation for it (other than from Seeking Alpha). I have no business relationship with any company whose stock is mentioned in this article.