Camtek Ltd. (NASDAQ:CAMT) is launching the first commercial 3D printer for the PCB (Printed Circuit Board) industry this year. The company announced this development in a press release stating: "As a future growth engine, in addition to the existing products lines, the Company will focus its activity in the field of digital 3D printing for the printed circuit board industry." As discussed in last month's 2013 year-end conference call, Camtek's new $300,000 "GreenJet" printer has been delivered to the first customer and is in the final stage of testing with full commercialization anticipated in the second half of this year.
With the competitive advantages the printer delivers, the launch could be a game-changer for the company as well as the PCB industry.
Overview
Camtek Ltd. manufactures and markets computerized systems that optically inspect electronic components for defects caused during manufacturing. The $120 million market cap company has 480 employees, a balance sheet with $22.5 million cash and equivalents, and a current ratio of 3. Camtek Ltd. is based in Israel, with offices in the U.S. and Europe in addition to a strong presence throughout the Asia-Pacific region.
See March, 2014 investor presentation.
Highlights of Full Year 2013
Revenues of $85.4 million
Gross margins 45%
Non-GAAP operating income of $3.2 million; GAAP operating income of $1.1 million
Non-GAAP net income of $2.1 million; GAAP net income of $7 thousand
Positive operating cash flow of $4.7 million; Cash and equivalents of $22.5 million as of December 31, 2013
Highlights of Fourth Quarter 2013
Revenues of $23.3 million (a 32% increase over Q4 2012)
Net income (GAAP basis) of $0.02/share vs. loss of $0.11/share in Q4 2012
Positive operating cash flow of $2.6 million
3D Printing System for PCB market installed at customer site for testing
Camtek is forecasting Q1 2014 revenue growth of greater than 20%
Sources: Form 20-F, press release
Analyst Earnings Estimate $0.40/share Next Year
Due to the launch of their new 3D printer for the PCB industry, Chardan Capital Markets upgraded Camtek to a "Buy" based on the company's "3D Printing Opportunity." Chardan Capital Markets now estimates earnings of $0.10/share for 2014, and an impressive $0.40/share next year.
Launching GreenJet 3D Printer For Solder Mask Deposition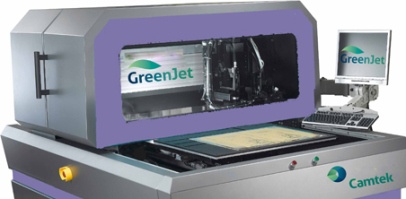 Camtek's $300,000 GreenJet 3D printer for the deposition of solder mask on PCBs offers manufacturers a high-performance solution with a wide range of cost effective, and technological benefits. The GreenJet printer delivers savings in labor, cycle time, electrical costs, and space.
Moreover, the GreenJet printers directly address a critical, costly and frequent complication during PCB manufacturing process: misalignment. As PCBs become increasingly crowded in order to fit more electrical components with more links on smaller boards, perfect alignment is essential. I believe the ability of the GreenJet printer to minimize alignment issues and reduce the 4-step solder mask deposition process to a 1-step process in addition to cost savings and shorter cycle times, will result in strong demand from PCB manufacturers.
Early Mover Advantage In $93.9 Billion market
The PCB industry is forecast at an 8% compound annual growth rate, and to reach $93.9 billion by 2017. This enormous market is highly competitive and Camtek's GreenJet printer is entering the space with a novel product that delivers PCB manufacturers the competitive advantages noted above.
In addition to machine sales, Camtek will generate recurring revenue with their proprietary hybrid ink, tailored to meet the demanding requirements of the PCB industry.
Conclusion
With a strong balance sheet, strong revenue growth forecast, positive cash flow from operations, and the commercial launch of the GreenJet printer this year, I believe shares are heavily undervalued at present. Analyst estimates for $0.10/share in earnings this year jumping to $0.40/share next year appear well within reason and should drive CAMT shares higher.
Disclosure: I am long CAMT. I wrote this article myself, and it expresses my own opinions. I am not receiving compensation for it. I have no business relationship with any company whose stock is mentioned in this article.
Additional disclosure: This article was previously published on 3DPSPremium.com on 3/21/14.