The past week in real estate offered three key data points that painted a modestly positive picture on net. However, as you can see in the chart here, the group of real estate securities mostly closed lower through the period. That had more to do with the latest economic projections from the Fed than housing data, and what it did to interest rates last week. In the week ahead, we look forward to four monthly real estate reports to impact real estate relative shares. Unfortunately, expectations are not good with regard to the reports, and the group might be penalized again this week. Still, I expect the group to soon be stimulated by a strong spring selling season after a long harsh winter and would be a buyer on weakness.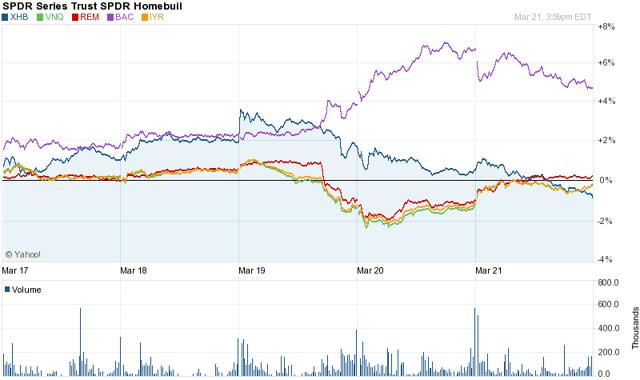 Only Bank of America (NYSE:BAC) and other lenders enjoyed a serious gain for the week, while real estate relatives mostly moved lower. The general decline of real estate securities had everything to do with the Federal Open Market Committee (FOMC) Monetary Policy Release and especially the press conference of Janet Yellen that followed. The topic of discussion at the press conference is what sent stocks lower and the banks higher. Within its economic projections, the Fed sees a higher Fed Funds Rate in 2015. The realization that the party is finally going to end for-free money served as a wakeup call to investors broadly speaking last week. The FOMC was somewhat inconsistent though, as it dropped its employment level trigger at which it said it might consider raising interest rates. In my view, this raised concerns with some that the Fed could lose control of inflation with this less conservative and potentially more reactionary state of being.
The release set market sights on interest rates and expectations for faster rising ones, so the banks all did well, including Bank of America and Citigroup (NYSE:C). But the rest of the real estate complex, those whose revenues may actually slip if higher mortgage rates hinder some home sales and real estate activity generally, well they mostly slid.
| | | | |
| --- | --- | --- | --- |
| Security | Last Week | YTD | TTM |
| Bank of America | +4.5% | +12.8% | +39.7% |
| Citigroup | +6.8% | -3.9% | +10.7% |
| Vanguard REIT Index (NYSEARCA:VNQ) | -0.3% | +8.8% | +0.7% |
| iShares Mortgage Real Estate (BATS:REM) | +0.3% | +11.5% | -18.1% |
| iShares US Real Estate (NYSEARCA:IYR) | -0.2% | +7.7% | -1.2% |
| SPDR S&P Homebuilders (NYSEARCA:XHB) | -0.7% | -2.6% | +8.4% |
| MGIC Investment (NYSE:MTG) | +0.6% | +1.5% | +86.7% |
| Annaly Capital (NYSE:NLY) | +1.3% | +15.1% | -27.0% |
Annaly Capital did well on its own specific news, as it declared its latest quarterly dividend would match its previously paid one. That might not seem like much, but for the pressured mREIT that had been enduring a decreasing book value and declining dividend payout, it meant a lot. NLY gained 1.3% on the week and 2.8% on Friday.
Last Week's Data
The week's real estate relative news was keyed on February Housing Starts data. While starts hardly impressed, permit issuance for new construction did pick up at just right time to enthuse us about the spring selling season. Starts ran at an annual pace of 907K, short of both economists' expectations for 910K and the revised January pace of 909K. Permits, however, improved to a rate of 1.018 million from 945K in January; economists were looking for an improvement to just 960K, so this was super news.
KB Home (NYSE:KBH) helped housing stocks as well with its first reported quarterly net profit since 2007 Wednesday morning. Just about everything in the report reflected positively for the company and for housing, as it grew backlog by 21%. KBH shares gapped open sharply higher that day, but by the end of the week, had only sustained a 1.6% improvement.
Otherwise, we absorbed a weaker than expected Housing Market Index, with more homebuilders feeling pessimistic than optimistic. The HMI improved by a point, but only to a mark of 47, which is short of the 50 breakeven mark; it was also under economists' expectations for 50. The latest Weekly Applications Survey from the Mortgage Bankers Association (MBA) exposed a 1.0% decrease in mortgage applications. Effective rates decreased across the board last week, but that will reverse in this coming week's data because treasury yields rose on the Fed scare. Existing Home Sales proved mediocre in February, with the pace holding steady at 4.6 million, just under January's revised pace of 4.62 million and in line with economists' sad expectations for it.
What to Look for This Week
| | | | |
| --- | --- | --- | --- |
| Day | Economic Report | Expected | Prior Result |
| Tuesday | S&P Case Shiller 20-City HPI SA M/M | +0.7% | +0.8% |
| Tuesday | FHFA House Prices M/M | +0.4% | +0.8% |
| Tuesday | New Home Sales | 440K | 468K |
| Wednesday | Mortgage Applications | | -1.0% |
| Thursday | Pending Home Sales | -0.8% | +0.1% |
Expectations have been set low for home prices, and mind you, they are probably correct given that the data being measured is now ancient history. For December, both the S&P Case Shiller and FHFA measures are expected to show sharply slower paces of home price increase. This, and expectations for sadly slower new home sales could sabotage the start of the week for homebuilders in the SPDR S&P Homebuilders ETF and other real estate relative stocks. The Pending Home Sales Index, due on Thursday, is not expected to add much support for the group either. It measures the existing home market. Economists see the index dropping 0.8%, and it would be a reach to say anything different.
A soft mortgage application report will hardly factor against mortgage lenders now hinged on the prospects of higher rates, which are presumed to accompany an improving economy. So, Bank of America and Citigroup kinsmen can count on continued support again this week. Dick Bove pounded the table for lenders, especially BAC last week; you already knew it was my favorite real estate relative idea for 2014. It should not find much trouble holding ground this week in my view.
In conclusion, I expect anticipation for the spring selling season to increasingly lift the group. It's my view that the spring season will be partly fueled by the impact of a harsh winter on plans scheduled for sooner than this spring. Last week's permit activity perhaps gave us our first insight into what could be a strong spring. So despite the rough news expected this week, I would be a buyer on weakness now.
Disclosure: I have no positions in any stocks mentioned, and no plans to initiate any positions within the next 72 hours. I wrote this article myself, and it expresses my own opinions. I am not receiving compensation for it (other than from Seeking Alpha). I have no business relationship with any company whose stock is mentioned in this article.