I find T. Rowe Price Group, Inc. (NASDAQ:TROW) stock to be providing a good combination of value and dividend growth. TROW has compelling valuation metrics, strong earnings growth prospects, and no debt at all. Furthermore, it pays a rich dividend and has raised its dividend payment by an average of 15.8% a year during the last 10 years. In my previous article, I ranked the best large-cap dividend stocks according to O'Neil principles, and I showed there that T. Rowe Price came in the second place after Honeywell International Inc. (NYSE:HON).
The Company
T. Rowe Price Group, Inc. is a publicly owned asset management holding company. The firm primarily provides its services to individual and institutional investors, retirement plans, and financial intermediaries. The company was founded in 1937 and is based in Baltimore, Maryland with additional offices across North America, Europe, and Asia.
Valuation Metrics
The table below presents the valuation metrics of TROW, the data were taken from Yahoo Finance and finviz.com.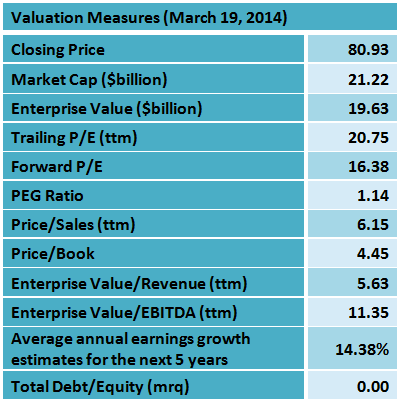 TROW's valuation metrics are quite good; the company has no debt at all, and the enterprise value-to-EBITDA ratio is quite low at 11.35. According to Yahoo Finance, TROW's next financial year forward P/E is at 16.38 and the average annual earnings growth estimates for the next five years is high at 14.38%. These give a low PEG ratio of 1.14.
Latest Quarter Results
On January 28, T. Rowe Price reported its fourth-quarter and full-year 2013 financial results, which beat EPS expectations by $0.03 (2.90%). The company reported net revenues of $929.8 million, net income of $287.7 million, and diluted earnings per common share of $1.06. On a comparable basis, net revenues were $787.3 million, net income was $232.0 million, and diluted earnings per common share was $0.88 in the fourth quarter of 2012.
In the report, James A.C. Kennedy, the company's chief executive officer and president, commented:
Our record level of assets under management and operating results are primarily the result of the quality work performed over the past year and past decade by T. Rowe Price associates on behalf of our clients. A large majority of our portfolios have outperformed over most time periods, our clients are generally very pleased with our service, and our financial position has never been stronger. In spite of these overall favorable facts, we did experience uncharacteristic net outflows from clients this year, and we had an increase in the normally very low turnover of our investment professionals. We have taken active steps on both of these fronts, to broaden and deepen our distribution capabilities, especially outside of the U.S., and to reinvigorate our efforts to retain our talent across the firm. Our business is very competitive but our positioning is strong and we are confident in our abilities to continue to add significant value for our clients over time.
In my opinion, fourth-quarter results are encouraging since the company succeeded to outperform the market in a large majority of its portfolios. Furthermore, the company has shown earnings surprise in three of the last four quarters.
Next Quarter Results
T. Rowe Price will report its first-quarter 2014 financial results on April 24. TROW is expected to post a profit of $1.03 a share, a 13.2% rise from the company's actual earnings for the same quarter a year ago. I think that there is a reasonable chance that TROW will beat analyst expectations also in the current quarter.
Dividend
T. Rowe Price has been paying uninterrupted dividends since 1989. The forward annual dividend yield is at 2.17% and the payout ratio only 39%. The annual rate of dividend growth over the past three years was quite high at 12.1%, over the past five years was at 9.6%, and over the past ten years was very high at 15.8%. I consider that besides dividend yield, the consistency and the rate of raising dividend payments are the most crucial factors for dividend-seeking investors, and TROW's performance has been very good in this respect.
Since the company generates lots of cash, has no debt and the payout ratio is low, there is an excellent chance that the company will continue to raise its dividend payment.
TROW's dividend is paid every quarter, as shown in the charts below.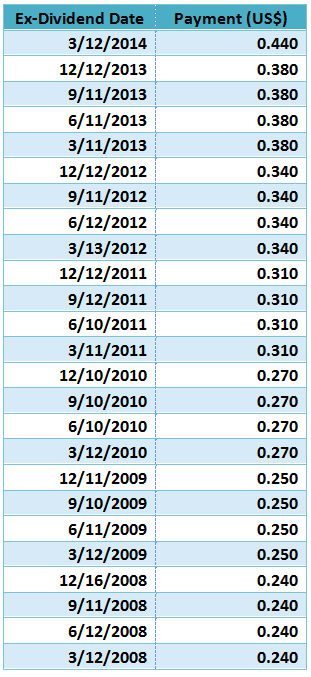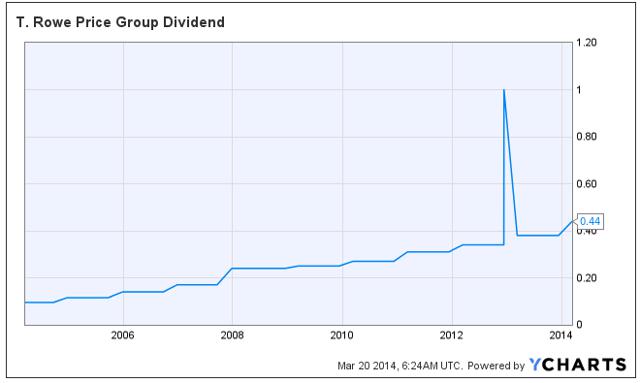 Competitors and Group Comparison
A comparison of key fundamental data between T. Rowe Price and its main competitors is shown in the table below.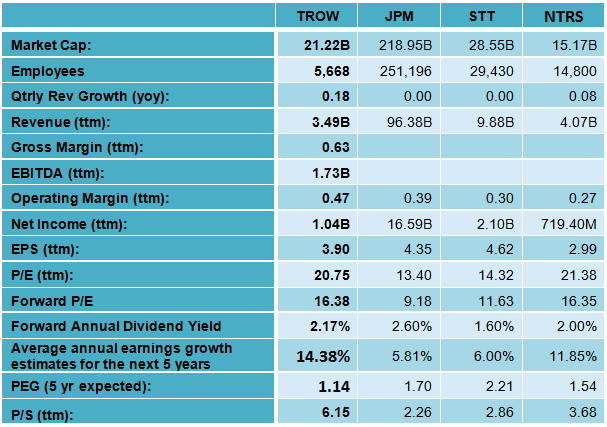 Source: Yahoo Finance
TROW's valuation metrics are better than those of its main competitors. TROW has the strongest earnings growth prospects, and by far the lowest PEG ratio among the group.
TROW's efficiency and return on capital parameters have been much better than its industry median, its sector median and the S&P 500 median, as shown in the tables below.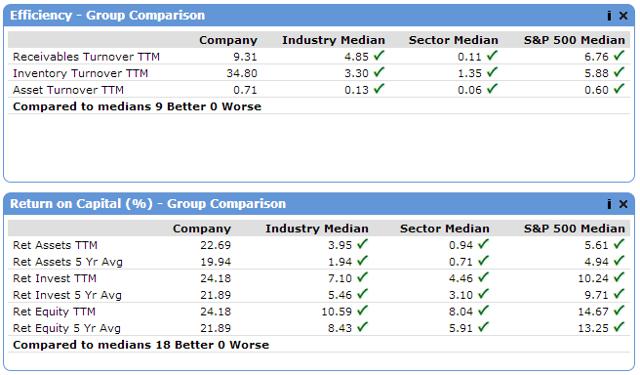 Source: Portfolio123
Technical Analysis
Personally I am using only fundamental analysis for my investment decisions. After many years of experience, and after having tried all kinds of decisions making including technical analysis, I have reached the conclusion that relying on fundamental information is giving me the highest return. Nevertheless, some investors are successfully using technical analysis to find the proper moment to start an investment (I am not talking about traders; my analysis is only for investors). The charts below give some technical analysis information.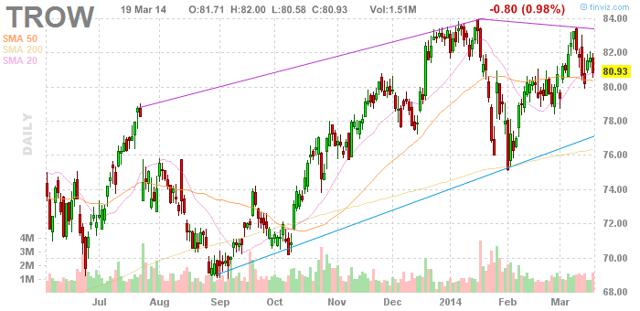 Chart: finviz.com
The TROW stock price is 0.12% above its 20-day simple moving average, 0.63% above its 50-day simple moving average and 5.99% above its 200-day simple moving average. That indicates a short-term, a mid-term and a long-term uptrend.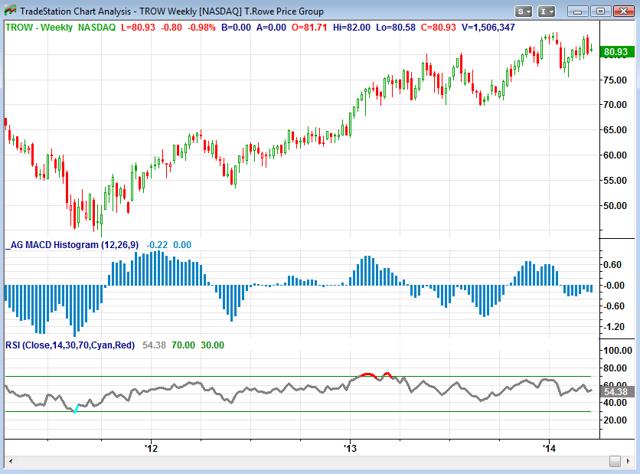 Chart: TradeStation Group, Inc.
The weekly MACD histogram, a particularly valuable indicator by technicians, is negative at 0.22 which is a neutral signal (a rising MACD histogram and crossing the zero line from below is considered an extremely bullish signal). The RSI oscillator is at 54.38 which do not indicate oversold or overbought conditions.
Analyst Opinion
Analysts' opinion is divided. Among the twenty one analysts covering the stock, five rate it as a strong buy, four rate it as a buy and twelve rate it as a hold.
On December 10, 2013, Jefferies analyst Daniel Fannon reiterated a buy rating on TROW stock. After meeting with management, he says that business trends look solid. I consider Mr. Fannon's analysis really valuable, since he has the highest 5-Star rating from Tip Ranks for the accuracy of his previous calls with 76% success rate.
Discussion
Although the year of 2013 had been remarkably successful for T. Rowe Price, and a large majority of its portfolios have outperformed over most time periods, TROW's stock price has underperformed. The stock has risen only 24.3% since the beginning of 2013; this is compared to the 30.5% rise of the S&P 500 index and the 42.7% rise of the Nasdaq Composite Index during the same period. In my opinion, the current price offers an opportunity to initiate or add to positions in TROW shares. I agree with TROW's management opinion that, there is now greater faith in the stability of growth in the U.S., and in the recovery in Europe from their debt crisis and recession. Plus, there is greater hope for the return to growth in Japan, thanks to the policies of Prime Minister Shinzo Abe. These economic conditions benefit the company. In addition, TROW's target-date retirement funds should continue drawing new assets as the oldest baby boomers have now reached retirement.
Risk
According to T. Rowe Price, general market declines and a downturn in stock or bond prices would cause the value of assets under its management to decrease, and may also cause investors to withdraw their investments, thereby further decreasing the level of assets under its management. A decrease in the value of assets under the company's management, or an adverse change in their composition, could have a material adverse effect on its investment advisory fees and revenues. For any period in which revenues decline, net income and operating margins will likely decline by a greater proportion because certain expenses will be fixed over that finite period and may not decrease in proportion to the decrease in revenues.
Conclusion
T. Rowe Price has compelling valuation metrics and it has no debt at all. The company has recorded very strong EPS growth, and it has strong earnings growth prospects. Its PEG ratio is quite low at 1.14, much lower than its competitors. All these factors lead me to the conclusion that TROW stock has still plenty of room to move up. Furthermore, the rich growing dividend represents a gratifying income.
Disclosure: I have no positions in any stocks mentioned, and no plans to initiate any positions within the next 72 hours. I wrote this article myself, and it expresses my own opinions. I am not receiving compensation for it (other than from Seeking Alpha). I have no business relationship with any company whose stock is mentioned in this article.