The Washington Post reports that 101 of the 707 banks receiving bailout monies cannot make their payments at last count. Thus, the number of "healthy banks" skipping their Troubled Asset Relief Program (TARP) dividend and interest payments continues to soar.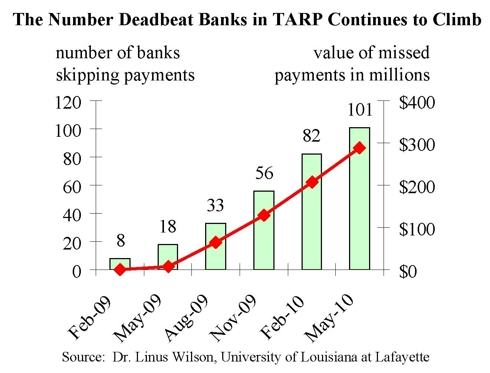 This graph is taken from Figure 1 of my updated version of my paper "TARP's Deadbeat Banks." That paper lists all 115 banks that have missed dividend and interest payments over the last six quarters.
The brilliant investors in the U.S. Treasury and the administration are starting to get nervous because their Congressional authorization to lavish taxpayer cash on whatever companies they please with TARP funds expires in a few months on October 3, 2010.
The solution is to get a new $30 billion slush fund, which will be voted on Wednesday, June 16, 2010. This plan will let U.S. Treasury Secretary Tim Geithner buy preferred stock with dividends as low as 1 percent per annum from to banks with less than $10 billion in assets. The Small Business Lending Fund (SBLF) or H.R. 5297, according to my estimates will lose between 22 percent to 37 percent of the taxpayer monies poured into these banks. This TARP Jr. legislation would be more aptly called the Small Bank Loss Fund (SBLF). The dividend skipping rates on the TARP preferred stock indicate that these investments would be speculative grade or junk issues.
Yet, Congressional leaders and the Congressional Budget Office believe it will pay for itself despite its paltry dividend rate. Almost more troubling than the direct costs is the administration's embrace of further state ownership of the banking sector. These government investments distort competition and capital markets, reducing the efficiency of the banking sector. Encourage your member of Congress and ask him or her to vote against H.R. 5297. Hopefully, the House or the Senate will end the administration's bailout addiction.
Disclosure: I own broad based index funds. I do not own individual securities issued by the companies mentioned.