Assuming the trend continues, now is the time to get into Verizon (NYSE:VZ) for its run-up to the dividend next month. VZ tends to be one of my favorite dividend plays for its strong yield, 6.7%. Recently, I swapped out of Altria (NYSE:MO), after ensuring I was on the books for the dividend, and increased my position in VZ with the proceeds. The chart will explain why.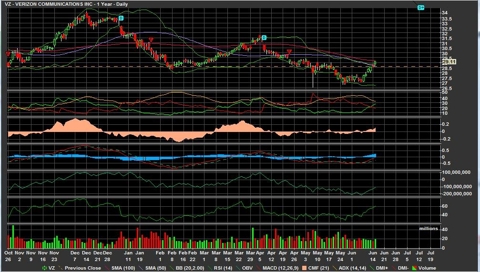 Per the chart, take notice of the past few dividend runs, which started between 30-60 days before the ex-dividend date. Around November 8th of last year, the ADX indicator signaled buy. This was the start of a run-up to the dividend. This run-up peaked at about a 17% gain and the day before the ex-dividend date, the gain was about 14%. If you sold the first day you could, you received about 12%, or less, as the stock gapped-down to open. The first day you can sell, the stock always sells off. Combine the dividend with the gains and you made a very wise trade over those 60 days.
The final day to ensure the dividend, the ADX indicator also signaled sell. The stock went on a long downtrend up until about 30 days before the next ex-dividend date. At that time, the ADX indicator signaled buy again. If you sold at its peak, before the dividend, you could have made 8%. If you waited to receive the dividend, you made about 5% plus the dividend. If you anticipated the trend, you could have bought slightly before the indicator signaled buy and made ever more gains. Not a bad 30-day trade, huh? However, this run-up was during a stronger market.
Why is that important? It is simple. In an uncertain market, dividends are of higher value and considered a safe haven to many. Due to our uncertain market, I feel this run-up could be similar to the first example, even though we only have about 30 days. Even if it does not, we should still be happy with the gains made in this market. However, a major market sell-off can possibly derail those plans so always keep a close eye on your position. If you follow the ADX indicator, it should never signal sell until it is very close to, or the day of, the ex-dividend date. Time will tell if the trend continues.
As always, do your own homework to see if you agree. Good luck out there.
Disclosure: Author is long VZ but positions may change at any time