Backstabbing seems to be the new norm of today's cutthroat technology industry. The 40-million-tablet chips for 2014 mission of Intel (NASDAQ:INTC) might get derailed by the rumored release of the Microsoft (NASDAQ:MSFT) Office app for the iPad.
Several reputable sites already hinted that Satya Nadella, new CEO of Microsoft, will announce the release of the long-awaited for Microsoft Office app for the iPad on March 27.
If this rumor proves true, I will have to reevaluate my INTC position. It is my firm belief that Office for iPad is poisonous to Intel's plan to quadruple its sales of tablet chips this year. I know that this tablet crusade is of contra-revenue already. Intel needs this win badly for investor relations. None of the top tablet vendors are using Intel chips in their best-selling tablets.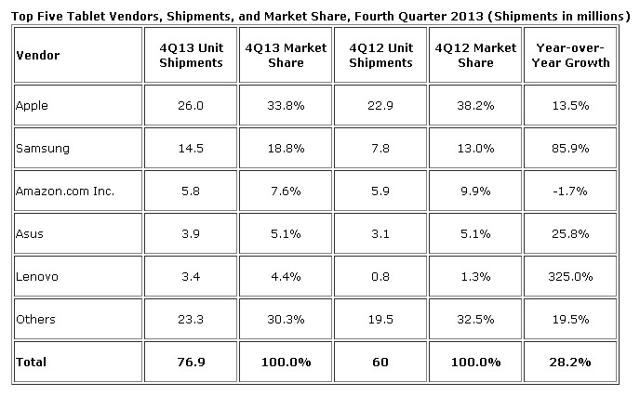 Intel's management set this lofty goal of quadrupling the company's tablet chips sales because it wants to prove it can make mobile chips that are as powerful, affordable, energy-efficient, and marketable as Qualcomm does with its SnapDragon ARM series.
However, Microsoft's act of releasing a native Office app for the iPad is a big unexpected letdown for Intel believers. How can INTC hit the 40 million objective when Microsoft is giving the world's biggest tablet seller, Apple, what iPad loyalists have long craved for.
Microsoft will not only be betraying its Surface 2 and Windows 8 tablet users. MSFT is also kicking long-time ally, INTC in the balls just for the sake of earning billions of dollars from Office app sales to diehard iPad loyalists.
To date, Apple managed to sell 200 million iPads while Microsoft Windows 8 tablets only sold 4 million last year. This fact is really tempting Microsoft's new CEO to abandon Windows-exclusivity of Microsoft Office.
A Tablet Win Is Central To Intel's Performance
Intel is in serious desperado mode, it needs a win on tablets to make up for its repeated failure to penetrate the smartphone market. I do not doubt that Intel's new CherryTrail-T chips are as good as their ARM-based counterparts. Investors do not really care about technical specs - they just want big sales numbers to significantly move INTC higher.
Mr. Fickle Market shares the same opinion -"Show me decent sales numbers, not pretty graphics of CherryTrail-T and other SoCs and maybe I'll let INTC get out of its rut." We are all hoping that INTC will really hit Ashraf's $33 PT soon. The loss of Windows 8-exclusivity for Microsoft's Office will make Intel's technical feats a quixotic undertaking.
Tablet revenue is supposed to offset some of the losses from the declining demand for PC units. However, Intel and its OEM partners will have a hard time convincing customers to buy high-ASP WP8 or Android OS tablets when Apple can sell a $399 iPad 4 with full, native version of Microsoft Office.
Intel needs to find acceptance for high-ASP x86 tablets so it can minimize its contra-revenue overhead. The enterprise market, which Apple has yet to crack with its addictive iPad, will get a significant boost from Microsoft's release of the Office app.
I was hoping that Intel and its partners will make good sales to corporate customers with premium WP8 tablets like the ElitePad 1000 G2. The enterprise market will now become harder for Intel-equipped tablets to penetrate.
Apple's iPad is not only popular with home users, it is also gradually being accepted as a great workplace tablet. An iPad with native Office Word, Excel, and PowerPoint is a formidable competitor to any high-end Intel-powered tablet.
BlackBerry Enterprise Service 10 offers BYOD features which lets employees bring non-BlackBerry phones and tablets to do productivity tasks at work. WP8's main advantage will get neutralized by a release of an iPad version.
Low-ASP Tablets
Intel promises sub-$100 Android tablets with cheaper versions of its BayTrail-T SoCs. However, despite all the subsidies that Intel offers its OEM partners, the company is facing a very steep uphill climb. Making a serious dent in the crowded entry-level Android tablets market is highly improbable for Intel.
Chinese chipmakers like Allwinner and Rockchip are letting Chinese factories make money in selling white-box tablets which retails for as low as $70. This low-end segment is not where Intel's low-price BayTrail-T chips will find buyers.
The profit margin on sub-$100 tablets is just too low for manufacturers to embrace Intel's product. Intel will have a hard time matching the wholesale price points of Allwinner, Rockchip and MediaTek.
Conclusion
If Microsoft releases a full version of the Office for the iPad, I will be forced to greatly reduce my INTC holdings. I'll use the money instead to increase my AAPL investment. It will be at a small loss but I would rather liquidate now and play with other tickers that have better upside chances of 20% or higher. Ashraf's $33 PT is nearly impossible to achieve with the iPad getting native Office apps.
I might also buy a few MSFT - 200 million iPad users means Microsoft can earn billions of dollars from Office downloads or subscription fees. The stock market is strongly influenced by propaganda.
Rumor not, Office for iPad may not even affect Intel's tablet ambitions. However, the public relations damage of Microsoft's defection to the iPad camp can hurt INTC's image. The Wintel alliance was supposed to dethrone Apple's crown in tablets.
INTC is one of the best tech companies with great fundamentals and long-term potential. Sadly, Microsoft's action on March 27 might make Intel's tablet ambition an already lost cause.
Disclosure: I am long INTC, AAPL. I wrote this article myself, and it expresses my own opinions. I am not receiving compensation for it (other than from Seeking Alpha). I have no business relationship with any company whose stock is mentioned in this article.