For more than nine decades, the name Walt Disney has been preeminent in the field of entertainment. From humble beginnings as a small cartoon studio in the 1920s, today the Walt Disney Company (NYSE:DIS) has a global media empire that still has amazing growth prospects.
Under the phenomenal leadership of CEO Bob Iger, Disney has delivered record revenue, record net income, and record EPS in 2013, 2012, and 2011. Mr. Iger has delivered on his expansion strategy and I'm very impressed with the focus on global growth and strategic acquisitions.
Disney's acquisitions of Pixar, Marvel, and Lucasfilm now create an unprecedented and unparalleled collection of the world's greatest brands and creative content.
Impressive Earnings Growth
For Disney's s first fiscal quarter ended December 28, 2013, EPS increased 34% to $1.03 from $0.77 in the prior-year quarter. It's amazing to see that double-digit increases in operating income occurred in all business segments.
The following table summarizes the operating income results (in millions):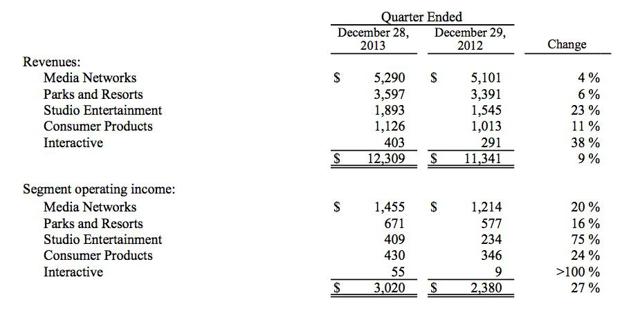 Clearly, Disney's results are impressive, and I want to specifically highlight a few segments that produced significant increases in operating income:
Media Networks operating income increased 20% to $1.45 billion reflecting strong growth from the ABC Television Network, ESPN, and the Disney Channel.
Studio Entertainment operating income increased 75% to $409 million thanks to the wonderful success of the animated film Frozen.
Parks and Resorts operating income increased 16% to $671 million due to record traffic at Walt Disney World, Hong Kong Disneyland, and Tokyo Disney Resort.
Consumer Products operating income increased 24% to $430 million reflecting strong retail sales and Disney's licensing agreements.
Buying Opportunity
Year to date, Disney has repurchased 33.7 million shares worth approximately $2.3 billion. This share repurchase program should accelerate to $6-$8 billion over the next 12 months.
Disney' s current trailing 12-month earnings multiple is 22X and I believe a forward P/E of 19X is justified based on 2015 EPS. I see 2014 EPS growing to $4.25 and 2015 EPS increasing to over to $4.75 (my conservative estimate).
Therefore, I reach my 12-month price target of $90 making the current price very attractive for long-term investors. I should also note that Disney recently increased it's dividend by 14.7%. The annual dividend is $0.86.
I prefer to use fundamental analysis to identify great growth companies but I also like to use technical analysis for timing my purchases. Looking at the weekly chart for Disney below, the major trend lines remain intact, the MACD is positive, and the CCI remains in a safe zone.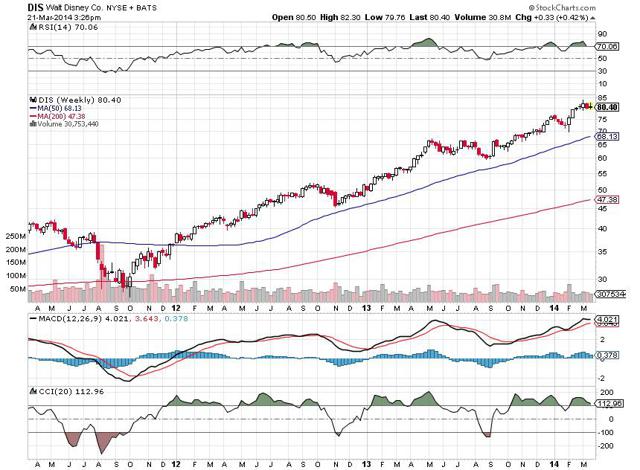 The daily chart below for Disney may highlight some interesting buying opportunities if the broader market drifts lower. There is good support for Disney's stock at the 50-day moving average.
There is a potential gap near $72 (I don't think this it ill fill) but I will be backing up the truck if we see any 10% correction.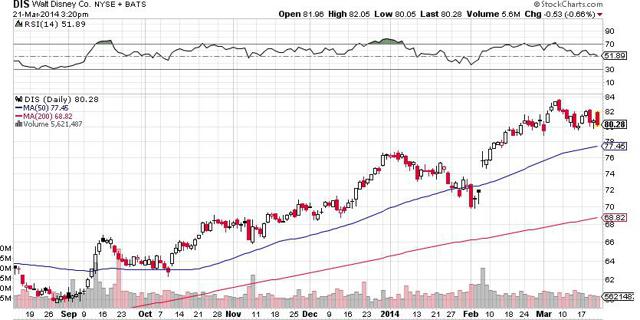 Disney Will Grow For 90 More Years
As I've outlined above, Disney's most recent financial performance and strong growth across all key segments demonstrates a great future. I know 2014 will be another record year in earnings and things will get even more exciting in 2015 with the release of new two blockbuster movies - Marvel's The Avengers: Age of Ultron, and Star Wars: Episode VII. I should also mention the 2015 grand opening of the Shanghai Disney Resort will create even more extraordinary opportunities for long-term growth in China.
There will be some future changes at Disney when current CEO Bob Iger transitions out of his current role in 2016. While we will miss his great leadership, I am very confident that his legacy, and the legacy of Disney that has lasted for 90 years, will continue for another 90 years.
I believe that Disney is a true iconic company and continued growth will reward shareholders for generations.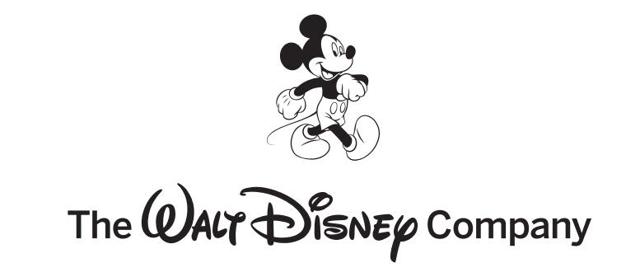 Sources: Disney's financial filings and investor materials.
Disclosure: I am long DIS. I wrote this article myself, and it expresses my own opinions. I am not receiving compensation for it (other than from Seeking Alpha). I have no business relationship with any company whose stock is mentioned in this article.
Disclaimer: This article is intended to provide information to interested individuals. As I have no knowledge of individual investor circumstances, goals, and/or portfolio concentration or diversification, readers are expected to complete their own due diligence before purchasing any stocks mentioned or recommended.