The Indian retail market is currently estimated at U.S. $500 billion and is pegged to cross the U.S. $1 trillion mark by 2020. Food and Grocery is the largest category within the sector with a whopping 60% share, followed by the Apparel and Mobile phone segment.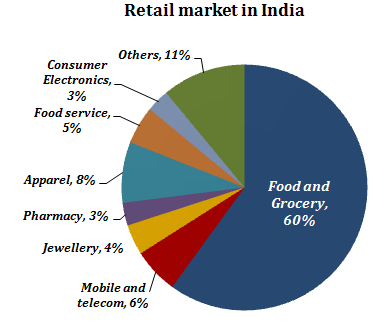 Source: Deloitte Indian Retail Market - Opening More Doors (January 2013)
According to the most recent census survey, India occupies 17% of the world's population and 65% of these people are below the age of 35. There have been various government initiatives to skill the youth which has created a robust service sector in the country. The level of disposable income and internal consumption in India has been rising consistently over the past 10 years and the trend is likely to continue given the young demographics of the country.
Wal-Mart Stores in India
In 2006, Wal-Mart Stores (Wal-Mart or the Company) identified India as a huge organic growth opportunity for future. At that time, restrictions imposed by the Government of India prevented Wal-Mart from operating in the Indian retail sector and foreign retail companies could not set up operations in India in the multi brand retail format. As a workaround to this, in 2007, Wal-Mart entered India in the cash-and-carry business where 100% FDI was allowed. Wal-Mart's initial entry was made in a joint venture with India's Bharti Enterprises.
Currently, Wal-Mart operates in India through 20 Best Price Modern stores where it has a 100% holding. The Company offers more than 5,000 items, across various product categories like fresh fruits, vegetables, poultry, mutton, fish, dairy, consumer packaged goods (food and non food), general merchandise and household electronics and appliances.
Timeline

CHALLENGES FOR WAL-MART
In India, the retail sector is dominated by small retailers consisting of local Kirana (i.e. grocery) shops, general stores, hand-cart hawkers and pavement vendors. Wal-Mart's entry into India faced severe opposition from these small shopkeepers, who currently account for the majority of retail sales together forming 92% of India's total retail market. Major challenges for a new entrant include:
Existing Set-up
One of the biggest threats for Wal-Mart will be changing the way India shops. In the United States, it is common for people to shop for groceries once every few days. Partly, this is because of the fact that grocery stores in the United States are not located close to residential areas as they are in India. Consequently, Wal-Mart customers buy in bulk, visiting the store infrequently. However, Indian consumers visit a grocery store almost every day, sometimes more than once a day. In a typical Indian neighborhood, daily needs stores are located within a few meters from the residential blocks. In most cases, they give free delivery services for an order value of under a single U.S. dollar. The convenience offered by such stores is the biggest competitive threat faced by Wal-Mart.

'Cheap and fresh' perception
Another big challenge which Wal-Mart faces in India is consumers' perception. In the United States, when you think of a big store, you think of lower prices. In India, the perception is exactly the opposite. The common perception is that smaller shops can offer lower prices because their expenses are lower. In addition, since they do not store perishable food items in bulk, you will find fresher items in smaller stores, particularly food items.
Existing Supermarkets
Wal-Mart also faces tough competition from the existing Indian retail players. Indian companies, who have understood the nature of the Indian shopper, are already competing with the small shops by going the hypermarket route, selling goods at wholesale prices. This market is currently dominated by Future Retail Limited with its brands - "Big Bazaar" and "Spencer's."
Booming Real estate prices
Real estate prices in metropolitan areas in India have been rising consistently. Wal-Mart's success would depend upon the cost of real estate it is able to acquire. Historically, Wal-Mart has set up stores on the outskirts of cities where real estate is proportionately less expensive. This strategy could prove risky in the Indian market as consumers would be discouraged by the idea of traveling long distances, particularly given that there are many retail stores located much closer to them.
To stay competitive, Wal-Mart may have to incur high real estate costs, which will put pressure on the Company's competitiveness and profit margins.
Lack of Supply Chain Management System
Since Wal-Mart's competitive advantage is its supply chain dominance, entering alone would require a large investment to establish distribution systems from scratch. Corruption and a lack of transparency throughout Indian supply chains have required many retailers to sell goods through middlemen, driving down retailers' margins. Getting the necessary products to stores without delay would be a significant hurdle to Wal-Mart's success given the scattered logistics. In India, around 40% of fresh produce of vegetables and fruits goes to waste due to the lack of investment in the back-end infrastructure, such as refrigerated systems. Conversely, established players in the market have already built supplier relationships with farmers and manufacturers, streamlining distribution and reducing waste. Gaining access to these networks will present a big challenge for Wal-Mart.
Foreign Direct Investment (FDI) in Multi Brand Retail in India
The Government of India in its cabinet meeting on 14 September 2012 approved 51% Foreign Direct Investment (FDI) in multi-brand retail, thereby opening India's retail sector, but it came with lot of riders and regulations. These include:
First, each state government in the Republic of India could decide upon the approval for multi-brand retailing in their respective state.
A mandatory 30% of raw materials must be sourced from small and medium enterprises in India. (Small industry being one where the investment capital is > U.S. $1 million.)
Minimum investment of U.S. $100 million must be made in new facilities - 50% of which must be spent on building back-end infrastructure such as distribution centers, warehousing and logistics within three (3) years.
Multinational retailers can conduct their business only in cities with a population of more than 1 million.
With no investor setting up shop after the government allowed FDI in multi-brand retail, on August 1, 2013, the government decided to water down some of the provisions which were seen as obstacles to investment. These included:
To comply with the requirement of sourcing at least 30% goods from small vendors - Retailers were allowed to source goods from medium, small and micro enterprises, where the investment cap is U.S. $2 million instead of the earlier ceiling of U.S. $1 million.
Foreign retailers will now be allowed to open stores in cities with a population of less than one million.
Current Situation
Things have been difficult for Wal-Mart ever since it made a foray into the Indian retail sector. The Company is facing a dual challenge from small retail unions and the existing large supermarkets. In late 2012, the Company suspended its chief financial officer and the entire Indian legal team for possible violations of the U.S. Foreign Corrupt Practice (USFCPA) Act. Lobbying is not legal in India and negotiations ahead may create more such allegations.
Since Wal-Mart Stores' JV with Bharti was called off in 2013, the Company has been focusing on expanding its wholesale retail business in India and has not made any significant steps towards entering the multi brand retail space either with another JV partner or on its own. At the same time, Wal-Mart President and CEO, Doug McMillon maintains that the Company is extremely keen on entering the multi brand Indian retail market space once there is clarity on the regulatory front.
What Investors Should Know
India is the second most populated country in the world (after China) and has a large middle class with growing income levels.
Currently there is no large organized retail chain in India.
So far Wal-Mart Stores is the only large multinational retail chain engaged in negotiations with the Indian authorities.
If all goes as planned, Wal-Mart will get a first mover advantage and possibly the largest share of the Indian retail market.
Most importantly - India is headed for its general elections in May 2014. The existing scenario pertaining to FDI in retail will not change before the new Government takes office. A majority government will be able to push reforms and possibly facilitate the entry of Wal-Mart Stores in the Indian retail space. Key date - the results of the general elections will be declared on 16 May 2014.
Short and Long term view - If after assuming office, the new government in India allows FDI in multi brand retail, Wal-Mart is likely to make a huge capital investment to enter the Indian multi brand retail space. Acquiring real estate and creating infrastructure could take many months if not years. This could put some pressure on the overall profitability of Wal-Mart Stores in the short term (3-4 quarters), which could negatively impact the trading price of Wal-Mart's equity share.
Over the long term - A successful entry in the retail market of India could be a game changer given the immense potential and size of the Indian market.
Disclosure: I have no positions in any stocks mentioned, and no plans to initiate any positions within the next 72 hours. I wrote this article myself, and it expresses my own opinions. I am not receiving compensation for it (other than from Seeking Alpha). I have no business relationship with any company whose stock is mentioned in this article.