Vermilion Energy (NYSE:VET) closed Tuesday's session up +$2.07 (3.64%) on 7 times its average trading volume. It closed today up another 1% after being up 2.6% earlier in the day. Tuesday the company announced it would enter the Williston Basin with an acquisition of assets in Southeast Saskatchewan. The deal adds reserves on the cheap and opens up a new core area for the company in the prolific Williston Basin. The proved reserves of the assets were gobbled up at ~50% of their cash flow value based on current netbacks. In my first article on Vermilion Energy (VET: A Compelling Combination of Capital Appreciation & Yield), I suggested the stock could trade to over $100 within 3 years. This deal enhances that outlook: it's accretive and exactly the kind of value oriented acquisition investors have come to expect from VET's management because the assets obtained will self fund their growth. For $400 million (~5.5% of EV), the company grew proved reserves by 8% (10.3 million boe) and there is easily potential for another 5-10 million boe of proved reserves in new drilling locations.
Most investors associate the Bakken primarily with North Dakota but of course the Bakken also stretches over into Montana and up into Canada as well: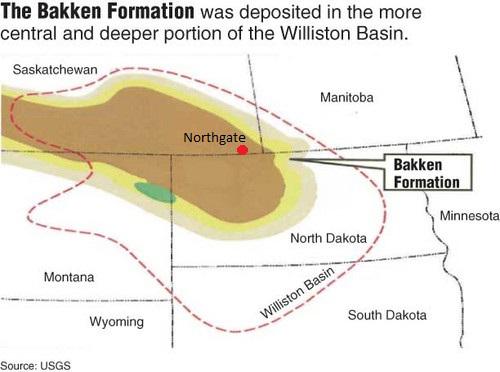 Although the assets VET acquired in this deal were from a private company, we do know the land associated with the transaction is in the Southeast corner of Saskatchewan. The news release said:
The assets are comprised of high netback, low base decline, light oil producing assets in the Northgate region of southeast Saskatchewan.
The hamlet of Northgate, Saskatchewan is located along the US-Canadian border across from the community of Northgate, North Dakota and is shown on the map above.
The Assets
As I pointed out in my first article on VET, one of the reasons the company has been so successful in growing its share price and dividend payout is because it is value oriented and extremely selective when it comes to acquisitions. CEO Donadeo has said the company might typically look at ~100 deals a year, bid on perhaps 10, and be successful on 1 or 2. This deal is no exception. For a total consideration of $400 million, comprised of cash and share consideration of $345 million plus the assumption of $55 million in debt, VET gets:
~57,000 net acres of land (~80% undeveloped)
10.3 million boe of proved reserves ("1P")
16.5 million boe of proved+probable reserves ("2P")
Seven oil batteries
Preferential access to 50% or greater capacity at a gas facility currently under construction.
Estimated 2014 production ~3,750 boe/d (97% crude oil).
More than 90% of the current production base will be operated by Vermilion.
In addition, the deal is accretive on a fully-diluted per share basis for all pertinent metrics including:
production
fund flows from operations
reserves
net asset value
Reserves And Valuation
At year-end 2013 (prior to this transaction), Vermilion's total proved reserves ("1P") were 129.0 million boe, while total proved plus probable ("2P") reserves were 198.6 million boe.
For this transaction, based on an independent evaluation by GLJ Petroleum Consultants Ltd, total proved ("1P") reserves attributed to the assets are estimated to be 10.3 million boe (81% crude oil and natural gas liquids). Proved plus probable ("2P") reserves are estimated to be 16.5 million boe.
At year-end 2013 the company had $749 million in net debt and has a current market cap is ~$6.5 billion for a total EV=$7.25 billion. The total sales price of this transaction was $400 million in cash, stock, and debt, or about 5.5% of EV. Yet the total 1P and 2P reserves jumped by 8%.
Making no deduction for undeveloped land value, VET says the transaction equates to $38.92 per boe of 1P reserves, $24.20 per boe of 2P reserves, and $106,700 per flowing barrel of production. Based on Edmonton light benchmark 2014 strip pricing of US$88 per boe, the current after-tax cash flow netback from the assets is estimated at approximately $60/boe.
Any way you look at it, this was a sweet deal for VET. Not only is the deal accretive, but the assets have a low annual rate of decline of ~18% and are expected to provide cash flow that will fully fund the assets' continued growth. The proved reserves alone (10.3 million boe) at an estimated netback of $60/boe equate to cash flow of over $600 million as compared to the total sales consideration of $400 million - $172.5 million of which is in the form of Vermilion shares to be issued. Also, the total acquisition cost, including assumed debt, was only 4.9 times the expected annualized 2014 FFO of the assets (~$81 million).
Upside Potential
In addition to the proved and probable reserves, VET has identified approximately 175 (152 net) potential drilling locations targeting the Midale, Frobisher, Bakken, and Three Forks/Torquay formations. Approximately 45% of the locations remain unbooked and are not reflected in the GLJ reserves report. Considering almost half the potential drilling locations have not yet been booked, and if we assume these wells perform as well as the existing wells, an additional ~10 million barrels of proved reserves is conceivable. With $60 netbacks, that's another (potential) $600 million of value. Yet that could be a low-ball estimate considering the 2P estimate for the assets' booked reserves is 16+ million boe and represent ~55% of the drilling locations. Regardless, even if my estimate for additional proved reserves is off by 50% (i.e. 5 million boe additional proved reserves), it would mean that for $400 million (about 5.5% of EV) the company would in the long run add 15.3 million boe of proved reserves - a jump of 12% over 2013 year-end proved reserves of 129 million boe. In other words, the EV value would need to increase 6.5% since the deal announcement just to break even with the potential (low-ball) increase in reserves.
Analysts' Views
The market was obviously enthusiastic about the transaction. In an article in the Calgary Herald, Macquarie Securities analyst Cristina Lopez said:
You've got light sweet crude, high netbacks, reasonably good take-away capacity with pipeline access and we've seen acquisition activity in that basin heat up over the past 12 to 18 months.
Not surprisingly, there have been a whole slew of upgrades since the announcement. Seeking Alpha reported that TD Securities upgraded Vermilion Energy to a BUY from Hold with a new $75 price target, up from $66, and ~25% above current levels.
In addition, this article reports a bunch of recent upgrades:
FirstEnergy Capital boosted their price target to C$70.
CIBC raised their price target C$77.00.
BMO Capital Markets raised their price target to C$73.
Outlook
Vermilion revised its 2014 average production guidance to a range of 47,500- 48,500 boe/d, assuming eight months of contribution from the newly acquired assets. That compares to the company's previous 2014 guidance given last November of 45-46,000 boe/day. Not flashy, and not a huge jump in production. But that is how VET grows its dividend payout and its stock price: by adding highly profitable accretive assets.
Its capital budget is expected to increase by $35 million to $590 million, but again, VET said cash flow from the new assets will self-fund the growth of the assets.
Summary & Conclusion
Vermilion Energy pays a 4% dividend yield and has an outstanding 25% 15-year compound annual growth rate. The recent Williston Basin acquisition is another in a long-line of value oriented bargain deals which is both accretive and will self-fund growth in the new assets. From a current netbacks perspective, VET appears to have paid only ~50% of the current cash flow value of the assets' current proved reserves alone. On top of that, unbooked drilling locations could potentially nearly double the assets current 2P reserves. For $400 million (~5.5% of EV) it could easily grow proved reserves by 12% (or by 15.3 million boe). And that estimate is likely on the low-end.
Bottom line: this deal only enhances my bullish 3-year target price of $100+ for shares of Vermilion Energy. VET remains a STRONG BUY.
Mkt Cap = $6.0 billion
P/E (ttm) = 18.1
EPS (ttm) = $3.26
Dividend (Yield) = $2.33 (4.1%)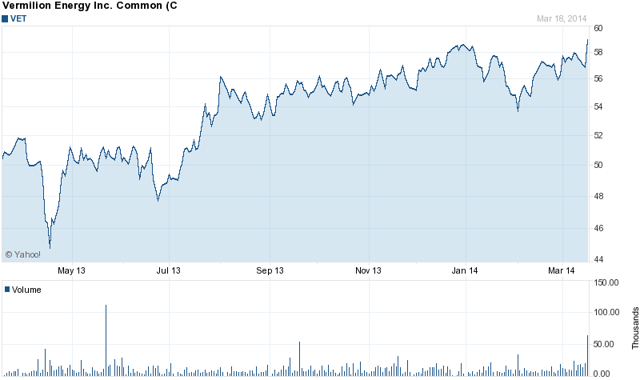 Disclosure: I am long VET. I wrote this article myself, and it expresses my own opinions. I am not receiving compensation for it (other than from Seeking Alpha). I have no business relationship with any company whose stock is mentioned in this article.
Additional disclosure: I am an engineer, not a CFA. The information and data presented in this article was obtained from company documents and/or sources believed to be reliable, but has not been independently verified. Therefore, the author cannot guarantee its accuracy. Please do your own research and contact a qualified investment advisor. I am not responsible for investment decisions you make. Thanks for reading and good luck!