Then, I will buy a new keyboard and continue to short Pandora.
There are very, very few names that I'm perma-short, and they've been short selections of mine for the better part of the last few months. I've advocated shorting Herbalife (NYSE:HLF), Questcor (QCOR), and Pandora (NYSE:P) as my strongest long-term short arguments based on healthy skepticism of their business models.
I laid out my argument for shorting Pandora again at the beginning of 2014 in my article, "8 Attractive Trades for 2014," where I stated:
Pandora will be facing increased pressure from iTunes Radio moving into 2014.
Pandora's audience metrics to end the year - the catalyst for the stock for most of the end of 2013 - were an illusion of sorts.
Pandora is losing the race to both iTunes Radio and Spotify for international markets.
Pandora is severely overvalued with a $5 billion market cap and a P/E of over 100 - making it one of the first stocks to be susceptible to macro market corrections of any sort.
Since reaffirming that sentiment at the beginning of the year, institutionally fueled Pandora has run up from $28ish to $40, and has now come back down towards $34 - a price that I contend is still extremely overvalued for the streaming music provider.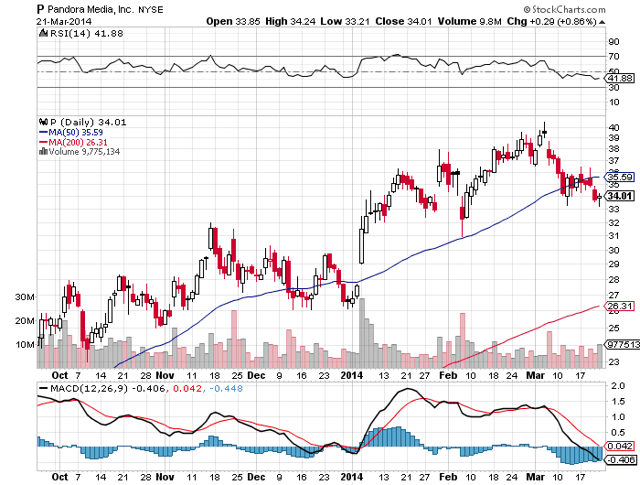 My last article on Pandora took into focus the company implementing the "Universal Dying Business Playbook" by raising rates, acknowledging its 10 year veteran CTO has left for greener pastures, and stopping issuing its monthly audience metrics.
My original thesis on Pandora was a simple one - one that didn't include tons of QA, but a heaping serving of common sense. I looked at the audience metrics, saw little growth, and then looked carefully at the competitive landscape - which includes Google (NASDAQ:GOOG), Apple (NASDAQ:AAPL), and Spotify.
Apple, I've argued, is most likely to be responsible for wiping Pandora out.
And so, just this past Friday, we were offered a little more insight as to the direction Apple is lurking in with regards to their foray into streaming music.
Seeking Alpha reported:
Billboard reports Apple has "opened exploratory talks with senior label executives" about launching a Spotify-like music streaming subscription service, and is also thinking about offering an Android iTunes app.
Apple is also said to be weighing other efforts to support iTunes music sales, such as offering exclusive digital album-release windows, as it contends with a shifting digital music landscape.
Trade group IFPI estimates global music streaming and subscription service revenue rose 51% in 2013, and that download revenue (still 2/3 of all digital revenue) fell 2.1%. Apple's iTunes music ARPU has declined sharply in recent years amid a shift in user spend towards apps.
The launch of an Android app would be a first for Apple, whose mobile app launches have been iOS-only to date. If the app supported iTunes Radio, it would be a negative for Pandora, which thus far has been successful at dealing with iTunes Radio's challenge. -1.4% AH.
This tells us a couple of things.
One, that Apple is going to continue putting resources into moving forward into streaming music. Apple has massive amounts of cash and resources and could easily buy Pandora, at its ridiculous valuation, 10 times over with the cash they have. Pandora, on the other hand, is running thin on resources to invest in their business.
"Can't see the line, can ya', Russ?"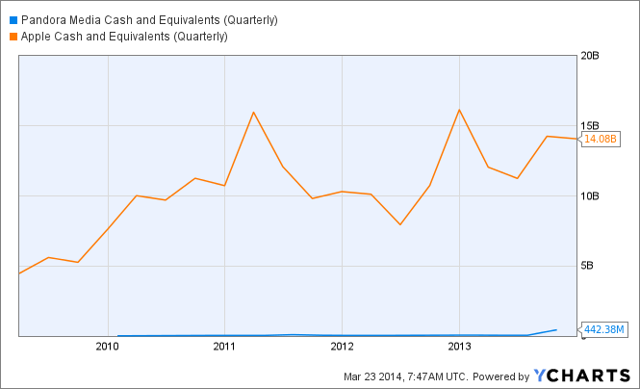 P Cash and Equivalents (Quarterly) data by YCharts
While I disagree with SA's comment that so far, Pandora has been able to handle iTunes Radio and continue to contend that Pandora's audience metrics are not showing the growth they need to, the move onto Android is another item that Pandora should be worried about. For now, it's the only niche that they really have over Apple - Apple has more content, for less, in more countries. Android was the only Pandora-only argument they had. Take that off the table, and - well, you know the rest.
Apple is trying to tell you something - short Pandora.
And, it's doing everything but physically coming into your living room, logging into your trading account, and executing the trades for you.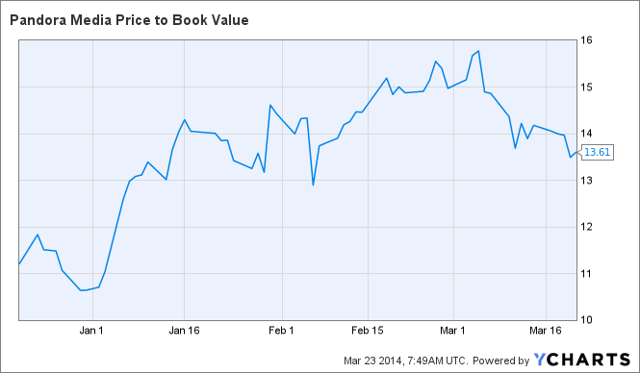 P Price to Book Value data by YCharts
In an industry where they're outmatched by Apple, the company trades with a market cap of $6.71 billion at over 70x forward earnings, a price/sales ratio of 10, and a price/book value of 13. If there was an MBA case study on all time fundamentally overvalued companies, this would be the front runner right now.
Pandora is going to be a perma-short for me, I plan on loading some puts when the week opens again. My price target for the company remains in the single digits, where I will then reevaluate the path the company is on. Pandora is all bark, no bite.
Best of luck to all investors.
Disclosure: I have no positions in any stocks mentioned, but may initiate a short position in P over the next 72 hours. I wrote this article myself, and it expresses my own opinions. I am not receiving compensation for it (other than from Seeking Alpha). I have no business relationship with any company whose stock is mentioned in this article.