United Technologies Corporation (NYSE:UTX) provides high technology products and services to building systems and aerospace industries worldwide.
Recent results of 2013:
Net sales grew 8.5% to $62.6 billion compared to $57.7 billion last year.
Gross margin grew 11% to $17 billion compared to $15.5 billion last year.
Net income grew 11.5% to $5.7 billion compared to $5.1 billion last year.
The Company Operates Five Segments:
Otis:
Otis is the world's largest elevator and escalator manufacturing, installation and service company. The Otis segment provided approximately 20% of 2013 total net revenues. The sales were $12,484 million compared to $12,056 million last year. The increase was primarily from the higher new equipment sales in China and the U.S.
Future Demand of Elevator and Escalators:
Economic conditions remained favorable for Otis with strong new equipment order growth rates in China and the U.S. Going forward, the company is expecting solid growth from these countries in 2014 as the future outlook of the construction industry remains positive. Research indicates that global demand for elevator, escalator and moving walkway equipment and services will grow 5.6% to $111 billion in 2017. Moreover, by 2025 approximately 350 million Chinese are expected to move to cities from rural areas and that will create the need for more commercial buildings and residential apartments that will ultimately lead to higher demand for elevators in the big cities of China. As a leading player in China, Otis will have more revenues from China in the future and this will strengthen the company's position.
UTC Climate, Controls & Security:
UTC is a leading provider of HVAC and refrigeration solutions including controls for residential, commercial, industrial and transportation applications. UTC is also one of the leading providers of security and fire safety products and services. The UTC climate segment provided 27% of 2013 total net sales.
Future Demand for HVAC and Security Systems:
The economic development and recovery of the construction industry will drive the demand for the company's products. Global demand for security equipment will increase 7% annually to $117 billion through 2016. Demand will be driven by the growing markets of China and other Asian countries where the construction industry outlook remains positive. Last year North America residential heating, ventilation and air conditioning (HVAC) orders increased by 15% and going forward, the demand remains strong as U.S. construction spending increases for home and commercial buildings. The increased spending on construction leads to more demand for the air conditioning (HVAC), heating and ventilating systems in the North America region.
Aerospace Businesses:
The aerospace business includes three segments: Pratt & Whitney, UTC Aerospace Systems, and Sikorsky. Aerospace business produces and sells aircraft engines, helicopters and many other aircraft systems. These segments provided more than 50% of 2013 total net revenue. Last year commercial airline industry remained strong and delivered solid results.
Future Demand for Aerospace Business:
There is expected to be an increase of air passengers in the future and this will lead to the increased production of airplanes. Boeing forecasted long-term future demand for 35,280 new planes in the next 20 years. Boeing and Airbus are major buyers of the company's aerospace products so the future demand for planes will increase the company's revenues as manufacturers need more engines and other aircraft systems from UTC. The demand for fuel efficient engines remains strong because future oil prices are forecasted to be high in the next 20 years. Considering the future demand for fuel efficient engines, Pratt & Whitney continues to develop five separate geared turbofan platforms and has begun to build capacity to meet demands for new engines that are fuel efficient and have low noise level.
UTC is one of the leading manufacturer of helicopters. The future demand for commercial helicopters is strong particularly from deep-water oil and gas exploration companies around the world. The global demand for helicopters will increase between 2013 and 2017 and will reach up to 5,600 units with delivery rates expected to reach 1,000 units per year. Moreover, the contract from the U.S. Air force for combat rescue helicopters worth $15 billion that is expected to be singed will further strengthen the company's future position in the helicopter industry.
Valuation:
I have valued the stock on the basis of price multiples. I believe that the stock, at the current price level, is undervalued as it gives a 15% upside potential.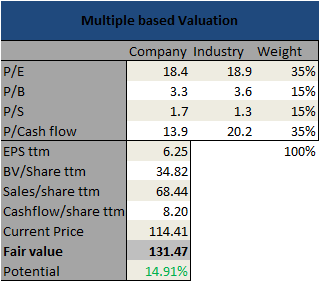 Source: Morningstar.
Price to earnings and price to cash flows are more important as these ratios focus on the earnings and cash generating ability of the company that are considered to be the primary drivers of an investment's value. Therefore, I assign more weight to price to earnings and price to cash flows compared to price to book and price to sales. The stock has a 15% upside potential and I believe that the share price will continue to move towards its intrinsic value in the future.
Conclusion:
The global demand for elevator, escalator, and security systems will remain strong and this will boost the company's revenues in the coming years. Emerging markets, principally China, continue to show strong growth and together with the U.S. economy are the growth drivers for the company in future. The investors with long-term perspectives should definitely consider United Technologies. I recommend buying the stock.
Disclosure: I have no positions in any stocks mentioned, and no plans to initiate any positions within the next 72 hours. I wrote this article myself, and it expresses my own opinions. I am not receiving compensation for it (other than from Seeking Alpha). I have no business relationship with any company whose stock is mentioned in this article.