Goldman Sachs (NYSE:GS) has regained its position as having the highest paid Chief Executive Officer (NYSE:CEO) of any major U.S. bank after losing the title four years ago. Lloyd Blankfein, Goldman's CEO, will earn a pay package worth approximately $23 million for 2013.
J.P. Morgan Chase (NYSE:JPM) will pay its CEO, James Dimon, an amazing $20 million in earnings and bonus for 2013, which represents a 74% increase over 2012. We continue to believe this is excessive given the huge billion dollar fines that the bank has had to pay out under his leadership. See our prior published articles here and here.
Wells Fargo (NYSE:WFC) recently announced a pay reduction for its CEO, John Stumpf, of approximately 16 percent from the prior year for $19.3 million. Currently, Morgan Stanley (NYSE:MS) has not announced the 2013 pay package for its CEO, James Gorman; however, Wall Street insiders predict the amount will not exceed Mr. Blankfein's pay. Both Mr. Stumpf and Mr. Gorman have performed and deserve recognition.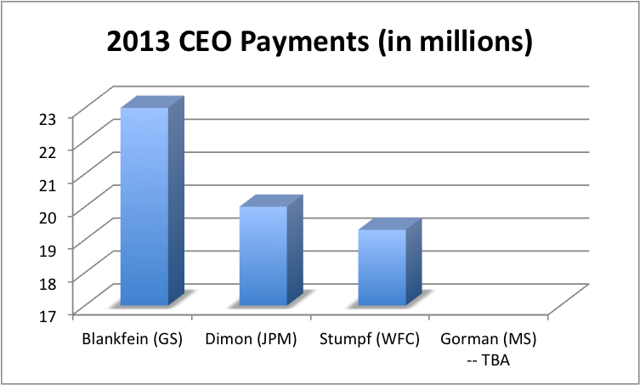 This news marks the apex of Goldman's successful navigation out of financial crisis, while Wells Fargo's reduction in CEO pay indicates decreasing revenue from waning mortgage activity last year, particularly in refinancing mortgages.
The restoration of Mr. Blankfein's position as the highest paid U.S. banker signals Goldman's strengthening recovery of its investment banking operations, the company's skill in reducing costs during a difficult economic environment, and its aggressive approach to mitigate the public relations and regulatory problems created by the financial crisis.
Both Wells Fargo and J.P. Morgan Chase rely more heavily on the consumer-driven market rather than investment banking and trading operations. However, the consumer-banking sector faced significant declines in revenue from mortgage refinancing without finding a replacement revenue stream.
Wells Fargo based Mr. Stumpf's 2013 compensation on a record net income of $21.9 billion, a 14.2 percent return on realized common equity, and the performance of Wells Fargo stock. However, in a summary of performance factors for 2013, Wells Fargo noted that annual revenue declined by almost 3 percent to $83.8 billion, and originations of residential mortgages declined by 33 percent.
In comparison, Goldman Sachs paid Mr. Blankfein approximately $23 million in bonus plus salary, an increase of close to 9.5 percent from the previous year. This represents his biggest annual payout since the recession; however, the amount represents a huge reduction from his single highest annual compensation of $70 million in 2007.
Morgan Stanley paid Mr. Gorman $9.8 million in bonus, salary and long-term incentive for 2012. The company has not yet released compensation figures for 2013.
This coming year will mark Mr. Blankfein's eighth anniversary as CEO at Goldman Sachs. The company had revenue of $34.2 billion in 2013, almost flat to the prior year. Net income increased by 8 percent, and expenses, including payroll, decreased overall. Shares in Goldman Sachs rose 39 percent in 2013, beating the market averages.
Scrutiny Tightens, New Investigation Opens at Goldman
Mr. Blankfein will have additional regulatory scrutiny to steer Goldman Sachs through this year. The company recently disclosed that a new investigation has been opened into its "allocations of and trading of fixed-income securities." The announcement did not include any details about which federal agency is conducting the investigation, the nature of the allegations or any potential fines the company may face. The firm made the disclosure in a Securities and Exchange Commission filing that stated, "Given the range of litigation and investigations presently under way, our litigation expenses can be expected to remain high."
In the meantime, Goldman Sachs reduced its estimate of maximum potential legal losses from $4.0 billion to $3.6 billion. However, the firm also increased its monetary reserves for regulatory and legal issues to $561 million for the fourth quarter versus only $161 million for the third quarter.
In addition, Goldman Sachs reported recently that its trading desk had incurred net losses on 27 days in 2013, which is an increase from 12 days the previous year. The investment bank also reported that it realized more than $100 million in net trading revenue on 34 days in 2013, a decrease from 41 days in 2012. Shares of Goldman Sachs were recently trading around $166.00 per share, which is down 6.4 percent from 2013.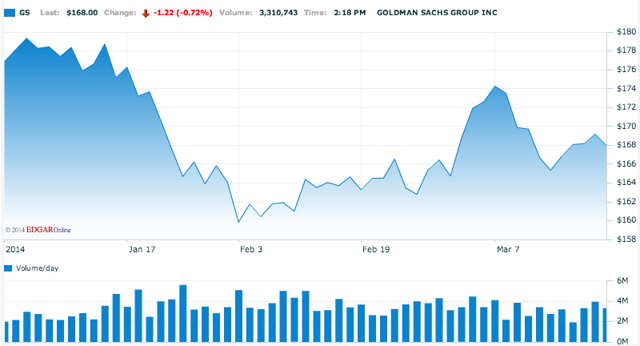 Conclusion For Shareholders of Goldman and J.P. Morgan
While GS shareholders might be optimistic on Blankfein's raise as a signal of the firm's future success, 2012-2013 trading and revenues losses should not be ignored; and a regulatory probe should never be taken lightly.
We continue to recommend that investors take some profits in the stocks of the mega banks of GS and JPM in 2014 until a better culture of compliance develops.
Disclosure: I have no positions in any stocks mentioned, and no plans to initiate any positions within the next 72 hours. I wrote this article myself, and it expresses my own opinions. I am not receiving compensation for it (other than from Seeking Alpha). I have no business relationship with any company whose stock is mentioned in this article.