In our previous article, we recommend investors increase portfolio allocations to investments poised to benefit in a rising rate environment. In this edition will evaluate bank loan ETFs using our evaluation framework described below.
Bank Loans are an ideal investment for higher interest rates. Most loans accrue interest at a spread over short-term rates based on indexes such as LIBOR or prime rate. When underlying base interest rates increase the investor's income will grow larger. As an added benefit most loans are senior secured, meaning investors are first in line for repayment should a company default.
The best way for individual investors to access the loan market is through a bank loan ETF. According to ETF database, there are four bank loan ETFs: Senior Loan Portfolio (NYSEARCA:BKLN), SPDR Blackstone GSO Senior Loan ETF (NYSEARCA:SRLN), Senior Loan Fund (NASDAQ:FTSL), Pyxis/iBoxx Senior Loan ETF (NASDAQ:SNLN). The funds distribute income through monthly dividends ideal for income seeking investors. As rates rise we anticipate a corresponding increase in dividends.
Below we've summarized our Glyndon Park Evaluation using a (1-5) scoring system with five being the highest. Results are summarized with funds rated Platinum, Gold, Silver or Bronze.
Platinum 22+
Gold: 19+
Silver: 15+
Bronze: >15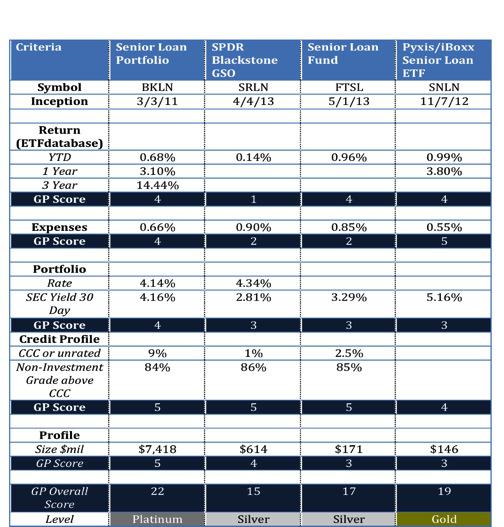 Platinum
Senior Loan
Senior Loan is our top scoring fund performing well in all categories. This ETF largely tracks the S&P/LSTA Leverage Loan 100 Index. BKLN has performed in line with the index and has the longest track among the available loan ETFs. As of the end of 2013 BKLN had a three-year performance of 4.41% compared with the index return of 4.73%. From a portfolio view the weighted average yield to maturity is 5.62% with coupon rate of 4.14% and an SEC yield of 4.16%. BKLN does have a relatively high concentration in CCC and unrated loans, which are potentially more risky than funds with higher quality non-investment grade exposure. We would note that reporting among the ETFs may not be directly comparable with respect to ratings and particularly unrated positions. BKLN is, by far, the largest ETF more than 10x the size of SRLN, the second largest. Investors will find ample liquidity and at 0.66% relatively low fees. We recommend BKLN for investors adding exposure to floating rate fixed income to their portfolios.
Gold
Pyxis/iBoxx Senior Loan ETF
SNLN is the top performing bank loan ETF year to date according to ETF Database. Since inception the fund has returned 5.35% annualized through January with a 5.22% return for the Markit iBoxx Liquid Leveraged Loan Index, outperforming by 13 basis points.
SNLN boasts the lowest expense s at 0.55%, albeit on an expense cap agreement that may expire in October. SNLN primarily tracks the underlying loan index but retains the flexibility to hold up to 20% of assets in holdings outside the index components.
We recommend SNLN for investors seeking an actively managed alternative bank loan ETF portfolio. The fund's performance and low fees make it an attractive option relative to other active funds. Investors should be aware of the funds small size and fee structure could be modified in the future.
Silver Rated Funds
SPDR Blackstone GSO
SRLN is rated silver lagging the other funds in year to date performance and launching in 2013 has yet to establish any performance history 1-year or longer. SRLN is an actively managed ETF and seeks to out perform the Markit iBoxx Liquid Leveraged Loan Index. Since inception SRLN has returned 2.28% versus 3.30% for the index, lagging by 102 basis points.
Overall we would avoid SRLN. The relatively high expense ratio of 0.9% is 24bps higher than BKLN that tracks the index. While SRLN's history is short, it yet shown any material benefit to the active management approach.
Senior Loan Fund
FTSL, like SRLN, is another actively managed fund with a relatively short history launching last year. Since inception through February the fund as returned 2.56% versus 3.09% for the Markit iBoxx USD Leveraged Loan Index, lagging by 54bps. In comparison to hypothetical index fund with 0.66% fees the fund is essentially near break even performance, earning just enough after fee return alpha to cover the incremental management fee. FTSL is paltry in assets compared to BKLN and fractions of SRLN meaning liquidity could be an issue.
Overall, we would avoid FTSL. The funds performance is adequate but with a short history and limited asset size better options exist for investors looking to gain exposure to floating rate bank loans.
Recommendation
In conclusion we recommend investors allocate portfolios toward floating rate fixed income using bank loan ETFs. Our top rated pick is the Senior Loan Fund with the longest performance history, largest asset size and below average expense ratio.
Disclosure: I have no positions in any stocks mentioned, and no plans to initiate any positions within the next 72 hours. I wrote this article myself, and it expresses my own opinions. I am not receiving compensation for it (other than from Seeking Alpha). I have no business relationship with any company whose stock is mentioned in this article.