Following on its rally last week, the S&P 500 closed above its 200-day moving average yesterday for the first time since May 19th, continuing to put our bearish outlook to the test, at least in the short term:
While this can sometimes be considered a bullish sign, we're still extremely cautious, for several reasons.
First, the underlying risks — primarily sovereign debt and interbank funding in the eurozone — have changed only marginally. It still looks as though the ECB's interventions will only be temporary and the core eurozone nations are still, for the most part, embracing concerted fiscal consolidation. Spain, which sports a much larger economy and national debt than Greece, is now the country on the margin, and is reportedly having a tough go of it, both in private and public sector credit markets. If and when asset values contract sufficiently, leverage in the continental banking system will transmit interbank shocks to the rest of the world.
Second, yesterday's rally, though impressive in terms of percentage gain, was supported by rather low volume.
Finally, in the run up to the bear market leg of 2008-2009, the S&P 500 popped above its 200-day MA several times until early December 2007, when it was off to the races for the bears (and the pattern then, as now, was moves higher on lower volume, moves lower on higher volume):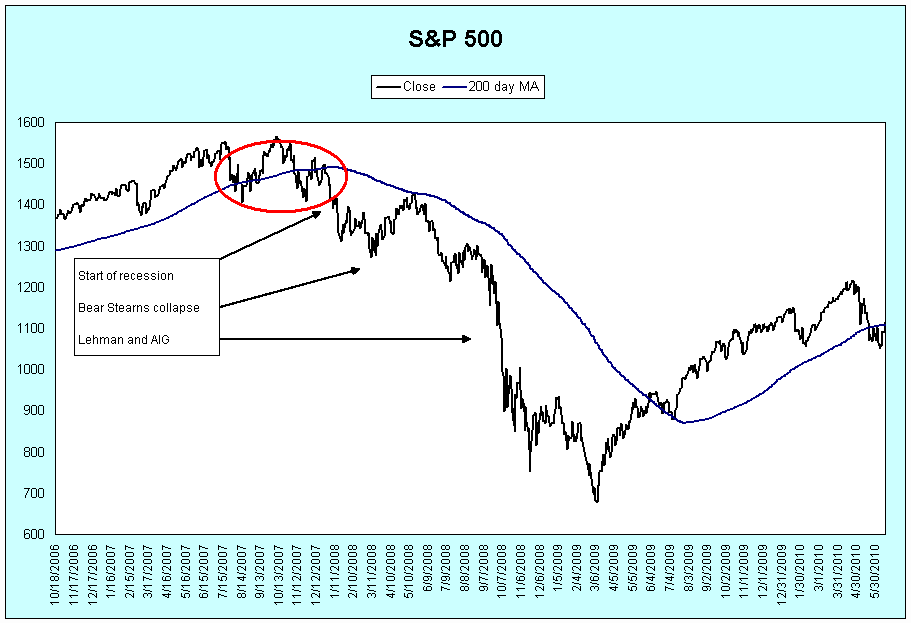 Could we see another decline as vicious as the last? It's certainly possible, but as we continue to point out, it's within the power of policymakers, especially in Europe, to lessen or even prevent much of the damage. Unfortunately, they still don't seem intent on doing that, their banks still appear to be highly levered, and that spells an eventual crisis in interbank funding markets and the global payments system. If that scenario unfolds, most asset values will be in for a rough ride, as they were in 2008 and 2009.
Like most snobby "fundamentalists," we tend to reflexively distance ourselves from "technical" analysis, or the dissection of chart patterns. However, this is one of those periods when "getting technical" is helpful (or at least feels that way). We're going to be watching stock markets' shorter term moving averages in the days and weeks ahead to see what kind of clues they give about sentiment. For example, as long as the S&P 500's 50-day MA can remain above its 200-day MA, its value should remain relatively stable, and we could even see some pretty nice gains into the fourth quarter (the right words, tones, and actions from policymakers could make that happen, we think). However, if the 50-day breaks down, we will become even more defensive and, where appropriate, will help clients speculate more heavily on downside risk and/or update their "shopping lists."
In the latter case, we wouldn't be surprised to see an eight handle on the S&P 500 again, at least for a quarter or two, and we'd only be somewhat surprised (and rather motivated to buy) if we saw a seven handle again. Investors should keep in mind that stock markets in Japan, whose demographic profile we follow by roughly a decade, was range bound for almost a full decade (1992-2000) until eventually moving lower.
On a related note, plenty of pundits and analysts (and even some inflation phobic policy makers) will continue to brow beat anyone who buys or holds U.S. Treasury securities at current levels, as interest rates surely "must" rise. We wouldn't be so sure. If Japan's experience is any guide — and there are compelling reasons to see it as such – longer dated Treasuries still have plenty of potential upside. In fact, 2010 marks the first time since 2001-02 that we've liked nominal Treasuries more than inflation indexed Treasuries as a long term asset. The only foreseeable development that would lead us to change our tune is another fiscal stimulus package of at least the size of ARRA. But if the mood of electorates around the world is any indication, and if the political forecasting models are accurate, then the GOP could score well in November, which would mean mean tighter federal purse strings, all else equal.
Disclosure: Some clients are long TLT and/or Treasury securities
Symmetry Capital Management, LLC ("SCM") is a state registered investment adviser in the Commonwealth of Pennsylvania. The views expressed by the author are as of the publication date, and are subject to change based on market and other conditions. The foregoing information is for informational, educational, or entertainment purposes only. It does not constitute an offer to buy or a solicitation to sell any security, or to engage in any investment strategy. Investors should not use this information as a basis for any investment decisions without first consulting their own financial adviser. At the time of writing, neither the firm nor its principals own any securities mentioned, or any securities issued by entities mentioned. Some clients of the firm are long TLT and/or U.S. Treasury securities. PAST PERFORMANCE IS NO GUARANTEE OF FUTURE RESULTS.