An investment in Intel (INTC) is pretty simple. If PC sales increase, the stock price should increase as well.
Investors are hoping to see the company diversify into tablet and smartphone processors. In the investment community, it's been argued that diversification equals de-worsification. Like it or not, Intel is, essentially, a de-worsified investment. The stock price is closely tied to the PC market. PC sales made up 62% of the company's sales last year. The company's de-worsified revenue mix may well represent an excellent investment opportunity. Read on to see why.
Intel's PC division experienced sales declines in 2012 and 2013. Guidance from the company calls for further declines in 2014. Intel is seeing good growth in other areas of the company, but that growth is being masked by declining PC sales.
Intel's PC sales began to decline about the time tablets came into popularity. It's widely assumed that people were spending their technology dollars on tablets instead of PCs. Tablets were great for surfing the web, reading books or playing games. But real stuff, like spreadsheets, word processing and accounting software, still had to be done on a PC.
Intel has recently introduced a game changer for PCs. That is, it's invented a new processor, powerful enough to run a real PC, with very low TDP (Thermal Design Power), meaning, it can run on batteries for hours without the need for a cooling fan. In other words, Intel has crammed a full blown, fully functioning, real PC into a tablet.
Last October, several manufacturers quietly began selling this new technology in what is known as a "Detachable 2 in 1". These devices are detachable, meaning, the (optional) keyboard can be separated from the tablet. They're also two in one, meaning, they're a tablet, but also a real PC, with a processor powerful enough to do everything a real PC can do. The demilitarized zone between tablet and PC has been breached, successfully, by Intel.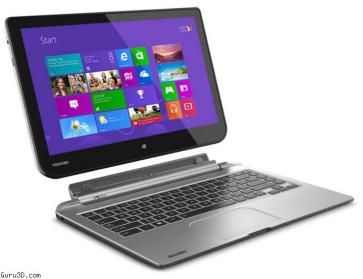 There are several manufacturers of these Detachable 2 in 1s. They're powered by Intel's 4th Generation Core i3, i5 and i7 family of processors. These are true PCs, capable of doing anything a real PC can do, in a tablet form. They can do a complete shut down and restart of Windows in less than 12 seconds. (That's partially due to the fact that they're made with solid state drives, which have no moving parts.)
When people think of what differentiates a tablet from a PC, the first thing that comes to mind is the ecosystem. That is, certain programs work on certain operating systems, such as iOS or Android or Windows. A popular program like Quickbooks, for example, won't run on an iPad or Android tablet.
Another differentiating factor is processing power. A PC requires a much more powerful processor than a tablet.
Lastly, a major differentiator between PCs and tablets is the user interface… the keyboard and mouse.
For most PC users, a PC isn't really a PC without a real, full sized keyboard and a real mouse. Some will tolerate a laptop style keyboard and touchpad, but few prefer it.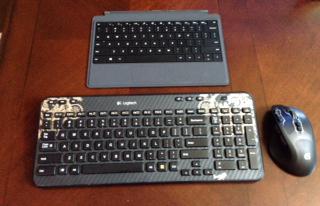 Today, only a minority of PC buyers are replacing their old PC with these new Detachable 2 in 1s. They're still buying laptops or the traditional tower under the desk, with a dusty mess of wires and cables behind it. That's because the entire PC food chain - from Intel (on the inside) to the Original Equipment Manufacturers (OEMs), such as Dell (DELL), HP (HPQ) and now Microsoft (MSFT), to the retailers, such as Fry's and Best Buy (BBY) - has missed a tremendous marketing opportunity.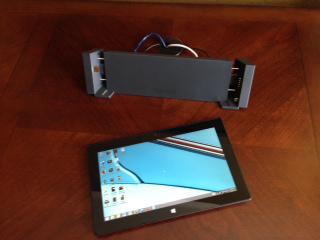 The missed marketing opportunity is the docking bay. With the docking bay, the Detachable 2 in 1 becomes a true PC, with a real keyboard and a real mouse. It also charges the tablet while it's in use. The docking bay enables a large screen display, as well as a subwoofer powered audio system. It also has an Ethernet connection. When docked, the tablet acts and feels like a true PC.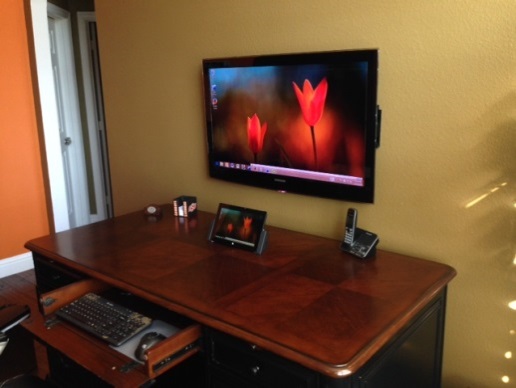 When it's time for lunch, it can be removed from the docking bay in under a second. After lunch, it can be popped back into the docking bay just as fast as it was removed, without the need to power down.
Intel's Opportunity
No other company has the capability of manufacturing what Intel has developed. That is, Intel enjoys monopoly status when it comes to real PC processing power in a tablet form, without the need for a cooling fan.
Fellow Seeking Alpha writer, Michael Blair, reported here that Intel earns revenue of about $120 for every PC with Intel inside. The processors powering these new Detachable 2 in 1s have list prices ranging from $275 (i3) to $426 (i7), as seen here.
Intel should be replacing $120 PC sales with $275+ PC sales. But that's not reflected in the company's guidance.
Intel has always had faster, newer PC processors for sale at premium prices. The latest, greatest, fastest processor has always appealed to hard core video gamers and computer geeks, who were willing to shell out the extra bucks for the premium power. But never before has Intel had this kind of competitive advantage in the mind of a well informed consumer. Not only are these processors faster, but for the first time, they enable tablet portability.
Intel has invented these new PCs, giving users the PC processing power needed for a real PC, in a tablet form. They're selling for twice as much as their average PC sale. They hold monopoly status in this area. Why aren't they selling them? Why isn't the company raising guidance? Why aren't shareholders reaping the benefits?
Intel's Marketing Blunder
The answer is simple, and that is, people don't know what Intel has done. People don't know what's available.
To Intel's detriment, no one is advertising the docking bay. The retailers don't have the docking bays on display nor do they have them in stock. The OEMs aren't demonstrating the docking bays in their ads either.
The PC food chain is marketing the detachable keyboards quite well, but these basically convert the tablet into a laptop. As noted previously, few PC users want a laptop style keyboard with a touchpad, but it's the only option being presented. Few can visualize themselves being truly productive with a detachable keyboard. Consumers, as well as corporate buyers, don't realize there exists a better option, in the form of a docking bay, enabling a real keyboard and real mouse.
Development Risk
It's not a question of whether Intel will be able to develop the technology described above. That element of the risk equation is known. The jury is still out on whether it'll ever be able to develop a competitive smartphone product. But whether or not it'll squeeze a full blown, real, powerful PC into a tablet form, is known. It has already done it.
The question for investors, is, will Intel sell it?
Consumer Confusion Risk
When consumers walk into a retail outlet, such as Best Buy, they are surrounded by dozens of tablet choices. There are several tablets running Windows, but almost none of them are capable of replacing a true PC.
Intel and its competitors are also selling low powered processors for Windows based Detachable 2 in 1s. Simply buying a Detachable 2 in 1 with Intel inside doesn't ensure that a consumer won't end up with a sluggish machine unsuitable for real business productivity. Delays of several seconds (from pressing a button to seeing a reaction on the screen) are not uncommon with these cheaper devices.
Because most Windows tablets being sold aren't capable of replacing a true PC, consumers still have a predefined assumption in their minds. Tablets are for entertainment. PCs are for productivity. In consumers' minds, these are two separate devices. They aren't aware that one device can now replace both.
Cannibalization Risk
Intel is selling two families of processors for Detachable 2 in 1s running Windows. The first family, as noted earlier, are Intel's Core processors, which have list prices of $275 and up. Detachable 2 in 1s made with these processors typically retail for $900 and up.
Intel is also trying to gain market share in the tablet space with a family of processors it calls Atom. These processors are being used in some Detachable 2 in 1s running Windows. Intel's Atom Z3740 processor is a good example of this. It has a list price of $32, as can be seen here. Windows based Detachable 2 in 1s made with these processors typically retail for $300 and up.
These Detachable 2 in 1s, powered with Atom processors, are sluggish and unsuitable for business use. They're great for entertainment, but these little devices could never replace a real PC in the business world.
Intel's Conflict With OEMs
Could it be that the OEMs are realizing superior gross margins with the low end Detachable 2 in 1s? Intel gets $32 (list price) on the sale of the Asus T-100 with Intel's Z3740 inside. This Detachable 2 in 1 is retailing for around $350. Intel's cut on this device is less than 10%.
Intel gets $281 (list price) on the sale of the Microsoft (NASDAQ:MSFT) Surface Pro 2, with Intel's i5-4300-U inside. This Detachable 2 in 1 is retailing for around $900 and up. At a retail price of $900, Intel's cut is just over 30%.
After paying the Intel bill, from the OEM's point of view, which gross margin starting point would they prefer? It doesn't look like Intel can sit back and allow the OEMs to sell their product the way they have in the past.
Marketing Risk
Intel obviously understands the importance of marketing. It's running ads on tv. It simply needs to stimulate demand for the product it has invented. People want the portability of a tablet. Intel has now combined that with the power and versatility of a full blown PC, something their competitors can't match.
Simply marketing the name brand, "Intel", isn't enough to stimulate the right demand for this particular product. Only the machines with Intel's 4th Generation Core (i3, i5 & i7) processors can provide the processing power needed for real business productivity. Intel needs to make consumers aware that they need to buy a certain kind of Intel processor inside their Detachable 2 in 1.
The company has done a great job of marketing the brand name "Intel". Most consumers have heard of Celeron and Pentium. But the company has clearly blown it with these new Core processors and the opportunity they present. To assume that Intel will get its marketing act together before the competition catches up, technologically, is a grand assumption. Marketing this to consumers, effectively, may be beyond Intel's abilities.
Catalyst
The catalyst to watch for is consumer awareness. If Intel begins advertising this new product, causing consumer awareness of what's available, it's time to buy Intel. If Intel begins advertising these devices combined with docking bays, it's time to buy Intel. If the retailers begin to stock and display docking bays, it's time to buy Intel. If the OEMs begin demonstrating docking bays in their advertisements, it's time to buy Intel.
In short, when consumers begin to realize what Intel has for sale, whether through word of mouth or through paid advertising, it's time to buy Intel. Let's just hope that happens before the competition catches up.
Those are the catalysts to watch for. When you see it, if you see it, Intel should be easy money.
Disclosure: I am long INTC. I wrote this article myself, and it expresses my own opinions. I am not receiving compensation for it. I have no business relationship with any company whose stock is mentioned in this article.