Ford Motor's (NYSE:F) cash flow and earnings are largely driven by the US auto market. Given that the roots of the company are in America, this is not really surprising. However, I believe vehicle sales and incremental earnings growth will largely be driven by emerging markets with China being the most promising growth market in the future decades.
Capitalizing on the Chinese growth story
In a globalized world, capital flows freely across borders at the blink of an eye and worker specialization is as important as it ever was. Western countries are likely to retain their competitive advantage over emerging markets only by focusing on a few key areas: Political stability, rule of law, higher education standards, infrastructure, research and development, process efficiency and technology. Labor intensive assembly work will largely be done in countries like China.
Emerging markets will continue to focus, in the short-term, on manufacturing and distribution. In the long-term, Western- and emerging market living standards will converge and a larger share of global wealth will be concentrated in the Asia Pacific region - particularly in China.
China, under communist leadership, is in fact conducting a large-scale experiment in unconstrained and unregulated capitalism. Violations of property rights (a key driver of wealth generation) have been widely reported and are not shocking anybody anymore. The underlying motive, of course, is to make money and acquire status as quickly as possible. As such, China has learned from the Western world that personal wealth needs to be glorified and showcased at any opportunity.
A country that increasingly cherishes wealth and material possessions, and, at the same time, has the largest population of any country in the world (more than 1.3 billion) is a very attractive market for any company. And US car manufacturers are no exception.
Strong Chinese sales momentum
The Chinese auto market is usually good for delivering positive results for Ford Motor. The company posted double-digit y-o-y increases in Chinese vehicle sales with strong demand for its Ford Focus and Mondeo models.
As Ford Motor reported on March 6, 2014, vehicle demand is going through the roof:
SHANGHAI, China, March 6, 2014 - Continued strong demand for the Ford Focus, the best-selling nameplate in China last year, helped Ford China increase sales by 67 percent in February, with 73,040 vehicles sold. Ford China's sales are up 59 percent so far for the year, with sales of 167,506 vehicles compared to the first two months of 2013.

Total passenger car sales for Ford China-which include imported cars-rose 88 percent in February with 56,284 vehicles sold compared to 29,950 in February 2013. Ford has sold 128,882 passenger cars so far in 2014, up 73 percent from 74,389 vehicles sold during the same period last year.

Ford's passenger car joint venture Changan Ford Automobile, sold 53,272 vehicles in February, up 81 percent from 29,389 sold during the same period last year. Year-to-date sales sailed well past the 100,000 mark, with 123,310 sold, up 70 percent compared to the first two months of 2013.

Featuring great fuel-efficiency, quality, safety and smart technologies, sales for the Ford Mondeo and the Ford Focus continued to surge last month. Ford Mondeo nameplate sales were up 123 percent with 7,755 vehicles sold in February while Ford Focus nameplate sales reached 27,899 vehicles, up 13 percent compared to February 2013.

Ford's commercial vehicle investment in China, Jiangling Motors Corporation (JMC), also continued to turn in steady growth, with sales rising 22 percent in February, with 16,756 vehicles sold compared 13,684 in February 2013. JMC's year-to-date sales were up 25 percent with 38,624 vehicles sold, up from 30,820 in January and February 2013.
Consolidation offers attractive entry point
Ford Motor's stock price is clearly taken a breather at the moment. Ford's share price has fallen 14% from its 52-week High at $18.02.
From a technical point of view, Ford Motor is no longer oversold. The stock got pretty hammered in January and the beginning of February although the car manufacturer presented convincing performance results with a 2013 full year pre-tax profit of $8.6 billion, record profits in North America and a strong 2014 pre-tax profit guidance of $7-8 billion.
Despite solid results, Ford Motor sold off without any negative news which could explain the decline in valuation. In any case, I recommended Ford Motor for value investors on February 8, 2013 and argued that the company is worth around $30 per share. I still stand by that assertion.
Since then, little has changed in valuation. Ford Motor trades just about 4% higher but still offers long-term oriented value investors, in my opinion, a great entry point.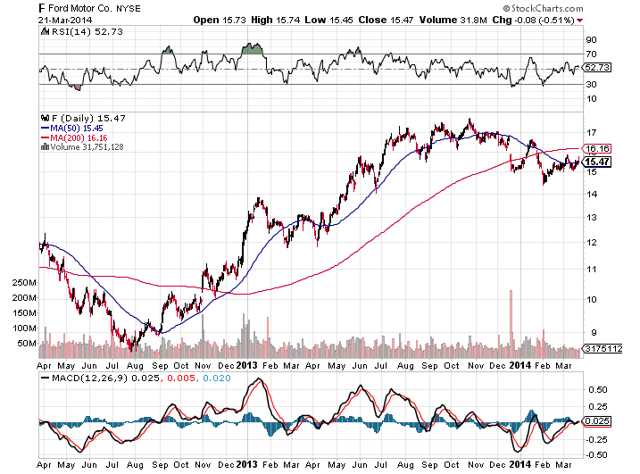 (Source: StockCharts.com)
Conclusion
Ford Motor has a lot of potential in China. Ford Motor had a market share of 4.1% in China in 2013 which compares against 3.2% in fiscal year 2012. The car manufacturer had a market share of 15.7% in the competitive US market and a 7.8% market share in Europe.
With more and more wealth concentrated in Asia, a secular trend of rising living standards in China and a culture that has become increasingly materialistic, Ford Motor faces extraordinarily attractive growth prospects in one of the largest future car markets in the world. Ford's sales update certainly suggests that China can deliver substantial sales momentum.
Disclosure: I am long F. I wrote this article myself, and it expresses my own opinions. I am not receiving compensation for it (other than from Seeking Alpha). I have no business relationship with any company whose stock is mentioned in this article.