Whether society acknowledges it or not, the world's climate is changing and the effects it is having on agriculture remains a telling sign. The year 2014 is off to a difficult start as weather becomes more extreme around the world. Some areas accustomed to rains are facing extreme droughts and more moderate regions are facing heavy rains. A recently published study from the University of Leeds suggested that climate change will begin to reduce crop yields earlier than expected as world output is expected to fall starting in 2030.
On the frontlines of battling this problem are the well-established plant genomic companies such as Monsanto (MON), Bayer (BAYRY), DuPont (DD), and Syngenta (SYT). These agribusiness enterprises are engaged in the discovery and development of novel genes capable of improving crop yields and plant sustainability amidst harsh environmental conditions. Operating in the same sphere of these much larger players is a promising name that is beginning to gain momentum. Indeed, this biotechnology company named Evogene (EVGN) is a key partner for numerous future products.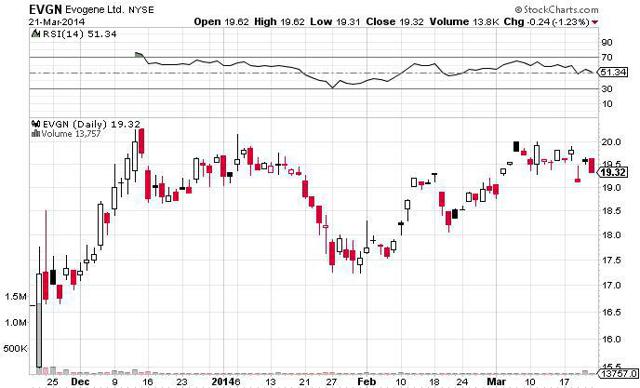 Evogene is a plant genomics company that uses an integrated technology infrastructure through biotechnology and advanced breeding methods. The company develops enhanced seed traits which can affect crop performance and productivity. In particular, the company focuses primarily on essential crops such as corn, soybean, wheat, rice, and cotton. To date, Evogene has identified and patented over 4,000 genes predicted to improve various important traits for different crops.
The company has multiple strategic collaborations including those with Monsanto, Bayer, DuPont, and Syngeta. These are geared to develop improved seed traits relevant to addressing yield and abiotic stress. In several instances, these developments include an increased tolerance to drought effects. Additionally, Evogene applies its technology infrastructure to two additional fields found in agriculture chemicals and 2nd generation feedstocks used for biodiesel. However, it is important to note that both of these latter fields are still in the development phase and have not generated revenue.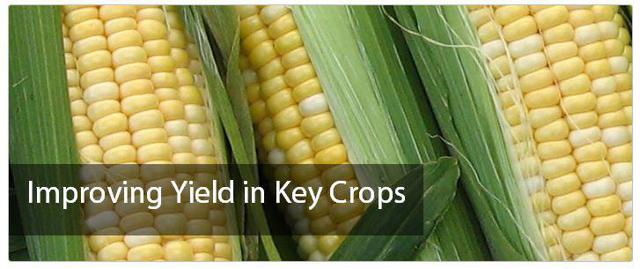 Evogene's Competitive Strength
Evogene's inherent competitive advantage in this field lies in its discovery and development infrastructure. The technology is capable of integrating and analyzing vast amounts of data using a proprietary computational technology. This includes advanced algorithms and predictive methodologies. Through its proprietary gene identification capabilities, Evogene can scale and adapt to a large array of crops and traits.
However, what currently gives the company a premium market valuation are the numerous strategic collaborations that it has developed amongst the agribusiness elite. These include ongoing relationships with Monsanto, Bayer, DuPont, Syngenta, Rahan Meristem, Rasi Seeds, and Viterra to name a few. Monsanto and Bayer are even investors in the company. According to the Form F-1 found here, Monsanto and Bayer respectively held 8.7% and 4.6% of the company's shares as of June 2013.
Based on the same Form F-1 filing, Evogene lists the following attributes as some of the company's key strengths:
A leading position in the field of plant genomics. The company can identify, prioritize, and validate over 1,000 genes per year.
Innovative proprietary computational technologies. To date, the company has demonstrated the capability to integrate and analyze vast amounts of public and proprietary data covering more than 200 plant species.
A balanced and scalable business model. Evogene currently generates revenue primarily through research and development payments and milestones. However, over the long term it expects to generate significant revenues from sales royalties generated upon the commercialization of seeds incorporating genes identified by the company.
A strong intellectual property portfolio. Over the past 10 years, Evogene has established a broad IP portfolio that includes patents covering thousands of key genes impacting numerous valuable traits. The company has more than 20 patent families, over 180 national filings, and over 30 granted patents.
A diversified product portfolio. The company has more than 10 different collaborations with leading seed and ag-chemical companies which cover a portfolio of 20 products tailored to specific market needs across various traits.
A Look At The Financials
In November 2013, Evogene staged a U.S. initial public offering as it listed on the New York Stock Exchange. The company had already been trading on the Tel Aviv Stock Exchange. Evogene offered 5 million shares at a price of $14.75 along with an underwriter option to purchase up to 750,000 shares at the same price. The offering option was fully exercised and the total amount raised was $84.8 million. This was more than 41% over the $60 million intended to be raised back in September according to the article found here.
Evogene now trades with a market capitalization of $481.09 million based on the last price of $19.32 as of March 22. Evogene currently supports a share price 31% higher than its U.S. IPO offering price. The company has a price-to-book ratio of 3.90 and a lofty price-to-sales ratio of 27.70. Nevertheless, it remains important for investors to remember that Evogene operates as a development company with long-term royalty revenue potential.
Based on the 2013 year-end results found here, Evogene maintains total assets of $137.31 million and total liabilities of only $12.56 million as of December 31. Due to the recent IPO, the company has more than $95.45 million in cash and cash equivalents and $31.45 million in marketable securities. This is in stark contrast to the mere $8.57 million in current liabilities.
For the year ending in December 2013, Evogene generated $17.58 million in revenue at a cost of $10.11 million. This generated a gross profit of $7.47 million, but an operating loss of $8.72 million due to large expenses related to research and development. It is expected that the company will maintain a net loss for some time until the company's products under development reach commercialization.
The Long Wait
Unlike many companies which are evaluated on the basis of their profitability, development-stage biotechnology companies like Evogene often incur significant near-term losses for the prospect of lucrative long-term royalties. Among the first products expected to be commercialized is the proprietary castor seeds of the company's subsidiary, Evofuel. These seeds are expected to initiate commercialization in 2016.
Unfortunately, the plant seed business requires a large amount of time for development. The general time frame and cost for a new trait development could take 8-10 years and more than $50 million. This is reiterated by the following excerpt shown on Monsanto's website found here:
"On average, companies typically invest between $50 million to $100 million and spend approximately 8 to 10 years in order to bring a biotechnology product from concept to reality. Additional time and expense is often required to produce breeding stacks."
Many of Evogene's initial multi-year collaborations were initiated in the time period between 2007-2010. This suggests that much of the company's future royalties are still many years away from commercialization. Nevertheless, given the strong collaboration results to date, the company appears well positioned for long-term growth in some of the world's most important crops. The following chart taken from the Form F-1 covers the company's products currently under development with key strategic collaborators: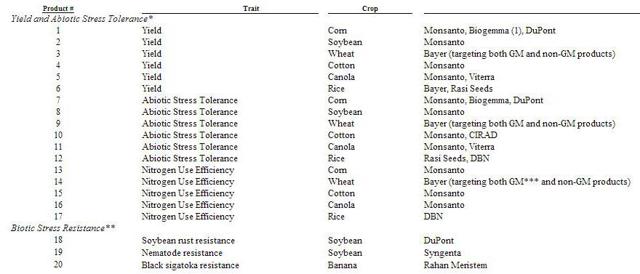 Final Thoughts
Evogene will inherently require many years to develop these products. However, the company maintains a proprietary technology infrastructure capable of discovering large amounts of genes with potentially valuable properties. To date, the company supports a strong balance sheet and has historically generated a gross profit. Nevertheless, an operating loss should be expected for some time.
For investors, Evogene remains a strong long-term growth candidate in an industry facing mounting woes. The agronomics of tomorrow suggests that new solutions will be needed to address the pressures of growing populations, shrinking amounts of arable land, and more volatile weather conditions. Evogene is a company that is currently assisting the leading plant science companies of today to create the more productive and tolerant crops of tomorrow.
Disclosure: I have no positions in any stocks mentioned, but may initiate a long position in EVGN over the next 72 hours. I wrote this article myself, and it expresses my own opinions. I am not receiving compensation for it (other than from Seeking Alpha). I have no business relationship with any company whose stock is mentioned in this article.