Below we take a look at historical and current sector weightings of the S&P 500. Technology is currently the biggest sector in the index at 18.9%, and it has been the biggest since it overtook the Financial sector early on in the financial crisis. There has been quite a bit of movement in sector weightings in recent years. At the bear market low in March 2009, the Financial sector made up just 8.9% of the index. It has charged back since then and has nearly doubled its weighting to 16.3%. Consumer Discretionary, Industrials, and Technology are the only other sectors that have increased their weightings during the current bull market. Health Care has really dropped off, going from 16.1% at the bear market low to its current level of 11.8%. Energy has also dropped quite a bit from 14.3% to 11%. There are now five sectors with weightings that are between 10.5% and 11.8%. Utilities, Materials, and Telecom continue to have very low weightings, and combined they still make up less than the 7th largest sector. The performance of any of these three sectors has a very minimal impact on the overall direction of the market.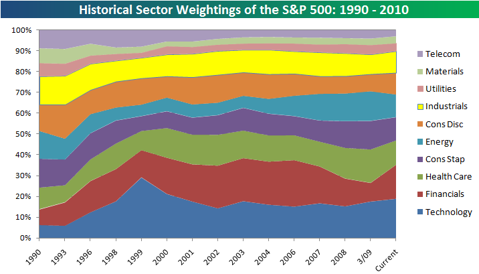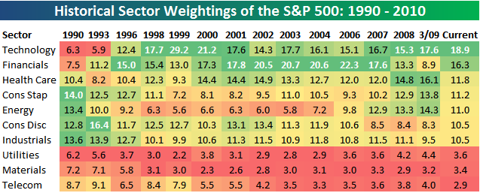 Below we chart out the historical S&P 500 weightings of the ten sectors. We also provide the historical average for each sector. It's easy to see which way the various sectors are trending. The Financial sector has just moved back above its historical average after trading well above it and then well below it from 2005 to 2009. Technology has been above its historical average for some time now. As we mentioned earlier, Health Care's weighting in the S&P 500 has really moved lower lately, and it is now below its historical average. The Industrial sector has basically been weak for the entire decade, and its recent move higher as the economy has recovered still hasn't put it above its average. Consumer Discretionary has been trending higher for the past year or so, which is no surprise given its outperformance throughout the bull market. The weighting in Consumer Staples has been trending lower. The Energy sector saw the biggest expansion in weighting during the commodity boom from 2006 to 2008, and it's still above its 20-year average even though it has dropped off quite a bit recently.
Back in 1990, Telecom made up 8.7% of the S&P 500, while Materials made up 7.2%. Telecom now makes up 2.9% and Materials is at 3.4%. In 1990, Consumer Staples had the biggest weighting, while Technology and Financials had two of the smallest weightings. Oh how the times have changed over the last 20 years. And who knows how things will look 20 years from now.