AT&T Locks Sirius XM Out of Android Phones
By Demian Russian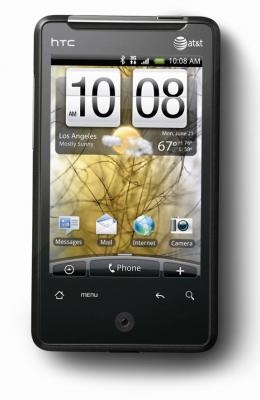 In a stunning move, AT&T (T) has locked Sirius XM (SIRI) out of all of its Android based phones. AT&T's new HTC Aria Android based phone, which is scheduled to be released on June 20th, will be locked to prevent the downloading of Sirius XM's Android app. AT&T's Motorola (MOT) Backflip has already been locked to prevent the downloading of the app as well. This is the result of AT&T's decision to lock out all non-Android Market apps, including the Sirius XM app, from being downloaded to its Android based phones.
AT&T's decision to not embrace the open source nature of the Android OS is surprising, especially in light of CEO Ralph de la Vega's previous comments regarding the Android platform. In an interview with Engadget he seemed to indicate the opposite:
We like the Android as an operating system on its own, but we want to make sure that we have, and customers have the option, to put applications on that device that are not just Google (GOOG), applications, so when the G1 came out and T-Mobile (DT) launched it, it's primarily a Google phone. And we want to give customers the choice of other applications on that device, not just the same Google applications … the whole idea behind Android is that it's gonna be an open OS, and so I don't wanna roll an open OS to market that has primarily Google apps on it, and I think that's gonna happen. I mean, I see a lot of activity, I think it's got a good future, and I think it makes a lot of sense that the OS is open-source, separate from Google apps that are also very good.
Why isn't Sirius XM's online streaming app available from the Android Market? Pandora, Slacker, Last.fm, along with many other streaming apps, are currently available from the Android Market. Sirius XM's April 23rd announcement stated that the app "will be available as a free download through the Android Market on the handset or by visiting siriusxm.com/android." The company's May 28th press release announcing the launch of the app then dropped the Android Market download option, simply stating: "The SIRIUS XM App is available by visiting siriusxm.com/android." The reasons for this have not been made public as of now. While many unanswered questions remain, AT&T's decision to lock out non-Android Market apps risks alienating customers who want Sirius XM.
Disclosure: Author long SIRI
This article was written by
Satellite Radio Playground (http://satelliteradioplayground.com) is the premier news source on the world of satellite radio. Demian Russian (co-founder and editor-in-chief), Dennis "Cos" Costa (co-founder and lead writer) and Brian "Newman" Rayl (co-founder and COO) bring you timely and factual news on the satellite radio sector.