By Dirk van Dijk
In May, Industrial Production rose by 1.2% on top of a 0.7% increase in April (revised down from 0.8%) and a 0.3% increase in March (revised up from 0.2%). Relative to a year ago, total industrial production is up 7.6%. The monthly increase far exceeded expectations for a 0.8% increase.

The industrial production number tracks not just the output of the nation's factories, but of its mines and power plants as well. The utility numbers, though, have the potential to distort the overall number because utility production is influenced as much by the weather as it is by economic activity.

Thus, just looking at what is happening with manufacturing output is a better gauge of the overall health of the economy. There the news was good, but not quite as good as the overall number suggests. Factory output climbed 0.9% in May on top of a 0.9% increase in April (revised from up 1.0%) and a 1.2% increase in March (revised from a 1.0% increase). Relative to a year ago, factory output is up 7.9%. If the rate of the last three months is annualized, then factory output is growing at 12.7%.

That is a very healthy rate of increase, but it is coming off of a very low base. Mine output, which also includes production of oil and natural gas, fell by 0.2% in May, after having increased very sharply in the previous two months, up 1.5% and 1.2% in April and March, respectively. Over the last year, mine output is up 9.6%.

The May decline is most likely a result of the ongoing BP (NYSE:BP) oil disaster in the Gulf of Mexico, and the moratorium on deepwater drilling that resulted from it. Utility output climbed by 4.2% in May (warmer than normal weather leading to more air conditioning). Utility output had been down sharply in the previous two months, falling 1.3% in April and down 6.2% in March (when it was coming off a heating induced spike in February due to the blizzards). Over the last year Utility output is up 4.2%.

Output of finished goods was up 1.1% on the month, after an increase of 0.4% in April and a 0.7% increase in March. Within finished goods, output of consumer goods rose by 1.2%, more than reversing a 0.1% decline in April and much stronger than the 0.4% increase in March. Output of consumer goods is up 6.3% over the last year.

Output of business equipment has been doing even better, climbing 1.3% in May on top of a 1.6% increase in April and a 1.1% increase in March. Relative to a year ago, business equipment output is up 10.1%, but if we annualize the rate of the last three months, output is growing at an annual rate of 17.2%.

That is booming, folks -- or at least climbing rapidly out of the hole. As the first graph below (from Calculated Risk) shows, we have seen a nice increase in industrial production, but it remains far below where it was when the recession started, and is actually at about the same level it was at in 2000.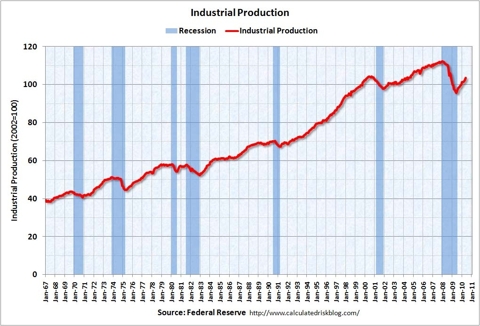 Capacity Utilization

The same report also shows Capacity Utilization, which is to my mind one of the most under-appreciated economic statistics around. Effectively, it is the employment rate for physical capital. The overall rate of capacity utilization rose to 74.7% from 73.7% in April and 73.1% in March. A year ago it stood at 68.5%, and it hit a record low of 68.3% in June of 2009.

As a good rule of thumb, as illustrated by the second graph (also from Calculated Risk, when the economy is healthy, total capacity utilization should be near 80.0%. The long-term average rate is 80.6%. If it gets up close to 85% it is a serious sign that the economy is overheating and that inflation will soon be a very serious issue. That is a signal that the Fed needs to raise interest rates to cool the economy down (and is also a good time for the government to be cutting spending or raising taxes to bring down the deficit/debt).

A total capacity utilization rate of 75% is usually associated with a pretty severe recession. The worst level ever recorded (unfortunately the data only goes back to 1967) prior to the Great Recession was 70.9% in December 1983.

While capacity utilization has made a very strong comeback -- and has been up in every month since June, except for February when it was unchanged -- it is still approximately at the same level it was at the worst points of the 2001 and 1974 recessions, and far below the worst points of the 1970, 1980 and 1990 downturns. The year-over-year increase in capacity utilization has also been aided by a 1.3% decline in overall capacity. If some factories and mines are shut down and dismantled, it is that much easier to run the remaining ones at a higher rate.

Like the industrial production numbers, the capacity utilization numbers can be distorted by Utilities and the weather. Thus, just looking at factory utilization is instructive. Like the overall rate, it has staged a strong comeback, but is much lower than the overall rate at just 71.5%. That is a nice gain from the 70.8% level last month and the 70.1% level in March, as well as being well above the 65.3% level a year ago.

It is however, not a healthy level. The long-term average level is 79.2%. Overall factory capacity has declined by 1.4% over the last year, which has aided the recovery in utilization levels. Mine utilization is vey healthy at 90.6%, although that is down a tick from 90.7% last month -- but up from 81.9% a year ago, and well above the long term average level of 87.5%.

As mining is a very operationally leveraged industry, it is good news for mining firms with significant U.S. operations like Peabody Energy (NYSE:BTU) and Freeport McMoRan (FCX). Utility output jumped to 81.0% in May from 77.3% in April, and is above the 79.2% level of a year ago, but well below its long-term average rate of 86.6%. Unlike factories and mines, the nation's utility capacity is actually growing, up 1.9% from a year ago.

Crude vs. Intermediate vs. Finished Goods

By stage of production, utilization of crude goods facilities is the highest at 88.1%, although that is down a bit from 88.4% in April, but up from 79.8% a year ago, and above the long-term average rate of 86.5%. By contrast, production of semi-finished goods (steel would be a good example, with iron ore being the crude good) is running at just 71.9% of capacity. While that is a nice increase from 70.3% last month and 65.9% a year ago, it is still far below its long-term average rate of 81.6%. Utilization at finished goods facilities rose to 72.4% from 71.8% in April and 67.0% a year ago, but well below the long-term average rate of 77.5%.

A Very Positive Report

Overall, this is a very strong report, and at least so far shows that the nation's factories have been able to shrug off the effects of the Euro crisis and the resulting strength of the dollar. However, movements in the foreign exchange markets tend to act with a bit of a lag on the real economy, so it will be important to monitor the levels of industrial production and capacity utilization in the months to come. The direction so far has been very promising on both production and utilization, but we are digging out of the deepest hole on record, and that job is far from done.

On the bright side, with capacity utilization still at extremely depressed levels, it will be almost impossible for inflation to take root. Indeed, the greater threat at this point is that of deflation. This will allow the Fed to keep interest rates very low for a very long time. For the Fed to raise rates now or in the near future would be a very serious mistake.

If it were possible, the data would actually be calling on the Fed to cut interest rates further, but they are already at zero. Thus the only route left to the Fed to further ease monetary policy would be more quantitative easing. That would involve a further expansion of its balance sheet and the buying of longer-term T-notes. I think that is a step the Fed should have under serious consideration at this point.

When a factory sits idle for a month or a year, that is output that is gone forever, and having major portions of our physical capital sitting idle out of concern for a non-existent threat like inflation simply makes no sense. There is a very real cost to worrying about that boogie man under the bed. The cost is lost output from our factories and lost income from the millions of people who are unemployed and rapidly sinking into abject poverty.