BDCs should be priced based on more than just net asset value ("NAV") per share and earnings multiples, especially for the higher quality companies that return more than just dividends. In a weekly newsletter I provide updated pricing and recommendations for the 25 BDCs that I cover and the following is a chart that I use to show the average performance over the last 10 months.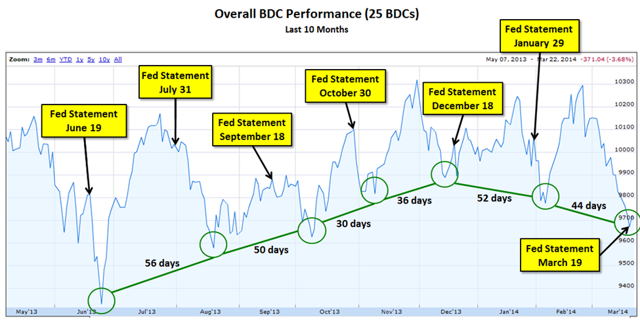 Multiples Based Pricing
The following table breaks out each BDC by level of risk with associated multiples. The 'standard deviation' statistically measures the variation of pricing compared to the average, with 68% of BDCs priced within one standard deviation from the average or between 0.93 and 1.24 times NAV per share and between 9.6 and 12.5 times 2014 EPS.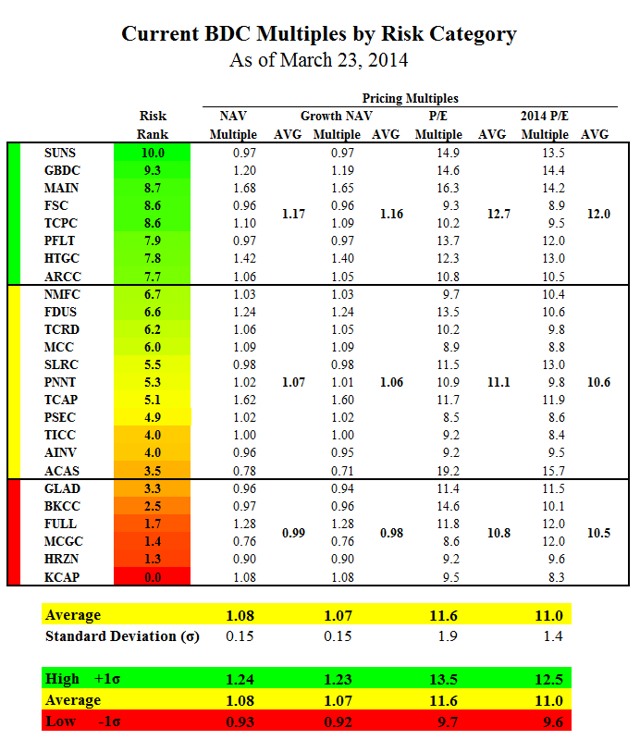 Ideally, each BDC would be priced along a valuation curve with investors paying a premium for favorable risk to reward ratios. The table below shows the implied pricing for each BDC based on risk level using the averages and standard deviation of multiples. Keep in mind that these multiples can change at any time and are only averages of what investors are currently paying.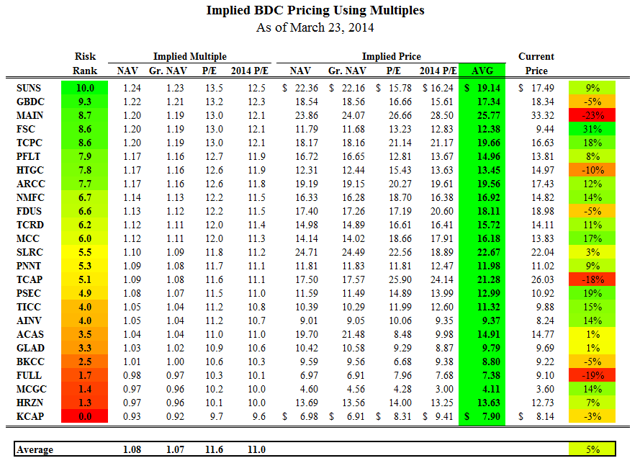 Using multiples only implies that around half of the BDCs that I cover are priced within 10% including Solar Capital (NASDAQ:SLRC), PennantPark Investment (NASDAQ:PNNT), American Capital (NASDAQ:ACAS), BlackRock Kelso Capital (NASDAQ:BKCC) and KCAP Financial (NASDAQ:KCAP). The four most underpriced BDCs using only multiples are Fifth Street Finance (FSC), Prospect Capital (NASDAQ:PSEC), TCP Capital (NASDAQ:TCPC) and Medley Capital (NYSE:MCC), all of which I consider to be 'Buys' at this point. The four most overpriced BDCs are Triangle Capital (NYSE:TCAP), Main Street Capital (NYSE:MAIN), Hercules Technology Growth Capital (NASDAQ:HTGC) and Full Circle Capital (FULL) but most of these have much higher than average NAV and dividend growth than the average BDC with the exception of FULL.
Recent NAV Growth
The table below shows the amount of NAV per share and dividend growth over the last 12 months with associated price to NAV multiples. Obviously investors pay higher multiples for companies that can continually increase value and returns to shareholders with HTGC and MAIN outperforming the average. Gladstone Capital (NASDAQ:GLAD) is an outlier in this chart (and for the other charts in the rest of this article) with historically large declines in NAV and a portfolio at 83% of cost with a lot of ground to make up for.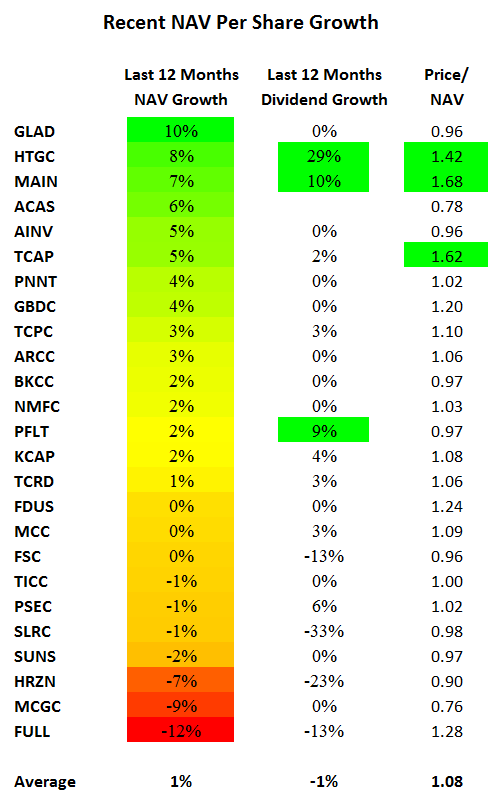 Actual Total Returns
The table below has been updated since my article "Total Return Pricing For BDCs" with the latest reported results and shows the total return for each BDC using current dividend yield plus actual/expected special dividends and NAV per share growth over the last 12 months. The projected dividend coverage column simply uses either the average of First Call EPS estimates or my personal projections over the next two quarters divided by the current regular dividend. HTGC is prudently putting off short-term income in exchange for improving long-term credit quality and portfolio yields in an over competitive market as discussed in my latest "HTGC Report". I believe BKCC and MCG Capital (NASDAQ:MCGC) are the most at risk for cutting dividends in the coming quarters.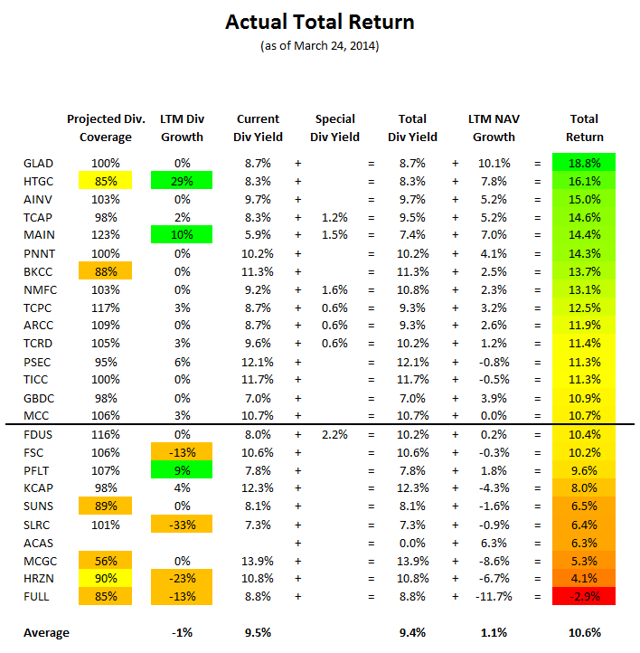 Actual & Expected Total Returns
When trying to come up with expected total return I use a few different methods but the table below uses actual returns and assumes that the BDCs with recently declining NAV per will stabilize in the future and used a growth rate of 0%. This would imply that BDCs should have annual returns between 9.1% and 14.8% based on the level of perceived risk to shareholders.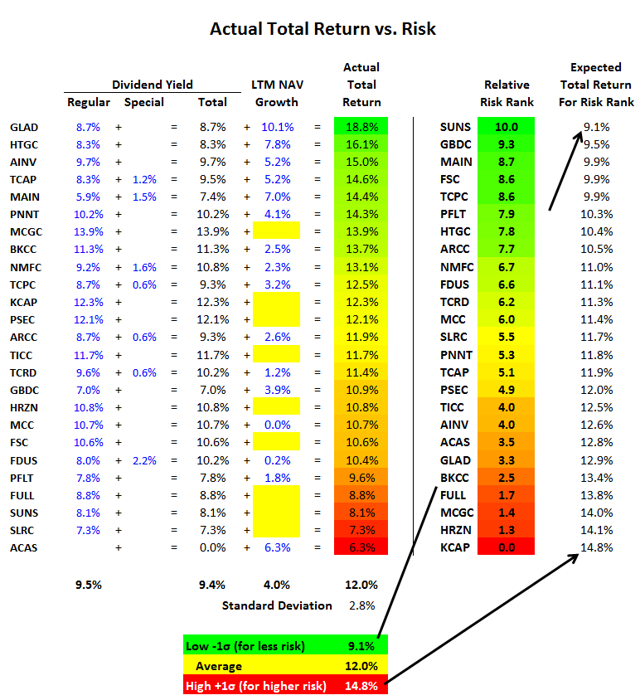 The table below compares the projected and expected total returns from the previous table and since dividend yield is a function of share price, this would imply that BDCs with higher actual returns than what is expected for the level of risk are underpriced.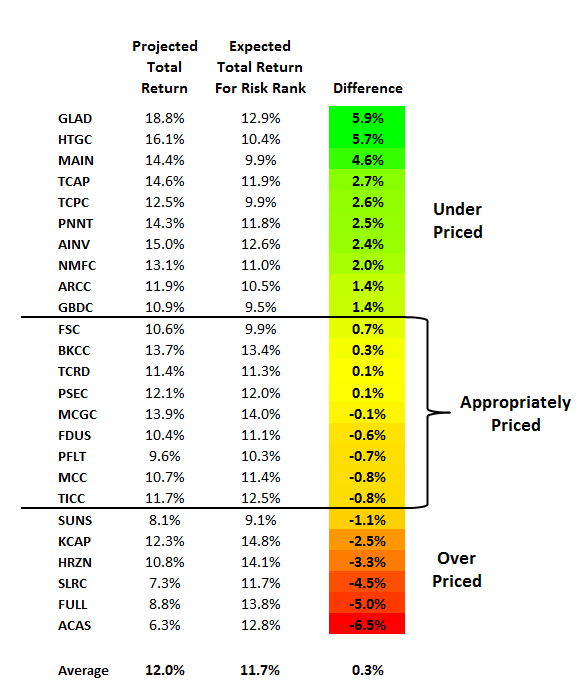 HTGC, MAIN and TCAP are at the top of the list (GLAD is an outlier) and underpriced compared to pricing using multiples that implied these BDCs were overpriced. Using this methodology I would also consider TCPC, PNNT, Ares Capital (NASDAQ:ARCC), New Mountain Finance (NYSE:NMFC) and Apollo Investment (NASDAQ:AINV) underpriced as well.
Investors should only use this information as a starting point for due diligence. See the following for more information:
Disclosure: I am long HTGC, MAIN, TCPC, FSC, ARCC, FDUS, TCRD, PSEC, NMFC. I wrote this article myself, and it expresses my own opinions. I am not receiving compensation for it (other than from Seeking Alpha). I have no business relationship with any company whose stock is mentioned in this article.
Editor's Note: This article covers one or more stocks trading at less than $1 per share and/or with less than a $100 million market cap. Please be aware of the risks associated with these stocks.