This is part 9 in a continuing series of articles discussing building a portfolio of dividend income equities. The strategy seeks to use value investing principles and apply them to stable companies offering reliable dividends. Further safety is sought by diversifying through a wide range of industry segments and often using multiple tickers in each of those segments. This lowers our entry cost.
Series parts 1, 2, and 3 lay out the philosophy, strategy, and methods of the Tortoise Strategy and Use of Covered Option Writing to boost performance. I recommend readers review each of these first 3 initial parts. Beginning with part 4, each subsequent installment reviews and analyzes one of the 16 tickers identified in the preliminary screen (listed in part 4). A full index of links to the complete series, including future installments as they occur, is available here.
Author's Note: At the time I wrote this article in the wee hours of the morning on March 19th before the market open, AT&T had closed the prior day at $32.96. My look at the charts, as discussed in the article section dealing with technical analysis firmly concluded that ...
...(the) trend will reach the upper $33.40 limit near the end of the month. No existing or anticipated news is likely to allow price to breakout to the upside when this occurs and shares can be expected to decline within the trading channel boundaries subsequently.
The next morning at the market open, AT&T shares quickly soared to $34.14 (3.45 %), breaking right through the upper limit I had confidently penned just 2 hours earlier. I am leaving the article intact as I wrote that and my recommendations at the time so that readers will get an even better understanding of why we make money even when the analysis is that far wrong. This is the beauty of boosting yield and lowering market risk with covered options.
I have added an addendum with revised technical analysis comments and further discussion of the now available options to update and show how to adjust strategy when events challenge the assumptions we have made.
AT&T, Inc
| | | | |
| --- | --- | --- | --- |
| AT&T (NYSE:T) | $33.00 | $ 1.84 | 5.60 % |
AT&T is one of the grand old dames of American business, tracing its roots back to the original "Ma Bell." Presently, it is global telecommunications company with wired and wireless services for consumers, business, government and academics. Services include voice, text, data, backbone carriage, telecommunication hardware sales, and broadband multimedia content delivery. The company has increased its dividend in each of the past 31 consecutive years. Retail products and services are distributed through its own stores and third party agents to over 135 million customers.
In addition to a strong dividend history, currently paying a superior 5.6%, AT&T shares provided good post market-crisis growth from 2009 until last September. Peaking then, at $38.59, the units have declined to reach a recent late February low at $31.79. Prices have recovered slightly since then to the present $33.00.
(source: schwab.com)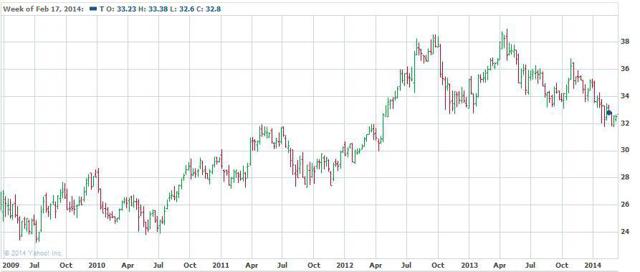 Because AT&T is a cash cow and a Dividend Aristocrat which investors value for a reliable and growing dividend income stream, its best valuation metric is yield rate. In the dividend income equity market, the company sets the dividend distribution, and overall market forces of risk adjusted yield allow investors to bid share price up and down to a price that creates a yield reflecting investor consensus on the risk adjusted value share price to create a competitive yield vis-a-vis similar risk weighted dividend income alternatives. For those not familiar yet with YDP charts, I refer you to my introductory article on YDP chart analysis and its precursor article with several YDP chart interpretation examples.
A look at AT&T's YDP chart reveals a surprisingly unstable yield rate. Despite a strong and steady dividend growth that few other companies can rival, share prices have fluctuated widely and seem to be only weakly coupled with the dividend distribution pattern. Overall, the chart indicates the yield focus to settle around 5.5%. The current 5.6% is well within the broad range of the trend. The weakness of the correlation between yield rate and dividend distribution can be traced to gyrating market sentiment as the company deals with new technological challenges and competitor positioning. The swings in price, largely independent of dividend distributions, is a reflection of perceived risk of the company as the challenges arise and the company's effectiveness in addressing them. Despite being a Dividend Aristocrat, this is not the chart of an aristocrat. Yields, focused at 5.5% and averaging well over 4.0% are much higher than the aristocrat peer group's 2.5% to 3.5% typical yields. We must conclude that in spite of its impressive dividend history, price instability and intense competitive pressure coupled with rapidly changing technological challenges remove AT&T from this special peer group which the dividends alone make it a solid member of.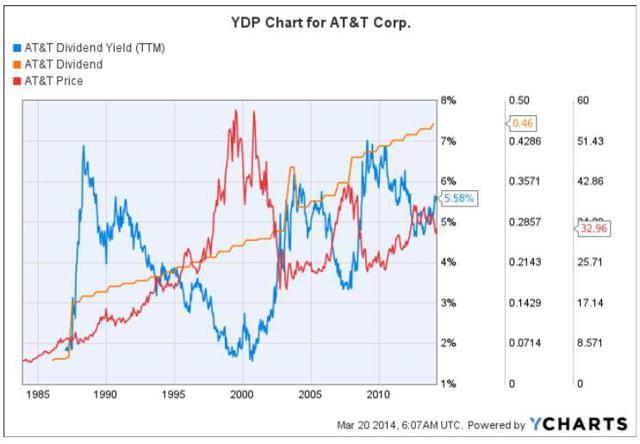 Cash dividend payout ratio is also a bit disturbing, currently at 70.0% and accompanied by rising capital expenditures and falling free cash flow. The long history of sustained dividends with annual increases does provide some comfort against this negative backdrop. Furthermore, management has a plan to deal with this by suspending the share repurchase program and disposing of under utilized capital assets to mobilize cash. The company is also beginning to enjoy the fruits of its higher capex spending program focused on its LTE technology build-outs that now are showing strong growth of the revenue stream. Given all these factors and historical trend of the metrics, the dividend and its growth is considered reasonably safe. It is easy to see why market sentiment demands such a high yield from the distributions and price movements are quick to change with shifting perception of internal risk.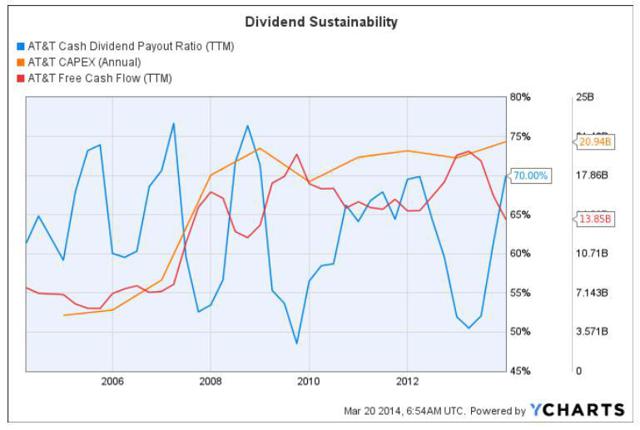 A look to the technical chart analysis highlights the down-trending channel established since November of last year (bounded by the purple trend-line at the high limit and blue line at the low limit. A new horizontal channel bounded at about $33.40 on the top side and $31.85 on the lower side may have begun to form and replace the downtrend since the last week of January 2014. In either event, the current cross pattern trend will reach the upper $33.40 limit near the end of the month. No existing or anticipated news is likely to allow price to breakout to the upside when this occurs and shares can be expected to decline within the trading channel boundaries subsequently.
(source: finviz.com)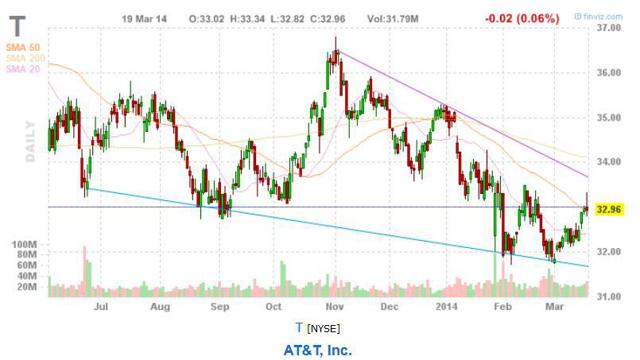 The topping around $33.40 should occur in conformance with both the established long-term downward trend-line upper limit and the horizontal channel trend upper limit, the price range being in agreement with both trend-lines at the time it is projected to occur near month end. The developing horizontal trend pattern is further re-enforced by expected support in the future along its $32.00 lower limit based on recent remarks by AT&T CEO Randall Stephenson during remarks he made at the recent Morgan Stanley Technology, Media, and Telecom conference;
Randall L. Stephenson
Well, obviously investment is priority number one. And we've set a direction and made a commitment to our VIP build. And 2014 is our peak year. It's our peak year on LTE deployment. It's our peak year on fiber deployment and our IP broadband extension, and we're committed to finishing that especially in light of as I said the competitive dynamic changing with Comcast and Time Warner. So we want to get that finished in 2014. So that's about a $21 billion capital spend this year.

You put on top of that bonus depreciation going away this year and so but after you spent $21 billion in capital and pay a $9 billion dividend, the level of cash available just from operations is not as significant as it was last couple of years. So share buybacks we've said publicly that they will be dialed back this year, but as we generate opportunistically other cash, you will see us in the market buying back stock, but like last year I think we generated $7 billion of cash from asset sales. A year before, we did a comparable number.

Always just working the portfolio, clean-up the portfolio there will be cash flows from asset dispositions and opportunistically we'll be in the market buying the stock at $32 of share.
This expected share purchase support by the company at $32.00 may support the lower horizontal trend and break the older long-term down-trending pattern.
Traditional value metrics also indicate current prices are within accepted and historical value ranges both internally for T and measured against competitors and the telecommunication industry. Margins, P/E ratio, and YOY revenue growth compare favorably with Sprint (NYSE:S) and Verizon (NYSE:VZ) as well as the industry components in the SPDR Telecom ETF (NYSEARCA:XTL).
(source: yahoo.com)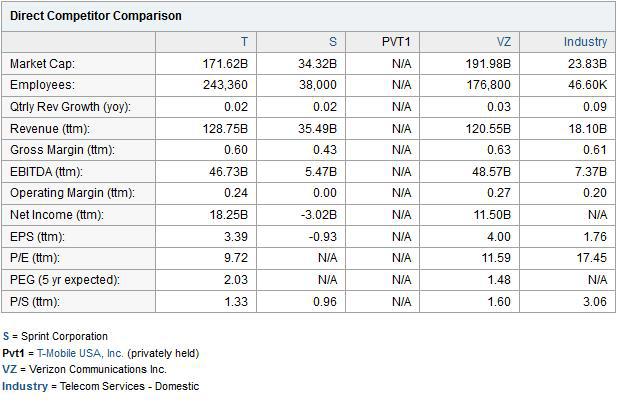 In summary;
AT&T is traditionally considered a Dividend Aristocrat, consistently paying and increasing dividend distributions every one of the past 31 years. However, high payout ratio, unusually high yield rate (currently 5.6%) for an Aristocrat, and volatile prices delinked from the Y=D/P mathematical relationship where yield is the arbitrator of dividend distribution balanced by inverse price correlation all offer a red flag warning that this is a higher risk investment than most peers in that class.

The current $33.00 is near the high side of technical channel trends.

$32.00 represents the technical bottom limit to the forming horizontal channel.

$32.00 is also the level the company has indicated it plans to buy in shares at for the coming year.

The present $33.00 price is at the high side or above of fair value. The high dividend yield with reasonable safety makes it attractive for income and compound growth investors to consider for a core component in portfolios.

Current price and technical trends suggest most investors should hold off establishing a new entry for the next few weeks until these issues resolve themselves, probably with a dip in price towards the $32.00 level.
Covered Options to boost performance:
Covered Calls (left side of chart)
As discussed above, it is not a favorable time to initiate a position at the $33.00 current share price. A review of near term covered call options does not find any suitable combinations of Strike price above a current market entry basis and with a premium return yield rate sufficient to be attractive. Current holders of shares in T may find covered calls at the $33.00 or $34.00 Strike worthwhile for a yield boost.
The 5/12/2014 $34.00 Call at $0.31 premium for 58 days represents a 5.74% annualized yield boost.
The 6/21/2014 $34.00 Call at $0.47 premium for 93 days represents a 5.43% annualized yield boost.
The 7/19/2014 $34.00 Call at $0.55 premium for 121 days represents a 4.88% annualized yield boost.
The 10/18/2914 $34.00 Call at $0.75 premium for 212 days represents a 3.80% annualized yield boost.
The 1/17/2015 $33.00 Call at $1.45 premium for 303 days represents a 5.14% annualized yield boost.
Additional profit or loss in the event of call away should be calculated on your share basis values vs. the Call Strike price. Tax consequences of any call away should also be considered.
Also pay close attention to ex-dividend dates and any Strike price adjustments by the clearing house ex-dividend when writing calls in dividend months. Adjust Strike prices accordingly. (Dividends have NOT been taken into account in selecting the above calls as being of interest).
(source: schwab.com)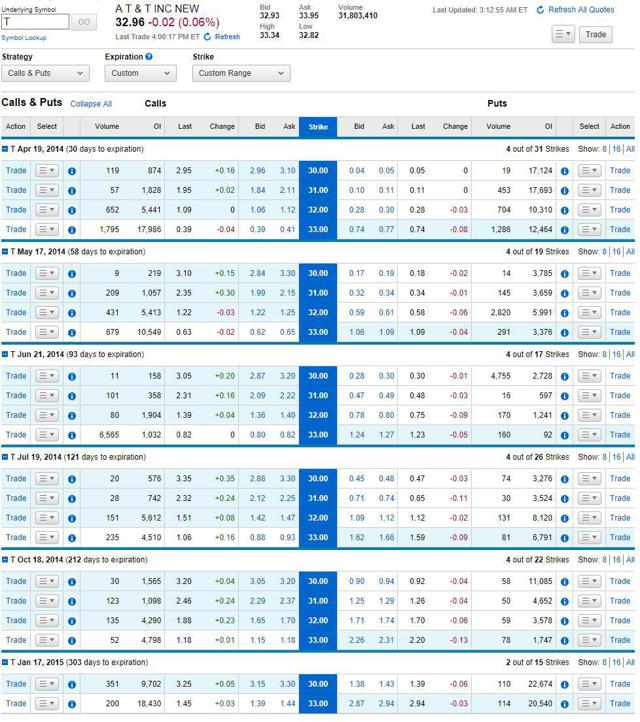 Cash Covered Puts (right side of chart)
For those that do not own shares in AT&T presently but like its 31 year history of sustained dividend payments with annual increases together with its generous yield rate, I suggest a cash covered put at this time to obtain a yield on your cash targeted for the stock of double the dividend yield while waiting to obtain the shares at a discount from current market price, thus lowering market risk at the same time.
Having established the attractiveness of the shares even at $33.00 for the income yield and growth trends, coupled with the company announced target to buy in shares at $32, and the $32.00 lower limit on the developing (but not fully formed) horizontal channel trend, we will explore the $32.00 Strike at 30 days out and further.
The 4/19/2014 $32.00 Put at $0.28 premium is an annualized yield on net cash of 10.74% ((.28/(32.00-0.28))/30days) * 365). This is almost double the dividend yield rate and at a $1.00 (3%) discount from current market. It also places entry at a support level guidance by the company and the lower limit support level to the developing horizontal channel on the chart.
The 5/17/2014 $32.00 Strike at $0.58 premium is an annualized yield on net cash of 11.83% (more than double the dividend yield with greater than 3% lower risk than current market price).
The 10/18/2014 $32.00 Put at $1.71 premium gives an annualized yield on net cash of 9.72%.
I personally like the 10/18/2014 Put because it locks in a 9.72% yield on my cash for 7 months and provides an entry at $32.00 which I would be very comfortable holding the shares long term and locking in a 5.75% yield on that basis price. I have used the cash covered puts on T shares for the past year or so and am very comfortable picking its technical trading ranges, usually expiring unexercised and writing new put options each period. A few times, I have been presented the shares, wrote near money covered calls on them at strikes locking in a profit if called away and boosted income and yield until they got called away. I then returned to the cash covered put positions again. I am currently short the 5/17/2014 $33.00 cash covered put which I wrote a few months ago.
I have skipped the math on the rest of the intermediate time puts of the table and leave that to readers as an exercise should you want to explore them rather than the three contracts I have detailed in this discussion. Feel free to ask questions on the calculations in the comment section if you need some help with them.
Conclusions & Recommendations (ORIGINAL - See Addendum):
Do not establish a AT&T entry at current retail market price. Alternative covered option strategies are more favorable.

The shares may presently be in a technical transition, forming a new horizontal pattern or resuming the long term down trend. This pattern should be resolved in the next few weeks and become clear.

The Company is an attractive dividend income equity and suitable for most investors to target for entry at suitable prices in the near future.

Sell to open the 10/18/2014 $32.00 Put at $1.71 premium for immediate income, to earn a 9.72% annualized return on cash waiting for an entry, and to obtain a 3% discount from current retail to an adjusted basis price of $30.29 with dividend yield boost from 5.6% to 5.75% on the lower basis price if shares are presented in the next 212 days.

Always be aware of ex-dividend dates and the potential for call, dividend capture, and Strike price adjustments by the option clearing house when writing contracts across dividend months.
ADDENDUM ADDED 3/22/2014 by author:
I explained in my opening comments that my conclusion as I wrote the technical analysis section of this article was blown away moments before I was going to submit this article to the publisher. This addendum will pick up with the morning breakout to $34.14 and how the new "reality" effects my recommendations.
First, let me say that all of my actionable conclusions remain in effect. The opportunity has even improved a little bit.
The unexpected breakout was triggered by AT&T's announcement that they would be adding an attractive plan using Samsung's new Galaxy S5 for customers. The $1.18 jump in share price represents a gain in market cap for the company of $6.14 Billion. Subsequently the shares have risen to $34.30 (a $6.97 Billion rise). Does anyone believe the addition of this new plan will really boost the net value of the company by that much? I do not. Our job however is not to speculate. It will take several days or weeks of further trading to begin to see any chart patterns to interpret (if this breakout will be sustained or fall back, which way the new trading channel will develop and with what boundaries, etc). To be cautious, I still want to keep my entry below $33 and target $32 as discussed in the main article body. Let's see if any of the Puts with $32 Strike still offer an attractive premium.
Do not establish an AT&T entry at current retail market price. Alternative covered option strategies are more favorable.
Sell to open the 10/18/2014 $33.00 Put at $1.57 premium for immediate income, to earn a 8.68% annualized return on cash waiting for an entry, and to obtain a 4.6% discount from current retail to an adjusted basis price of $31.43 with dividend yield boost from 5.6% to 5.85% on the lower basis price if shares are presented in the next 210 days.
Current holders of long term shares may sell the 10/18/2014 $36.00 Covered Calls at $0.55 to boost dividend yield by adding the 2.83% premium yield onto the 5.6% dividend.
In part 10, I will discuss ConocoPhillips (NYSE:COP). Each subsequent part of the series will discuss and evaluate one more of the original 16 tickers identified in the preliminary screen for building your Tortoise on Steroids portfolio.
I hope you will join me as I detail the use of covered option writing on quality dividend income equities to develop a model portfolio for the Super Tortoise. Simply click on the bold link labeled FOLLOW above the title at the top of this article to get an email notice of my new articles when they are published.
Disclaimer: I am not a licensed securities dealer or advisor. The views here are solely my own and should not be considered or used for investment advice. As always, individuals should determine the suitability for their own situation and perform their own due diligence before making any investment.
Disclosure: I am long T. I wrote this article myself, and it expresses my own opinions. I am not receiving compensation for it (other than from Seeking Alpha). I have no business relationship with any company whose stock is mentioned in this article.
Additional disclosure: My T position is currently the cash covered 05/17/2014 33.00 Put.