Union Pacific Corporation (NYSE:UNP) finished its fiscal year 2013 with record breaking quarterly earnings last month. Quarterly diluted EPS rose over 16% to $2.55 for the first time! Such progressive events have been behind the share price momentum that has followed a similar direction to earnings rising by more than 30% over the year.
In this article I will take you through a brief look at UNP's recent performance. We will then determine how the company plans to grow further and continue generating returns in the near future.
The Quarter
During the last quarter, UNP's operating revenue jumped 7% to $5.6 billion compared to the same quarter last year. For the first time in six quarters, the company reported overall volume growth despite weaker coal shipments. Total freight volume increased 2% compared to 2012 as the mixture of products provided ample growth prospects to offset volume declines in coal and chemical. Other than that strong gains persisted in agriculture, automotive, and Industrial products.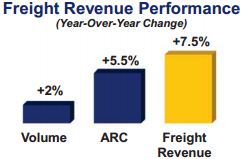 Source: Presentation
The coal price improved 3.5% which combined with the benefits of a stronger product mix created a 5.5% expansion in average revenue per car. Volume growth and the improved average revenue per car pooled to drive freight revenue up nearly 7.5% to an all-time quarterly record of $5.3 billion.
The Diversification Offered by UNP's Industry is Coveted by Many. A good product mix where the effects of diminishing demand are mitigated through higher shipments in another brand is luckily the essence of the rail road industry in which UNP operates in. This case was explained with agriculture and automotive contributing 19% and 17% increases in freight revenue for the company.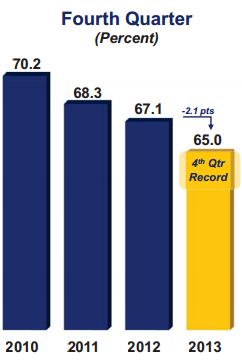 Source: Operating ratio, Presentation
Operating expenses declined with a reduction coming from a 4% drop in diesel price per gallon to $3.11 as well as less proportionate increases in other items owing to better maintenance. The company managed to bring its operating ratio to its long-term target of 65% during the quarter (see chart above).
Diluted EPS grew 16% to $2.55 which was justified given the performance since a small amount (2%) came from dilution in shares. All in all despite bad weather conditions and falling coal shipments UNP managed to provide strong results. To further continue this trend in the future, the company will continue investing through the capital plan it has announced.
The Future
Under the plan, UNP will do investments near $4 billion during this year. I am satisfied with the 60% allocation the company is giving to replace and improve existing capital assets. Together with acquiring 200 more locomotives, UNP will also be replacing and improving track infrastructure and upgrading its locomotive, freight car, and container fleets.
After internal changes, the company will be shifting its focus outward through increasing its network and terminal capacity especially in the southern region where demand remains high together with balancing terminal capacity with more mainline capacity. This will be done through the construction of a principal rail facility at Santa Teresa in New Mexico that is expected to be completed this year. The facility will include a run-through and fueling station as well as an intermodal ramp.
Though $450 million is being used for technological improvements, the majority will reflect structural changes that will be good for long-term growth. I can vouch for the company's ability to effectively carry out their plans through its cash flow generation. In 2013, UNP generated cash from operations of $6.8 billion reflecting an increase of 11% compared to 2012. These plans will ensure that customer demand is met and opportunities are availed without wasting time.
Macro Industry Wide Trends are Favorable for UNP
All the segments that posted volume growth are expected to continue that trend in 2014. The new crops harvested will provide agriculture volume shipment during the first half of this year with increases projected in both domestic and export grain markets. Automotive manufacturers anticipate sales will grow with Global Insight forecasting full year light vehicle deliveries to rise to 16 million. This should favor UNP's finished vehicles and auto parts business.
For crude by rail shipments a growing Gulf crude supply and increased pipeline will be expected to have a positive impact. Industrial products will benefit from the shale revolution with increased drilling supporting growth in sand and pipe shipments. Also, housing starts are projected to exceed 1 million units for the first time after 2007 and this will drive demand for lumber shipments. Increases in commercial construction will support growth in rock, metals, and other highway-related markets.
These demand patterns will ensure the expansion plans are well utilized and will finally be a sign of incremental profits.
Bottom Line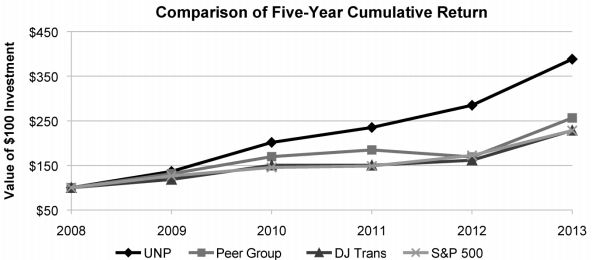 Source: 10K
UNP has previously offered fundamentals such as ROE, revenue, and income growth all above industry levels. It has outperformed its peer group over the past five years as well as the S&P 500 index. The forward P/E indicates an undervalued status which is of course true to a very promising extent. Expansion plans in a growing industry are a win-win. Provided no external event such as bad weather or political crisis takes place, UNP looks like a solid investment for now. I therefore recommend a buy rating.
Disclosure: I have no positions in any stocks mentioned, and no plans to initiate any positions within the next 72 hours. I wrote this article myself, and it expresses my own opinions. I am not receiving compensation for it (other than from Seeking Alpha). I have no business relationship with any company whose stock is mentioned in this article.