Verizon Communications, Inc (NYSE:VZ) is a global broadband and telecommunications company that serves a vast variety of its clients via wired and wireless phones, internet and related services and media content. Since the start of this year, the stock price has decreased by 5.7% from $49.14 to $46.31. The purpose of this article is to look into whether or not the price dip is an attractive opportunity to enter the stock.
Enviable Shareholders' Return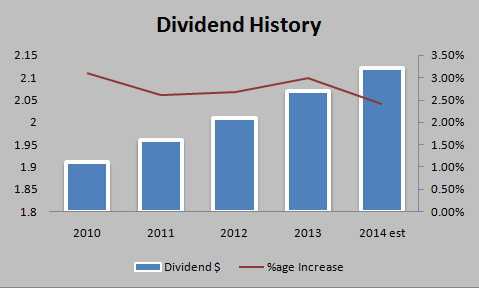 Source: 1stock1.com
Verizon authorized a buyback program of 100 million shares as a similar program expired during February 2014. Authorized share repurchases will span over a period of 3 years and will be terminated when 100 million shares are repurchased or by the end of February 2017 (whichever is sooner). Verizon currently has 4.1 billion shares and the announced buyback will cancel 0.1 billion shares reducing share count by 2.4%. Consequently, the company's EPS may be further increased following the repurchases. Over a 5 year time period, Verizon has actively outperformed its close competitor AT&T Inc. (NYSE:T) but it couldn't match the performance of the S&P 500.

Source: Y-Charts
Financial Position
Verizon has huge debts on its balance sheet but it also has the ability to easily pay them off. Its total debt-to-equity ratio of 240.99 is huge when compared to the industry's debt to equity of 47.22. Since the company lodged extra debt of $6.6 billion on its balance sheet in order to finance the acquisition of a 45% indirect interest of Vodafone (NASDAQ:VOD) in Verizon Wireless, the revenues from the acquired part will help the company to repay its debts. Complete ownership of Verizon Wireless will add 10% to the company's earnings per share. Deploying all the assets under its ownership, Verizon anticipates marking 2014 with margin expansion and revenue growth. Moreover, the company's cash flows are robust enough to deal with the mounting debt level. The following graph illustrates the rising CFO accompanied with the declining debt levels y/y that has caused the company's CFO/debt ratio to demonstrate an upward trend. This is a positive phenomenon for the company as it is putting serious efforts into reducing its debt levels in line with its own cash flow generation.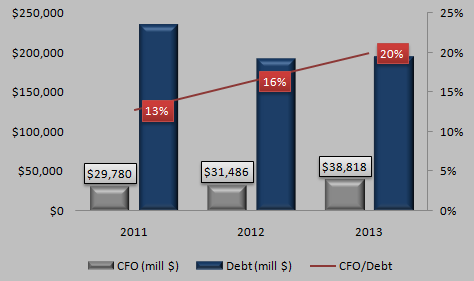 Source: Yahoo finance
The Road Ahead
Verizon has managed to escalate its profits and profit margins from negative to more than 15% just over a year (from December 2012 to 2013). That is indicative of the company's operating efficiency.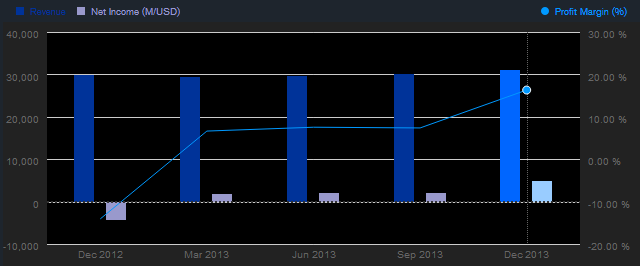 Source: Bloomberg
In the future, the margins may erode because of intense competition in the market. One source of pressure may come from the proposed merger of US Sprint Corporation and T-Mobile Inc. (NASDAQ:TMUS) that will eventually reduce the number of major wireless carriers from four to three. Japan's Soft Bank Corp is actively convincing the parties involved to merge and aims to launch a price war because if the merger takes place successfully it will break the duopoly by major US Carriers AT&T, Inc. and Verizon. Even if the merger does not succeed, Sprint itself is a great threat because it is enhancing its high speed wireless data services and has more wireless data spectrum than Verizon. Therefore it can pose a major threat for Verizon's key segment, wireless.
Verizon mainly operates two segments: Verizon wireless and wireline. Wireless acts as a catalyst for the company's y/y growth and conceals the effects of declining growth in the wireline segment. During the 4th quarter of 2013, Verizon reported a revenue growth of 3.4% y/y driven by 8% growth in the wireless segment that offset the 1.5% negative growth in the wireline segment. In order to be profitable in the long run, the company has turned its focus towards more profitable revenue streams such as mobile networks and TV. During the latest quarter, Verizon reported 11.5 million postpaid device activations, 8.8 million of which were smartphones and 44.1% of the retail connections were related to 4G LTE devices.

Source: 4th Quarter Presentation
The 4G LTE technology can really help the company propel forward into the future due to its increased demand and adaptability worldwide. Verizon's wireless segment is the USA's largest 4G LTE network that is double the size of any other network in the country serving more than 97% of the US population. In the United States alone, wireless traffic has doubled growing at a rate of 104% during 2011-2012 with an expanding mobile subscriber base.

Source: Deloitte University Press
This historic trend is expected to continue in the coming years as demonstrated in the graph below that implies a 66% CAGR for global mobile traffic from 2012-17.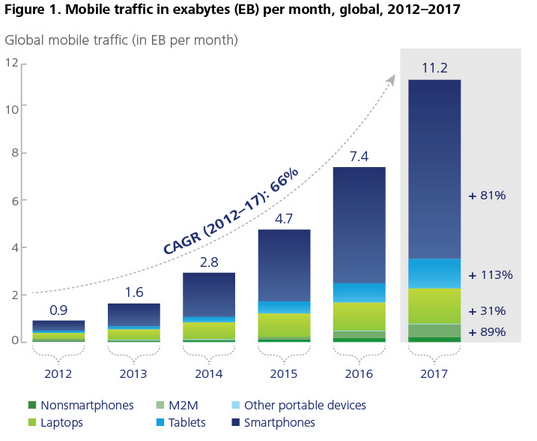 Source: Deloitte University Press
The increasing number of wireless subscribers and rising data traffic of mobile devices will help the company earn more revenue and enormously enhance its turnover. Moreover, in terms of its FiOS and broadband services, Verizon along with AT&T has jolted down other US cable providers. Both of the cable providers added 1.46 million subscribers in 2013 and hold 11% of the market while other players in the industry are losing their subscribers and eventually their market share. Verizon is increasing its penetration through FiOS but subscribers are being added at a slower pace as illustrated below.

Source: Light Reading
In short, Verizon has the guts to utilize this growing opportunity and get the most out of it to bolster its top line. However the bottom line effects will depend on the pricing power of the company and prevailing price competitions in the industry. Verizon is actively investing in superior networks in order to improve the customer's experience with phone service reliability via replacing copper with fiber networks. Capital expenditures, as a percentage of revenue, stood at 13.8% during 2013. The only threat to the company is the increasing competition in the industry and the fickle nature of the industry itself that means the company may see its products becoming obsolete if it fails to cope with the prevalent and innovative technological advancements.
Conclusion
Verizon is no longer a local phone company as it is growing beyond phones into television, wireless, internet and other sectors. Moreover, Verizon estimates 4% consolidated revenue growth in 2014 and is poised to generate enough cash flows to sustain its dividend policy, network investments, and debt payoffs. That is a positive sign for the company's shareholders since the company is eager to reduce its financial risk, offer its customers the latest technology, and reward its shareholder in the best possible manner. According to Yahoo Finance the mean target for Verizon's stock is $54 and the low target is $46 implying a 16.6% upward and a minor 0.75% downward potential according to the current stock price of $46.31. This scenario tempts me to rate this stock as a buy.
Disclosure: I have no positions in any stocks mentioned, and no plans to initiate any positions within the next 72 hours.
Business relationship disclosure: The article has been written by a Gemstone Equity Research research analyst. Gemstone Equity Research is not receiving compensation for it (other than from Seeking Alpha). Gemstone Equity Research has no business relationship with any company whose stock is mentioned in this article.