The Internet is agog with the latest data from Umeng Analytics Platform, which describes, among other things, the popularity of the iPhone in China. Apple (NASDAQ:AAPL) Insider's headline reads:

Source: Apple insider March 14, 2014
The Umeng report received attention from Apple analyst Benedict Evans who many look to for guidance on the firm's prospects. The chart from Umeng's presentation that gained the most attention is this one:
EXCERPT FROM UMENG INSIGHT REPORT CHINA MOBILE INTERNET 2013 OVERVIEW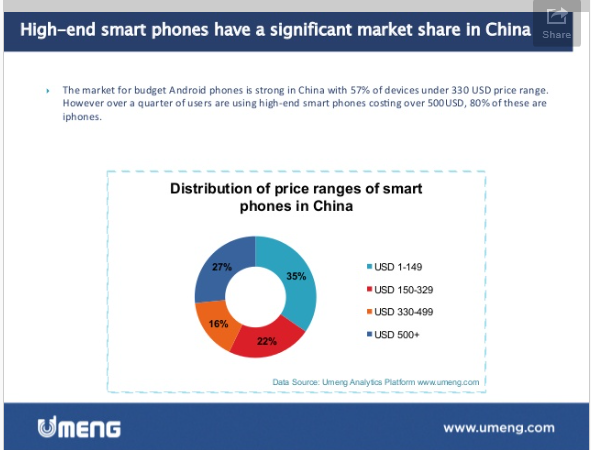 The Umeng data were referenced by an article by Catherine Shu on TechCrunch yesterday with this comment:

Source: TechCrunch
Eighty percent of 27% would imply that the iPhone had a 22% share of market in China last year. That conclusion conflicts with market share data from China Internet Watch which showed iPhones with a 7% share of the China smartphone market in the December quarter of 2013.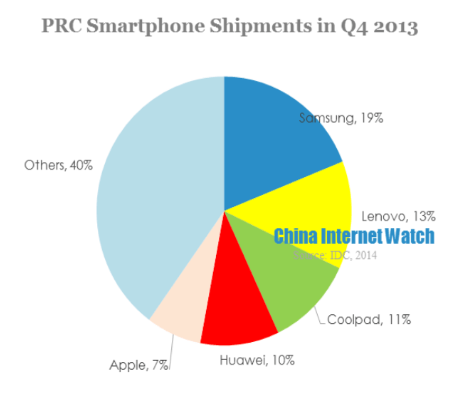 Source: China Internet Watch
IDC reported that smartphone shipments in China amounted to 351 million in 2013.
If 27% of those were in the $500 U.S. or higher price category, the premium end of the market would have been 95 million units and if 80% of those were iPhones, Apple would have sold 76 million iPhones in China in 2013. At over $600 an iPhone, Apple would have had China revenues of $45 billion last year.
Apple did not. Apple reported Greater China revenue of $8.8 billion for its Q1 2014, its strongest showing in China.
That revenue included not just iPhones but also iPads, Macs, iTunes and so on. Assuming the China mix of sales parallels Apple's worldwide experience and annualizing the $8.8 billion, revenues from iPhone sales in China in 2013 were on the order of $20 billion. Apple has an average selling price of just over $600 for iPhones although its iPhone price in China is higher as illustrated by this chart from Bloomberg. Even at $600 a unit annual revenues of $20 billion would amount to no more than 33 million units of iPhone sold in China in 2013, a far cry less than the 76 million Catherine Shu's article would imply. Since Apple sells iPhones in China for far more than $600, 2013 iPhone sales in China were very likely no more than 25 or 30 million units.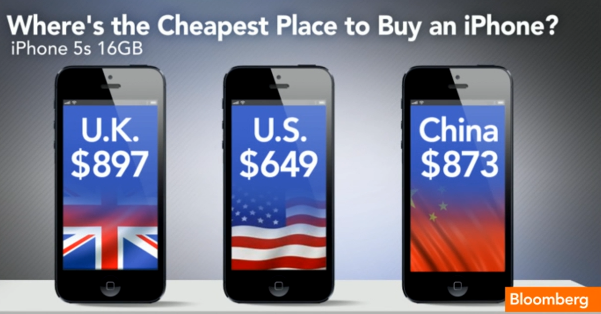 Source: Bloomberg
In fact, what Umeng reported was the base of users and not shipments, and the "base" appears to have been usage data and not evidence of shipments. Even so, the conclusion that 27% of Chinese users were using smartphones in the $500 plus price category and that 80% of those were iPhones is too far-fetched for sensible consideration. Sino Market Research put that segment at 10.8% using a 3,000 yuan ($488 U.S.) cut off in Q2 2013 as I pointed out in an earlier article.

A lot of Apple bulls are looking to China for salvation. China is important to Apple but the extension of the Umeng data into estimated 2014 sales would lead to an erroneous conclusion.
China Mobile (NYSE:CHL) reported 1.3 million 4G subscriber additions in February and that "most of them were iPhones." That is pretty consistent with Gene Munster's December forecast that the CHL deal would produce 17 million iPhone sales in 2014. Munster called the China Mobile February report "a disappointment." There are likely to be a few more disappointments in store for Apple bulls if they rely on the Umeng analysis.
I am short Apple.
Disclosure: I am short AAPL. I wrote this article myself, and it expresses my own opinions. I am not receiving compensation for it (other than from Seeking Alpha). I have no business relationship with any company whose stock is mentioned in this article.