In the end what will happen will be what has happened whenever a civilization breaks up. The people who have brains and courage come through and the ones who haven't are winnowed out.
― Margaret Mitchell, Gone with the Wind
As a young boy, I grew up in fly-over country. There was a joke that circulated during my boyhood with a life cycle like a swamp cicada. It would emerge from time to time, disappear, and then return for another cycle of laughs. As I recall, it went something like this:
"What do California and Granola Bars have in common?"
"They are both full of flakes and nuts."
That is right, Californians. Many Americans believe every citizen of the Golden State is akin to a Canadian dollar: A Loony. (Yes, I know the correct spelling. My artistic license is in my wallet, and it has not expired.)
Now I am a grown man, and I live in California. In case you are too busy reading Seeking Alpha to keep up on other news, Californians are experiencing a drought. Some describe it as the worst drought in 500 years. If you were snickering and nodding your head in agreement at my previous feeble attempts at humor, perhaps now you are doing the same. Maybe you believe California as a state is populated by leftist lunatics, and the drought is revenge from on high.
Guess what… the joke is on you.
California leads the nation in agricultural production. You can disdain California and Californians, but their woes are your woes. A drought in California means increased food prices.
California grows 99% of the nation's pistachios and 96% of America's tomatoes. Want some lemon in your water? California grows 89% of that fruit, along with 86% of the nation's carrots. List almonds, apricots, dates, figs, kiwi fruit, nectarines, olives, prunes and walnuts as crops that are grown almost exclusively in California. Only Texas grows more cotton, and Florida is the only state producing more oranges.
Perhaps you are of the belief that droughts happen…so what? It will rain next year or the year after that. True, but rainfall is not the real problem. Water, or lack thereof, is the problem. Lack of rain just tends to momentarily push the problem to the forefront.
Many Americans are blissfully unaware of an enormous underground "lake" that spreads from northern Texas to southern South Dakota. Known as the Ogallala Aquifer, it underlies 174,000 square miles of eight states and spreads beneath nearly the entire state of Nebraska.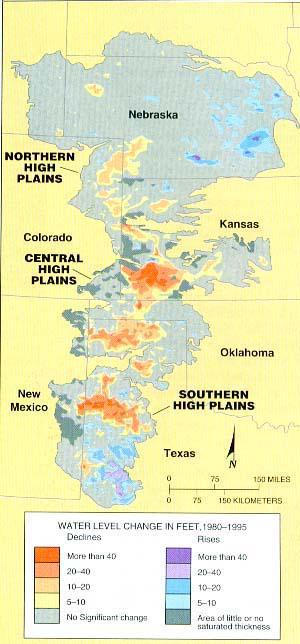 Water level changes in the Ogallala Aquifer (Cunningham, William P. et. al., "Environmental Science, 7th edition, McGraw Hill 2003.)
The environment of those states is semiarid, and agriculture relies on the aquifer for a water source. Approximately 94 percent of water drawn from the aquifer is used for agricultural purposes. Unfortunately, the aquifer, which was formed over millions of years, is expected to be depleted within a few decades.
This is not a problem confined to the U.S. Surface water only accounts for one percent of the world's fresh water supply. Thirty percent of all fresh water resources are underground; the remainder is locked up in glaciers. As the global population increases, strains on water resources mount. The problem of water scarcity, if left unaddressed, will surely lead to political and social problems of epic proportions.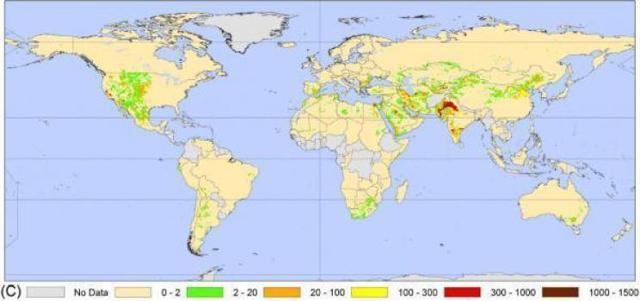 Map of groundwater depletion, measured in cubic meters of depletion per year.
Credit: Image courtesy of American Geophysical Union
According to recent studies, by 2025, 1.8 billion people will live in regions with absolute water scarcity.
At some point, governments will be forced to intervene. Furthermore, many industries rely on water for production purposes. Aside from uses as an ingredient in products, water is used heavily as a natural solvent, and as a coolant, transport agent, and energy source.
While I am concerned about the social ramifications associated with scarce water resources, as an investor I view problems as a possible investment opportunity.
Provided are a few companies that could experience considerable growth once the water shortage becomes too great to ignore.
Veolia Environnment (VE): Based in France, VE undoubtedly boasts the most experience of any company in the field. VE can lay claim to the construction of over 1,700 reverse osmosis desalination plants worldwide. A recently constructed VE plant in Sydney, Australia, currently supplies the city with 15% of its water. VE boasts a 4.80% dividend. Recent changes in management may mean the time is right for an investment in this corporation.
General Electric (NYSE:GE): General Electric is the world's second largest supplier of water treatment equipment. While General Electric obviously is not a pure water play, the company provides a certain security for your investment the other companies may lack. GE currently boasts over $400 billion in backlogged orders (most not related to water projects).
Israel Chemicals (OTCPK:ISCHY): (Through 50% ownership of IDE, a subsidiary company) This company is working with a private firm to construct a desalination plant capable of supplying 7% of San Diego's water needs. Israel Chemicals constructed 400 desalination plants over a period of four decades. This company is very thinly traded and boasts a dividend nearing 10 percent.
Consolidated Water (NASDAQ:CWCO): CWCO engineers, constructs and operates desalination plants, primarily in the Caribbean. This is arguably the only pure water play on the list.
Positives for investment of CWCO are as follows:
A Tangible Book Value equal to approximately ¾ of the share price.
No significant long-term debt and very manageable Current and Quick ratios.
Four insider purchases in the last six months.
Expanding operations in Northern Baja California.
Recent tripling of the capacity of a new Indonesian plant.
Very favorable tax laws pertain to many CWCO operations.
Risks to investment in CWCO:
The exclusive license CWCO holds to provide water to customers in the Cayman Islands may not be renewed.
The plant in Bali, Indonesia was constructed prior to obtaining water supply agreements with local governments.
CWCO is a small company with limited resources. Those resources may be tested by the company's construction of the proposed plant in Mexico.
If you are considering an ETF, I favor First Trust ISE Water Index (NYSEARCA:FIW). FIW has holdings in 36 companies and consists of roughly a 65% mix of industrial stocks versus a 22% share of utilities. Many water-focused ETFs rely on utilities for the bulk of their positions. FIW has an expense ratio of .60 percent.
I will readily admit that I only made a surface survey of these companies. While one or more could represent a worthwhile investment, I could find no compelling reason for the immediate purchase of shares in any of these enterprises. Nonetheless, I see a sound argument for a long-term investment in a stock that can profit from looming water shortages.
In summation, this article stands as the beginning for consideration of holdings in this sector. I hope it spawns a discussion that can lead to viable investments. As informed investors, our gaze should often fall on the horizon. Otherwise, readily available information leads the market to price the stock before it can be acquired at value commensurate with our risks.
Disclosure: I have no positions in any stocks mentioned, and no plans to initiate any positions within the next 72 hours. I wrote this article myself, and it expresses my own opinions. I am not receiving compensation for it (other than from Seeking Alpha). I have no business relationship with any company whose stock is mentioned in this article.