Last week I wrote an article on Blackstone Group (NYSE:BX), a massive private equity firm ranked as the world's largest (based on committed capital) and the largest alternative investment firm. With total assets under management of around $258 million (as of October 2013), Blackstone Real Estate group completed a flurry of successful IPOs last year including Hilton (NYSE:HLT), Extended Stay America (NYSE:STAY), and Brixmor (NYSE:BRX).
Blackstone's Real Estate investments represent $18.7 billion of unrealized equity value in funds and fee-paying co-investments. As of December 31st, Blackstone and its independent advisory owns shares in Hilton, Extended Stay, and Brixmor worth an estimated $23.321 billion.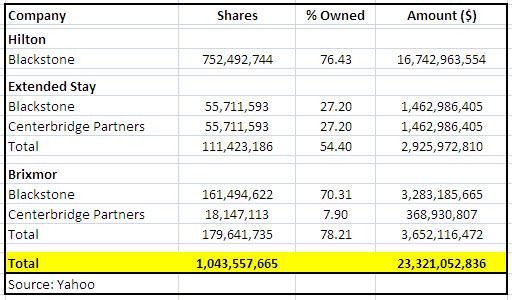 As mentioned in my previous article, I own shares in Blackstone and one of my desires to invest in the private equity firm was to realize income generated from the increasingly successful IPOs. As of the date of this article, I have not made any direct investments in HLT, STAY, or BRX; however, the more recent monetizations by Blackstone has sparked my interest and desire to research these companies individually.
Having broad experience in the capital markets arena, I find Blackstone's model highly attractive and I consider the success of the more recent share price growth a validation that Blackstone is capitalizing on real estate values in the increasingly popular public markets. As I explained:
A review of Blackstone's financial statements over the last three years confirms that this private equity firm is a powerhouse bet. In 2010, Blackstone's net income was negative $370 million. In 2011, it was negative $168 million, and in 2012, it was positive $219 million. By the end of 2013, net income (based on GAAP) grew to $1.17 billion - a 436% year-over-year change.
As an active publicly-traded and private real estate investor, I find Blackstone's investment strategies to be well-timed and because the private equity giant has a $20+ billion war chest of public (real estate) company exposure, the odds are good that there will be considerable liquidity generated when shares are sold off.
It's clear to me that Blackstone's ownership in HLT, STAY, and BRX are traded with some overhang - until there's more liquidity, shares will not trade naturally; however, eventually these companies will trade more freely in a manner that doesn't destroy value for shareholders.
How Can Brixmor Get More Shelf Space?
Last week I wrote an article on ARCenters, a proposed new shopping center REIT being spun out of the multi-tenant retail properties owned by American Realty Capital Properties (ARCP). The newly created ARCenter portfolio will own 79 assets, primarily, multi-tenant shopping center properties with 11.8 million sf located in 26 states.
This new shopping center REIT will be the 20th shopping center REIT in the US (source: NAREIT) with a combined market capitalization of around $57 billion (for all shopping center REITs). There's no other sub-sector that's as crowded as the shopping center sector and it seems that the ability to differentiate between many of the REITs is becoming blurred.
Brixmor Property Group, Inc. entered the public markets last October with an IPO of 47,437,500 shares of common stock at a price to the public of $20.00 per share, including 6,187,500 shares sold in connection with the full exercise of the option to purchase additional shares granted to the underwriters, resulting in gross proceeds of $948.8 million.
Brixmor has a market capitalization of around $4.9 billion and Total Capitalization of around $12.3 billion. As noted above, around 78% of Brixmor's ownership is in Blackstone (70%) and Centerbridge Partners (7.9%) - a combined $3.65 billion in equity value.

The New York-based REIT owns 522 community and neighborhood shopping centers (70% grocery-anchored) located in urban areas across the United States. The Brixmor portfolio was orchestrated via a series of distressed acquisitions including the purchase of assets from Australian-based Centro Properties. Many of the Brixmor (formerly Centro) centers are located in secondary markets where occupancy rates are lower than many of its peers. In an improving economy, that could fuel organic growth.

Brixmor's portfolio primarily consists of in-fill assets located in dense, urban areas and the top markets include New York, Philadelphia and Houston. Around 65% of the company's rent is derived from the Top 50 MSAs. The company's average population density (5 mile) is 183,000 and the average household income (5 mile) is $79,000.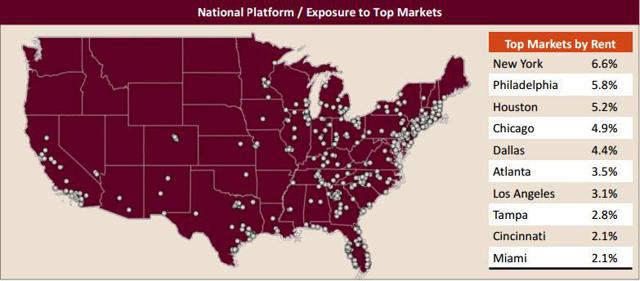 Brixmor is the largest wholly owned grocery-anchored shopping center portfolio in the US. 70% of the portfolio is grocery-anchored and the company is a significant landlord to Kroger (NYSE:KR), Publix, Safeway (NYSE:SWY), H-E-B, Giant Eagle, Stop & Shop, Giant, Jewel-Osco, ShopRite and Trader Joe's.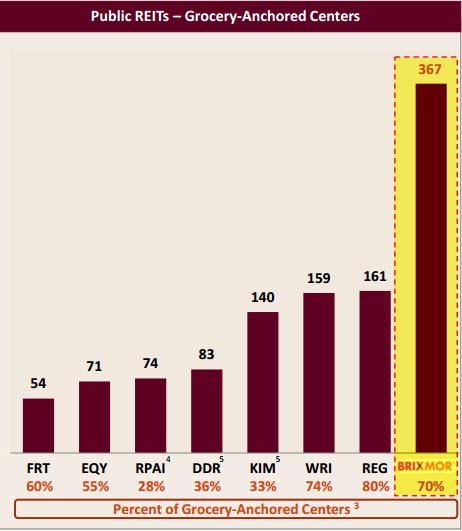 Brixmor's average sales are $525 PSF, 39% above average US grocery store sales and 77% of Brixmor's grocers are ranked #1 or #2 in their respective markets. Because Brixmor leases to many necessity-based tenants, there is less concern with ecommerce competition and store closures.
Brixmor is the largest landlord in the US to TJX Companies (NYSE:TJX) and Kroger by size. In addition, around 87% of Brixmor's Gross Lease Area (or GLA) is occupied by national (69%) and regional (18%) tenants. Here is a snapshot of Brixmor's Top Tenants (based on Rent):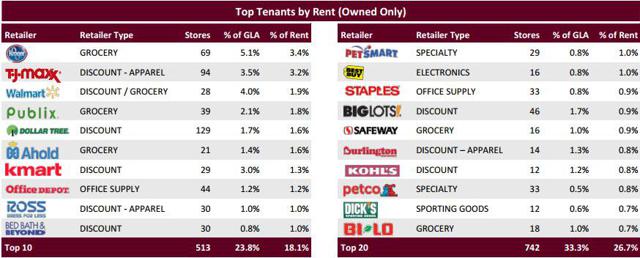 Given the number of shopping center REITs in the US today (20 total when ARCenters lists shares), it is becoming increasingly harder for a company to provide a meaningful competitive advantage in the marketplace. As history has shown, the strongest companies usually survive by creating a powerful strategy of differentiation that leads to years of successful risk control. Let's take a closer look at Brixmor to determine if there is a wide moat forming…

Brixmor - Is There a Wide Moat Forming?
One of the favorable supply and demand characteristics we see today in the shopping center sector is the drastic decline in new construction. Suffice it to say, I was one of hundreds of shopping center developers in the early 2000's and like me, the casualties of The Great Recession forged a dramatic shift in supply. As illustrated below, new shopping center supply declined by 92% over the last 6 years.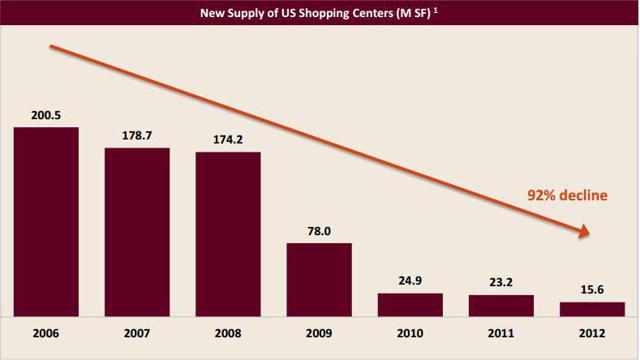 For Brixmor, the benefits of owning a portfolio of grocery-anchored properties seems attractive since most of the centers have lower in-place rents. Given the relatively low new supply, Brixmor has been able to benefit from the premium landlord-aligned model whereby rents are improving across most markets.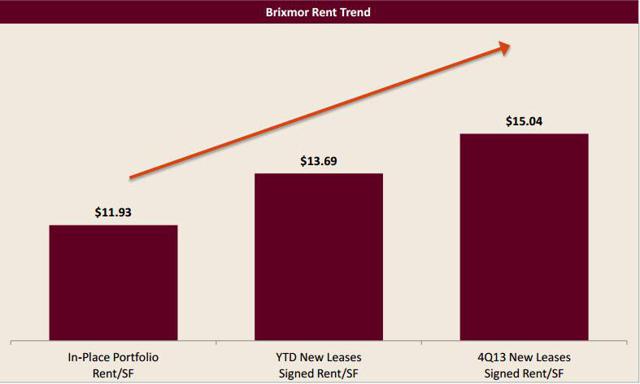 Evidence of the improved operating metrics can been seen in the fact that Brixmor has increased occupancy 12 consecutive quarters and the company has produced top line improvements in 29 consecutive months (of rent increases). In 2013, the company signed 3.4 million square feet of new leases and leasing spreads have remained positive for 12 consecutive quarters. New lease spreads were up 25% in the fourth quarter (2013).
Most all of Brixmor's growth has been internal and over the last 10 quarters the company has produced positive same store NOI growth (3.9% in Q4-13 and 4% in all of 2013). Contractual rent steps should provide between $9.5 million to $10.5 million of rent growth annually, contributing 1.1% on average to NOI growth.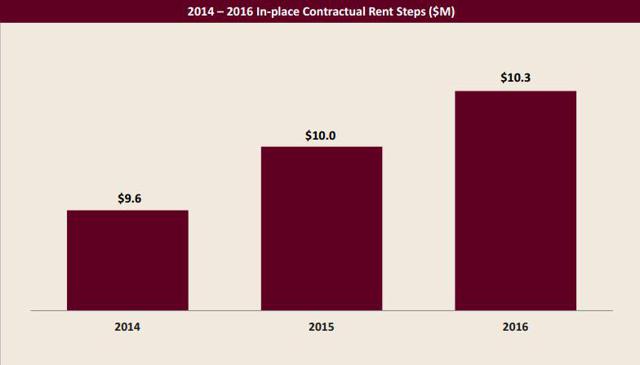 One of my concerns with ARCenters prospectus has to do with the 4% growth forecasted in 2014. Given the fact that the portfolio is around 96.3% occupied, I'm having difficulty evaluating the optimistic assumptions. However, Brixmor has demonstrated that it can add value by increasing occupancy.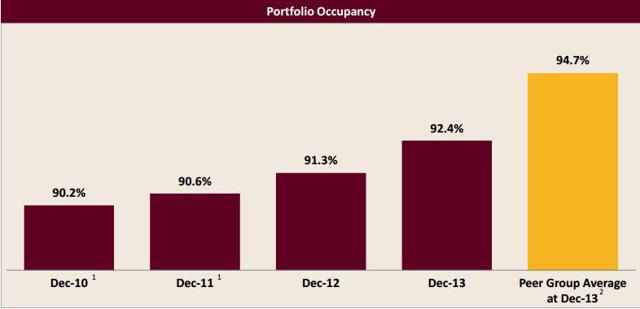 In the shopping center business, it's critical to have high-quality anchors. As evidenced by the snapshot below, Brixmor signed 144 anchor leases in the last two years driving sustainable value. Small shop (<5K SF) occupancy improved 370bps in centers with at least one anchor (>20K SF) commencement in the prior year.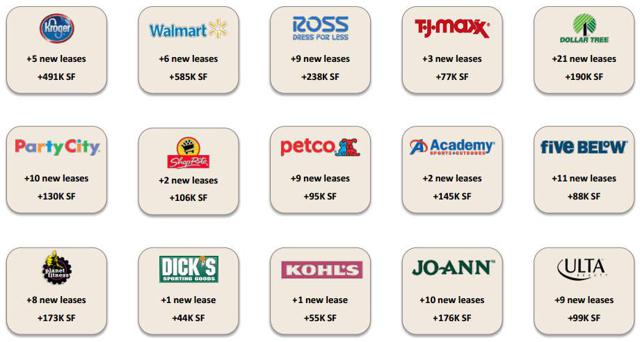 One of the key differentiators for Brixmor is the opportunity to capitalize on the company's significant near-term lease rollover by stepping up below market rents. The key to succeeding with this investment thesis is to manage the rollover risk selectively and prudently. As demonstrated below, Brixmor's market rents have increased by 26% on Q4-13 leases at $15.05 (rent/SF) and over the course of the next 3 years (2014-2016) Brixmor will have 39% of its portfolio expiring.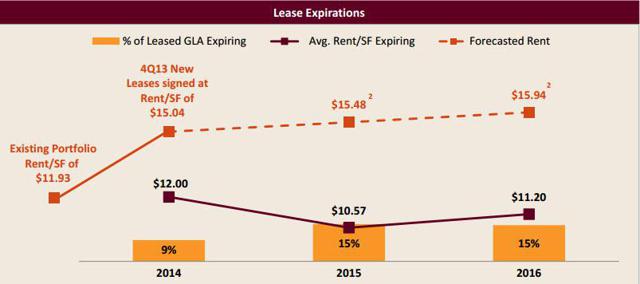 Because Brixmor has very high-quality anchor tenants, the company can mitigate significant rollover risk. Around 84% of Brixmor's anchor tenants lease space and of that amount, around 1 million square feet will be expiring soon (by 2016) with no remaining extensions. There could be significant upside with increasing average anchor rent from $4.96 (per SF) to market rent ($11.93 per SF).
Of course, there are risks. As noted above, Sears is one of Brixmor's top tenants and if there are multiple untimed store closures, there could be added pressure on rents. However, I believe that risk is muted based upon the fact that Sears has been closing stores slowly and also the rents (from Sears) are significantly below market. Most of the leases with Sears pertain to the K-Mart brand.
For Brixmor, it's clear that this is an internal growth story. The investment thesis is to continue to deliver NOI growth without significant capital. The components for growth consist of contractual rent increases (1 -2%), positive rent spreads from below market rents (1.2-1.4%), and occupancy increases (1.3-1.4%). Combined, Brixmor expects to generate annual NOI growth of between 3.5 to 4%.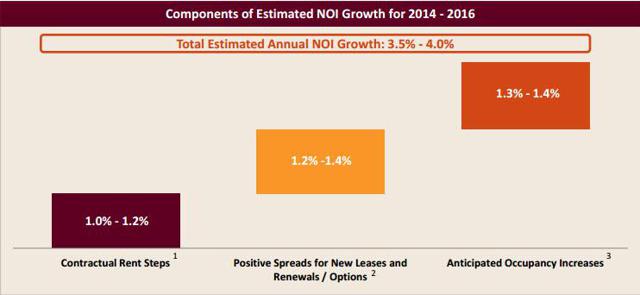 Not a Fortress Balance Sheet Yet
With just a few months as a public REIT, Brixmor has made considerable progress improving its balance sheet. Most of the company's balance sheet management has been centered on rebalancing debt maturities and reducing secured debt. When Blackstone acquired the Centro Commercial assets a few years ago, the loan to value was nearly 100%. When Brixmor IPO'd, most of the proceeds (around $950 million) were used to reduce debt.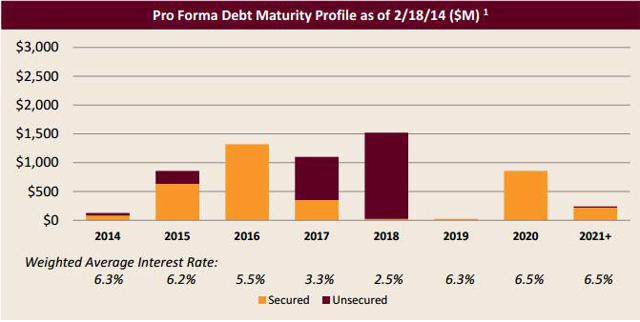 Last year Brixmor closed on a $1.2 billion line of credit and recently the company announced that it had closed on a $600 million 5-year term loan (Libor +145 bps) using proceeds to payoff secured debt. Brixmor is targeting to get its Net Debt to EBITDA to 6.5x by 2016 with a less lumpy maturity schedule. On a recent earnings call, Michael Carroll, Brixmor's CEO addressed a question regarding obtaining credit ratings:
We are and continue to be in active dialogue with the rating agencies and we are providing them with significant amount of analysis, in terms of our current situation and our forward plans. So my point about, within the 12 month period, is based on the projections of where our quantitative information is and also qualitatively where we're heading. So ultimately it is the rating agency's decision, but just based on the trend lines and then that dialogue, it is my hope and expectation that we can get there within the next 12 months.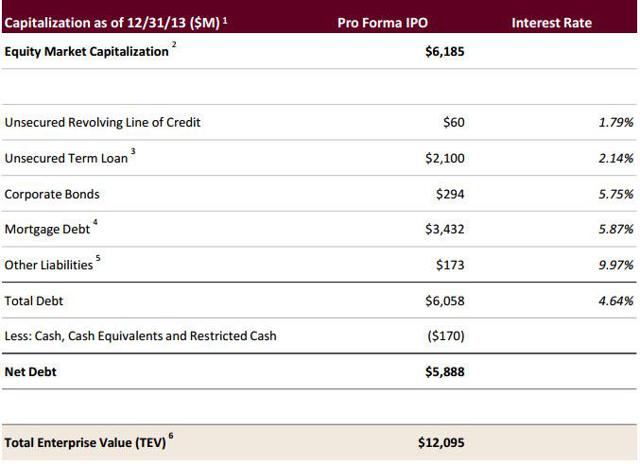 Mike Pappagallo (Brixmor's CFO) added (on the earnings call):
Our efforts here are tightly focused on three goals. First, reducing our level of secured debt and increasing the size of our unencumbered asset pool; second, eliminating high cost debt via secured or unsecured; and third continuing to allocate a portion of free cash flow for absolute debt reduction.

As mentioned in our press release we took certain actions in January to refinance over $480 million of secured mortgage debt as well as eliminate $58 million of outstanding bonds with an interest rate in excess of 7%. As a result the company increased its unencumbered pool to 47% of its properties from 40% at the end of December and 44% of net operating income is now unencumbered.

This Isn't Frosted Flakes But It Could Be One Day
So how does a REIT like Brixmor get shelf space? With 19 shopping center REITs today and one more coming (ARCenters), it's awfully hard to get the attention of Mr. Market. As mentioned above, Blackstone controls a considerable number of shares and that overhang doesn't entice the value of the shares.
In fact, Mr. Market is not giving Brixmor more credits at all. For a company with over 500 shopping centers and above average operating fundamentals, it would seem that Brixmor would be trading at a healthier price. Today the shares are trading at $21.35, up around 6.75% since the IPO last year.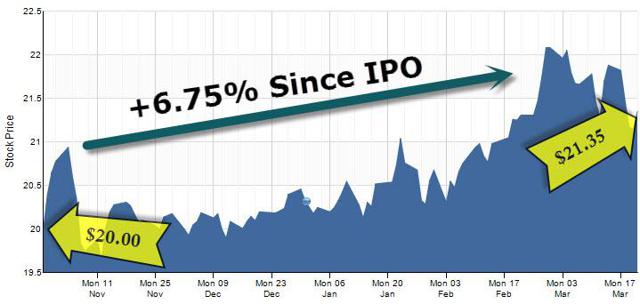 Brixmor's Price to Funds from Operations (P/FFO) is 11.7x, one of the lowest in the peer group.

For a cheap stock you would suspect a high dividend; however, Brixmor is also one of the lowest yielding REITs in the shopping center sector. The company has paid a partial dividend (since the IPO) and it expects to pay $.20 (a quarter) or $.80 annualized. That equates to around 4%.

Keep in mind that Brixmor is paying out around 65% of its Adjusted Funds from Operations (or AFFO) and that indicates that there is more room for dividend growth.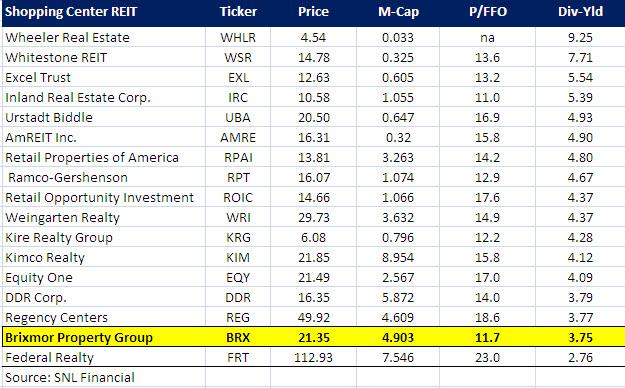 As noted, I do have "skin in the game" with Blackstone. Indirectly, I could benefit from the liquidity generated from Brixmor and as the Blackstone Fund Manager ultimately monetizes shares in Brixmor, I will enjoy the added benefit of the promote inherent with the economic upside.
However, I would like to enjoy the direct benefits of owning an undervalued REIT with an improving balance sheet. Admittedly, I was a little gun shy with the IPO (of Brixmor) as I wrote (on The Street):
The company's debt profile also needs to be smoothed and the management team must provide a few quarters of performance. In summary, Brixmor is not in my shopping cart. I'll wait for the blue light special.
In closing, I'm initiating a BUY on Brixmor at $21.00. This is a more speculative bet than I generally recommend; however, I believe that the management team has the experience to move the needle and increase "shelf space." This isn't Frosted Flakes (top shelf) but I believe that the Blackstone overhang (in share price) could lift the stock price to $30.00 over the next 12 months. In addition, I wouldn't rule out a few M&A deals as the shopping center sector starts to "thin out" over the next 12 to 24 months.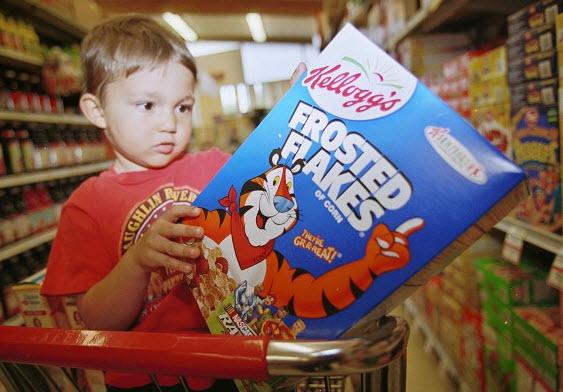 REIT Newsletter: The author is also the Editor of a monthly newsletter called The Intelligent REIT Investor. For more information or to subscribe click HERE.
Sources: SNL Financial and Brixmor Investor Presentation.
REITs mentioned: (NYSE:DDR), (NYSE:EQY), (NYSE:KIM), (NYSE:REG), (NYSE:RPAI), (NYSE:WRI), (NYSE:CDR), (NYSE:EXL), (NYSE:IRC), (NYSE:KRG), (NYSE:RPT), (NASDAQ:ROIC), (NYSEMKT:WSR), (NASDAQ:WHLR), and (NYSE:FRT).
Disclaimer: This article is intended to provide information to interested parties. As I have no knowledge of individual investor circumstances, goals, and/or portfolio concentration or diversification, readers are expected to complete their own due diligence before purchasing any stocks mentioned or recommended.
Disclosure: I am long O, DLR, VTR, HTA, STAG, UMH, CSG, GPT, ARCP, ROIC, MPW, HCN, OHI, LXP, KIM, BX. I wrote this article myself, and it expresses my own opinions. I am not receiving compensation for it (other than from Seeking Alpha). I have no business relationship with any company whose stock is mentioned in this article.