BELVIQ's launch started on June 11, 2013 and so far, sales have been slowly creeping up for investors. Arena (NASDAQ:ARNA) and its marketing partner Eisai (OTCPK:ESALY) recently announced a major new stage in commercialization strategy and promotional mix that I believe could be the tipping point for a significant upward inflection in BELVIQ sales. I believe that this is an opportune time to buy Arena. A major new direct to consumer advertising campaign is expected to begin in April 2014. I think Eisai's television advertising campaign will be the most common type of campaign called "product claim ad," which mentions the product and its indication and includes efficacy or safety claims. Eisai can combine common channels normally used to distribute DTCPA, such as television, print (magazine, newspapers), radio, the Internet, and other forms of mass media such as billboards and direct mailings. According to the Congressional Budget Office, the average number of prescriptions written for newly approved brand-name drugs with DTC TV advertising is a staggering nine times greater than the average number of prescriptions written for newly approved brand-name drugs without DTC TV advertising. Here is a chart showing total pharmaceutical advertising spending on various mediums in 2010:

Eisai and Arena will try to capitalize on the principle that treatments for common conditions like obesity that affect a large portion of the population are usually the primary focus of DTC TV advertising. AMA's disease designation for obesity is designed to improve the comfort level for discussion between obese patients and their physicians who have been too embarrassed to talk about their weight. In addition, doctors are likely to write more prescriptions for drugs that can treat a large number of patients than they are for drugs with a much more limited patient population. Attesting to their ability to generate sales, DTC TV drug advertising is everywhere. DTC TV advertising is concentrated among a small number of drugs for chronic conditions. Researchers have found that DTC TV advertising spending strongly correlates with increases in the number of prescriptions. In addition, Eisai recently announced that BELVIQ is being detailed by 400 trained and experienced sales reps. The sales force preceded the DTC TV ad campaign, and the TV campaign will likely lag a few weeks before results can be seen in sales growth. I think we will see Eisai using a more aggressive physician specific and consumer specific mix of promotional ingredients going forward.
Benefits Of Direct-To-Consumer Drug Ads
Eisai and Arena's addition of television advertising to the DTC campaign is expected to reap the long list of benefits that marketing researchers know direct to consumer advertising provides consumers, patients and drug makers: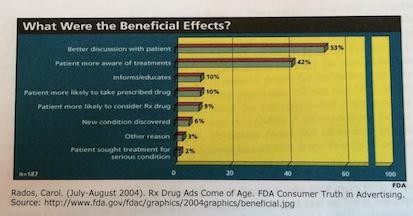 DTC TV ads educate patients and empower them to become more active participants in their own care. But don't forget, doctors watch TV too. For example, thanks to Pfizer's (NYSE:PFE) advertising, many people who had been experiencing persistent thirst may have learned thirst is a symptom of diabetes. PhRMA asserts that these advertisements foster "important doctor-patient conversations about health that might otherwise not have happened." TV ads prompt patients to consult a health care provider and to seek medical advice. Most healthcare professionals seem to agree that DTC TV ads are beneficial because they promote dialogue with patients, which has been a problem for physicians with offended obesity patients, when they broach the subject. Studies also generally agree that participation of an informed patient in clinical decision-making benefits the patient-clinician relationship. The data consistently show that small, but statistically significant, improvements in adherence occur among patients exposed to DTC TV ads. DTC TV ads have been credited with decreasing the number of under diagnosis and under-treatment of medical conditions associated with obesity. Consumer drug advertising for health problems that could be embarrassing to a patient, such as depression, obesity or erectile dysfunction, can also reduce the stigma associated with these conditions. Eisai and Arena are creating campaigns by listening and opening up channels and trying everything they can do to understand consumers. Social media and health posts tend to increase with DTC campaigns; campaign frequency; launch of key partnership with a celebrity; and unique story-lines. Eisai's obesity partnership with CVS Caremark benefits manager is important because "statistics say that as a member of the healthcare team, the pharmacist is seen more than any other member. That gives them a unique opportunity to interact with patients and customers," said Mark McCoy, senior VP Ventiv Health.
Stock Price and Prescription Sales Growth Chart
At the time of launch, Arena's stock was selling at around $8.77 per share. Over-exuberant expectations with the initial sales ramp resulted in a steady downtrend in the stock price, until it reached a low of $4.05 on November 7, 2013. News of the new marketing efforts and weekly prescription sales growth has led to a slight rebound in stock price to a recent price of $6.15. I project in about three months time, BELVIQ script numbers should significantly increase for the reasons that the DTC TV campaign, increasing insurance coverage, doubling sales rep, physician comfort after seeing results with their initial patients, doctors taking a wait and see for the first year BELVIQ is on the market, and word-of-mouth for the first time is going reach a critical mass. My judgment and experience tells me that the new TV marketing campaign will cause a meaningful inflection in sales that will become evident in Q2 2014. I expect the stock price to react accordingly. I am not offering a precise sales estimate for 2014 BELVIQ sales, until I get a better idea on the scope and effect of the TV marketing campaign. I believe that BELVIQ is a very good product for a very large unmet medical need and my prior estimates of blockbuster drug status is still my view.
These two charts provide investors with a clear view of BELVIQ's sales growth trend using actual, linear, and exponential statistical regression analysis (Source: Investorsvillage.com):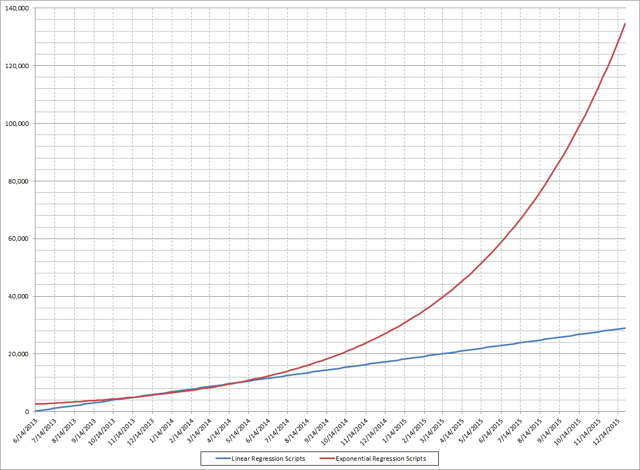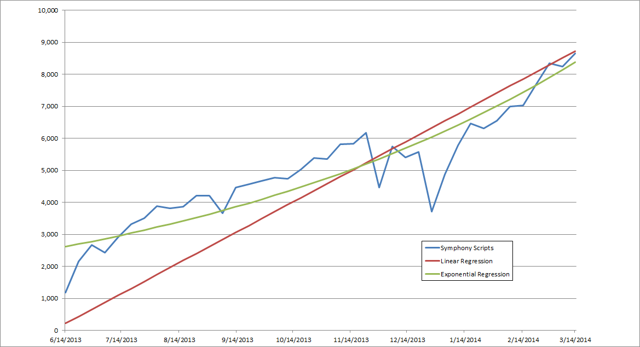 Currently, Bloomberg's Symphony reported prescriptions are running at a rate of 8,651 per week which translates into gross annualized sales of about $78.7 million. Some Wall Street analysts who closely follow the stock are projecting about $19 million in sales for 2014, which works out to be an average of about 2,000 prescriptions per week. I think that weekly prescriptions will have to reach a level of more than 12,000 in Q2 2014. I feel that the DTC TV campaign and 400 sales representatives can accelerate BELVIQ sales. BELVIQ does not face fierce competition, particularly with its TV advertising campaign, as the only current competition is from a downsized marketing campaign from Vivus' (NASDAQ:VVUS) Qysmia. Arena investors should not worry about Orexigen's (NASDAQ:OREX) Contrave either since it will have the very same hurdles with insurance coverage, slow marketing roll-out, DTC regulations imposed by the FDA, manufacturing and post-approval safety studies, if Contrave ever gets approved by the FDA. It's not just about millions in ad campaigns for BELVIQ. Ned Russell, managing director, Publicis Groupe's Saatchi & Saatchi, states that "It's more about proactive health. It's more of a journey where marketing communications plays a role in advising and helping the consumer along."
The Bottom Line Analysis
The main question is what rate of prescriptions would excite investors in Q2 2014? I would venture to say that if the DTC TV, increased insurance coverage, and the doubling of the sales force marketing campaign can create prescriptions of 15,000 per week, or hopefully more in the second or third quarter, then analysts would raise their sales estimates, as this would be seen as a clear upward inflection in sales. Another important question is how Arena and Eisai will use the BEL-PHEN trial results expected to be released in the second quarter. We heard in a conference call that some clinics experimenting are seeing excellent results using the BELPHEN combo. Will the 150,000 weekly Phentermine users or physicians prescribing Phentermine eventually become BELVIQ combination users? I will leave this discussion open to the creative commenters to this article, given the obvious upside opportunity it offers to BELVIQ patients and investors. Let's do some simple, but old-fashioned back of an envelope math; at 15,000 BELVIQ prescriptions per week, at an average BELVIQ gross prescription price of $175, the gross annualized revenues would be running at approximately $136.5 million. The stepped up DTC TV promotional campaign, plus the doubled 400 rep Eisai sales force, these two companies together could see gross annualized sales of perhaps $200 million or 22,000 prescriptions per week by December 31, 2014. In addition to TV/Digital advertising, I think growth in insurance coverage, physician meetings and events, and journal advertisements will continue to be a sustained part of the DTC marketing machine.
To boot, Eisai and Arena are diligently working on more indications for BELVIQ for smoking cessation, T2DM, patients on antipsychotic drugs, and more palatable formulations like a time-released one a day pill. We are looking for new drug application approvals in Mexico, Canada, South Korea, Switzerland, Brazil and EU during 2014-2015. Arena is not just about BELVIQ with promising new drugs in its development pipeline, and looking forward to big pharma partnering agreements with new drug candidates using Arena's proprietary CART technology. Stay tuned!
Disclosure: I am long ARNA. I wrote this article myself, and it expresses my own opinions. I am not receiving compensation for it. I have no business relationship with any company whose stock is mentioned in this article.
Additional disclosure: I do not have any positions in VVUS and OREX.