Summary:
Celgene (NASDAQ:CELG) is a $58 B biopharmaceutical company with a worldwide presence, harnessing the sales of several highly successful drugs as well as several others in development. For the most part, CELG specializes in therapies related to cancer and immune inflammatory related diseases. Its top three products totaled ~88% of overall revenue: Revlimid (66% of revenues)- treats anemia caused by myelodysplastic syndrome or MDS, Vidaza (12% of revenues)- treats bone marrow disorder MDS and Abraxane (10% of revenues)- treats breast, lung and pancreatic cancer. The remaining 12% of sales comes from several others: Thalomid, Pomalyst, Imnovid, and Istodax. CELG gets 59% of its sales from the US, but does get 29% from Europe and the remaining 12% from other markets.
Valuations:
The stock is trading at 19.8x 2014 EPS estimates, which is about half the long-term average of 41.1x, and about 14.8x 2015 expectations, implying ample growth going forward. But what supports this growth you ask? A robust pipeline and strong management.
Pipeline:
CELG does have a relatively strong product pipeline of drugs in development, which supports estimates. In fact, just this past Friday the FDA approved Celgene's psoriatic arthritis treatment, Apremilast, which some think could be the firm's next blockbuster drug. CELG estimates 2017 sales from $1.5 B - $2 B, which some think the market isn't taking seriously. By these numbers, Apremilast could account for around 12% of expected 2017 sales, which could soothe product diversification concerns and will ease the burden placed on Revlimid.
CELG has over 100 Phase II trials planned/underway, and over 30 Phase III trials planned/underway as per the March 2014 presentation. Roughly 14 events are scheduled for 2014. (see Timing/Catalysts below)
Apremilast:
Reports of Apremilast's market opportunity is large: There are reportedly more than 1 million potential patients in the U.S. and Europe, representing a more than a $1 B annual opportunity. Approval in the US was great news, but unfortunately shares still fell -3.74% for the day. CELG shares were hurt by a letter sent from the House Energy and Commerce committee to the chief executive of Gilead Sciences, Inc. (NASDAQ:GILD) questioning its plans to sell the 12-week treatment, Sovaldi, for $84,000 per dose. This was disappointing for CELG, and I thought for shares to be down so drastically on a day of an FDA approval was unwarranted, even if approval was deemed likely. As a result of Apremilast's FDA approval, regulatory approval in Europe is very likely, which is due in the second half of the year.
Management Reliability:
Led by CEO Robert Hugin, management exceeded earnings expectations six out of the past seven quarters, and some think the streak is far from over - I agree. Guiding for 20% annual earnings/revenue growth, as well as the potential for growth acceleration to 30% in 2015 is definitely something to look forward to. If management continues to execute against these expectations, multiple expansion is highly probable.
At the end of 2013, management ended the year with $5.7 B in cash and equivalents and only $545 M in short-term debt, and with $4.2 B in long-term debt and an impressive debt-to-cap ratio of 7.4%. CELG powered through 2013 with $2.2 B in cash flow, a 10% increase from 2012.
Celgene doesn't pay a dividend, but to settle your stomach, management bought back $2.8 B in shares, and there is still $2.1 B remaining on the current repurchase authorization.
Timing/Catalysts:
Thus far I've summarized many positives for CELG, but really the most important thing in investing is timing. I always tell my friends and family I like every stock for a price, so what of CELG? Shares have underperformed the S&P 500 and are down 14% from their January highs. Meanwhile, a recent catalyst I was anticipating, Apremilast FDA approval, fell on deaf ears, as I mentioned above. From the looks of the chart, CELG seems ready for a bounce as shares approach the 50 Day MA.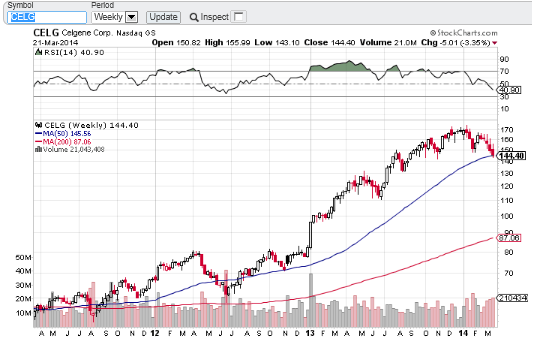 Near-term catalysts include 14 major events scheduled through 2014, and could move shares if results are positive:(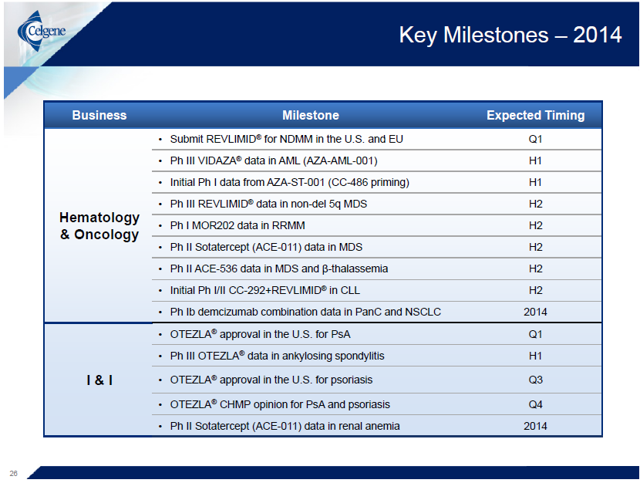 I'm A Buyer:
I believe the recent pullback since January, combined with Friday's selloff post FDA approval is an opportunity. The market selling Celgene shares is a mistake, as I view the company as stronger than ever, and with plenty of catalysts. I also feel Friday's selloff despite an FDA approval as a "pound the table" type moment. I am long CELG as of Friday 3/21/14, but through a simple call spread, which I posted on SA's stock talks, here.
Disclosure: I am long CELG. I wrote this article myself, and it expresses my own opinions. I am not receiving compensation for it (other than from Seeking Alpha). I have no business relationship with any company whose stock is mentioned in this article.
Additional disclosure: I am long CELG via April call spreads, 145 / 147 strikes. I may add additional long position(s) at any time.