For the next two days, we're combining two of our favorite pass times… Myth busting Wall Street's most widely held beliefs and using carefully selected graphics to cut through the clutter and noise. By doing so, we aspire to take our insights to another level. Investment enlightenment never came so easily. Without further ado, let's get to it…
Myth #1: Hyperinflation is Coming! Hyperinflation is Coming!
We've been enduring this claptrap ever since the financial crisis hit and the government unleashed untold trillions to stimulate the economy and market.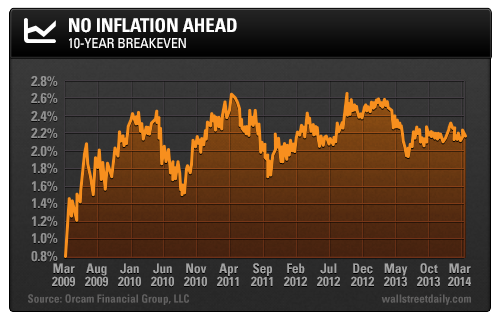 My response? Ignore the Chicken Littles! Inflation is nowhere to be found. The data is cut and dry.
Case in point: The latest CPI reading checked in at 1.1%, which is miles away from the historical average of 3.5%. If you're a conspiracy theorist or reluctant to trust any data from the government, fair enough. This might do the trick, though…
Just trust what the market is telling us… As Pragmatic Capitalism's Cullen Roche reveals, "One of the better ways to gauge the market's expectations of inflation is to look at the 10-year breakeven. This is just the yield on the 10-year versus the inflation-protected equivalent."
When the line is heading higher, the market expects higher inflation - and vice versa. But for months now, it's been trading sideways. So stay calm and carry on. Low inflation, not hyperinflation, lies ahead.
Myth #2: The Residential Real Estate Market is About to Implode Again
I'll admit that the runaway real estate rebound is losing steam. But that's a perfectly natural and good thing. It signals that we're returning to normal market conditions. Nevertheless, many pundits fear that we're doomed to repeat the sins of our past. Namely, that another nasty downturn lurks right around the corner.
Hogwash! I say that because everyday Americans finally have their financial houses in order. Based on the latest study from credit bureau, TransUnion, we're paying our mortgages before our credit cards. The 30-day delinquency rate for mortgages checks in at 1.71%, down from 2.42% in September 2012. Meanwhile, the delinquency rate for credit cards stands at 1.83%.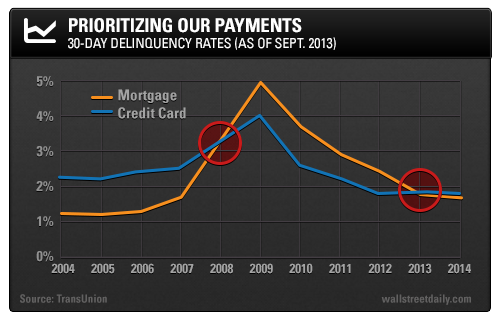 Believe it or not, we haven't prioritized our mortgages over our credit cards since 2008. Or as Ezra Becker, Vice President of Research and Consulting for TransUnion, reminds us, "As unemployment rose and home prices cratered, increasingly more consumers were faced with financial constraints and had to make difficult choices - and many chose to value their credit-card relationships above their mortgages."
But none of that's happening right now. We're properly prioritizing our debts again. The labor market is on the mend. Not to mention, home prices are headed up, not down. Throw in tighter lending standards over the last few years, and we have no reason whatsoever to fear another real estate market implosion. Not anytime soon, at least.
Myth #3: Green Technology is Where It's At!
Tesla's (NASDAQ:TSLA) latest plans to disrupt the battery market sparked a renewed mania for cleantech investments, the likes of which we haven't seen in almost 15 years. If you want proof, pull up the long-term stock charts for Plug Power Inc. (NASDAQ:PLUG) and Ballard Power Systems Inc. (NASDAQ:BLDP). They started rallying like it was 1999 all over again.
So is "cleantech" really the place to invest right now for easy gains? Not according to the smartest money in the market - venture capitalists…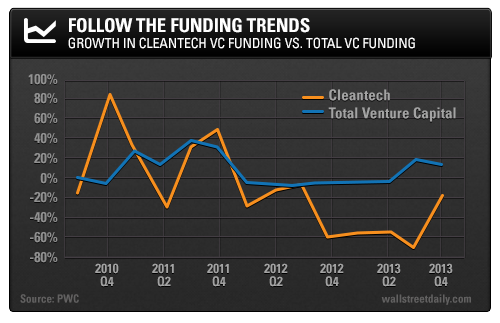 Although cleantech VC investments rebounded in the fourth quarter, the pace remains well below total VC spending trends. What's more, over 90% of the inflows into cleantech opportunities in 2013 were "follow-on" investments. That is, venture capitalists were adding to earlier investments to keep them afloat, instead of investing in new opportunities.
The key takeaway? Choose wisely, grasshopper! Although the world desperately needs cleantech companies to succeed, investments in the space are anything but a sure thing.
Disclosure: No positions