2013 was a good year for the auto industry. Global auto sales have crossed the 80 million vehicles threshold for the first time in the past year. According to IHS Automotive, a total of 82.84 million vehicles were sold last year, represents a 4.2% increase over 2012. In the U.S., auto sales increased 7.6% to 15.6 million, while China, the world's fastest growing auto market, sold over 21 million vehicles. In contrast, Western Europe posted another annual decline, but is expected to grow this year.
The automotive industry has been a historically competitive industry due to the high capital intensity and competitive pricing. Aspects that automakers typically compete on are price, fuel economy, reliability, styling and the utility of the vehicle. Key players in the industry are: General Motors (NYSE:GM), Ford Motor (NYSE:F), Tesla Motor (NASDAQ:TSLA), Toyota Motor (NYSE:TM), Chrysler Group (FIATY), Volkswagen AG (VLKAY), Nissan Motor (OTCPK:NSANY) and Honda Motor (NYSE:HMC).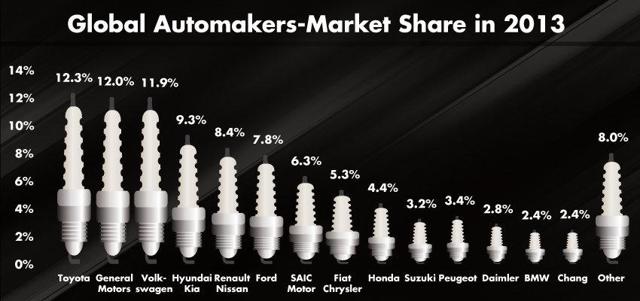 Source: bidnessetc.com
The Japanese automaker, Toyota has managed to keep its crown as the world's largest car-maker by selling over 9.98 million vehicles in calendar year 2013. General Motors and Volkswagen occupied the second and third positions, with sales volumes of 9.71 million and 9.7 million vehicles, respectively.
Like 2013, 2014 is also expected to be a good year for automakers. Across the globe, countries are beginning to recover from the financial crisis, grow GDP and invest in infrastructure. Furthermore, banks are offering more car loans with lower interest rates. Consumers are taking advantage of low lease rates and inexpensive financing, which continues a shift from buying used to buying new. According to a research firm IHS, the global auto sales will reach 85 million in 2014. By 2018, the sales are forecast to cross 100 million. Deutsche Bank estimated that global auto sales will increase 4% in 2014, to 87.4 million light vehicles. Most of the future growth is expected to come from Asian markets ((mostly from China)). Let's analyze the each region individually.
U.S. market
With respect to the United States, consumer confidence at a five-month high, GDP is growing steadily in the United States and disposable income is projected to grow at 2.5% for the next five years, signifying the North American automotive market is poised to continue the rebound from the recession. Auto sales in the U.S. increased 8% to a six-year high of 15.6 million vehicles in 2013. The U.S. auto market is projected to rise 2.4% to 16.03 million this year, and could reach its peak level of 17 million in 2017. Ford expects the U.S. industry volume to range between 16-17 million units in 2014. Meanwhile, General Motors expects industry sales in the range of 16-16.5 million in 2014, while Toyota expects it to be about 16 million. Between 2013 and 2020, production in North America is forecast to increase by 2.1 million. The increase will be driven by new plants in the U.S. and Mexico.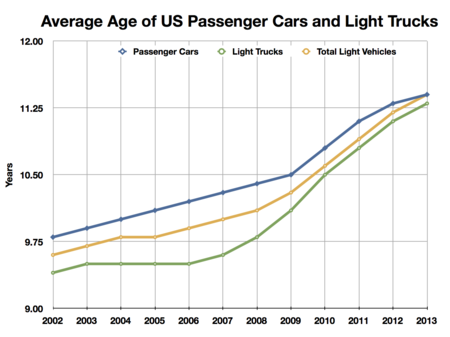 The average age of vehicles on U.S. roads has hit a record of 11.4 years last year, up from 11.2 years in 2012 and 10.9 years in 2010. It will remain above 11 years at present and could rise to 11.5 years by 2018. This is good news for automakers because when the average vehicle age rises, it creates pent-up demand for vehicle replacement, and is usually followed by higher sales.
Europe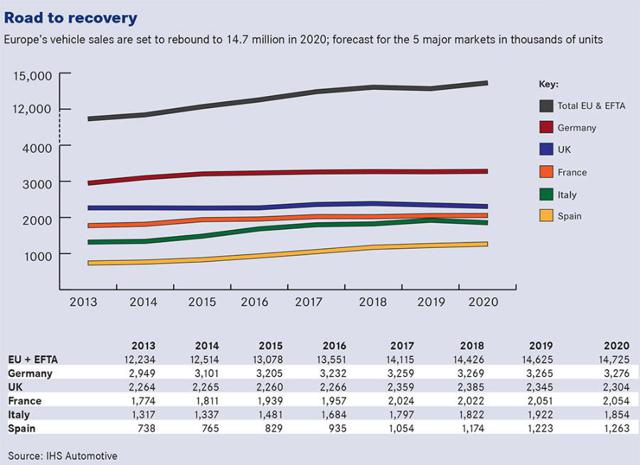 After six years of declines in new-car sales, Europe's car market is expected to grow 3% this year. The peak year for European auto industry was 2007, when a total of 18 million new cars and light commercial vehicles were sold. Full-year sales in Europe fell 1.8% in 2013 to 12.3 million vehicles, the lowest figure since 1995. Auto sales in the region is expected to reach 14.7 million by 2020. IHS is forecasting a 4% increase in Spain, 5% for Germany, 2% for France and 2% for Italy, and 1% for the UK.
Asia
In Asia, two fastest growing markets for automakers are China and India. China is not only the world's largest automobile market, but is also the fastest growing auto market in the world. In 2013, it became the first nation to surpass domestic sales of 20 million units. China's auto market is growing faster than the U.S. As a result, car makers are looking to China for growth. Total wholesale deliveries of cars, buses and trucks increased 14% to 21.98 million units last year. According to China Association of Automobile Manufacturers (CAAM), vehicle sales in China could exceed 24 million by the end of this year. Sales of passenger vehicles mounted 16% to 17.93 million and may increase 9% to 11% this year. LMC Automotive forecasts an increase of 11% this year in China's overall automobile market while IHS Automotive predicts demand to grow 9%.
Almost, all the automakers reported increase in their Chinese sales last year. General Motors sales climbed 11% to 3.1 million last year. Volkswagen also surpassed its previous annual record by selling 2.9 million vehicles in the first 11 months of 2013. Ford sales in China increased 49% to 935,813 units, while Toyota's sales climbed 9.2% to a record 917,500 units.
After China, India is the second fastest growing automobile market in the world. The Indian automotive market is one of the most competitive markets with low costs, which make it an attractive assembly base for foreign automotive manufacturers. Low car ownership rates in India offer incredible opportunities for automakers to grow. According to IHS Automotive, India will become the third largest automotive market in the world by 2016 ahead of Japan, Germany and Brazil. From 2013 to 2020, automobile sector in the country is expected to grow at a CAGR of 16%. Indian automobile market size is expected to reach 9.3 million units by 2020.
Hybrid and electric cars
Throughout the last decade, research into and production of hybrid and electric cars has grown significantly. Driven by a number of factors including rising fuel prices, increasingly cost-conscious drivers and a "green" generation of drivers coming of age, the demand for more fuel efficient vehicles has taken off. Further driving this trend are the federal fuel efficiency requirements. While Toyota's Prius may be widely considered the first mainstream hybrid vehicle, a number of automobile manufacturers including Ford, General Motors, Volkswagen, Honda, BMW have all gone to great lengths to increase the fuel efficiency of their existing fleet, as well as developing newer and more fuel efficient vehicles.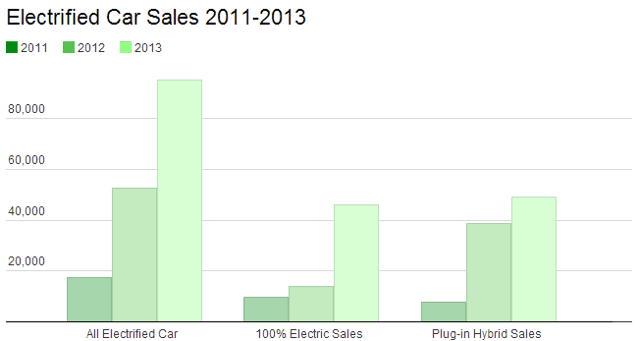 Source: evobsession.com
Sales of 100% electric car sales increased 228.88% in 2013 compared to 2012. Plug-in hybrid sales increased 26.87% in that time period. In the U.S., sales of electric and plug-in hybrid vehicle sales increased 84% to 96,000 units last year. Combined worldwide sales of hybrid and plug-in electric vehicles are expected to reach 6.6 million annual units by 2020 and become almost 7% of the total light-duty vehicle market. Demand for electric vehicles is also increasing due to rising gasoline prices. Gasoline prices are projected to increase at a 7.2% CAGR between 2013 and 2020, while HEV and PHEV battery pack prices are expected to decrease 10% and 26% respectively by 2020. IHS Automotive predicted that global production of electric vehicles will rise 67% this year. The Europe, Middle East and Africa region is expected to build 40% of all EVs in 2014. Asia will build an additional 30%, while the U.S. will make about 27% of all EVs in the world.
Bottom Line
Like 2013, 2014 will also be a great year for the auto industry. Major automakers are expanding their operation in Asian markets like China and India, where they have high growth opportunities. Auto sales are also expected to improve in Europe. Demand for Hybrid and electric vehicles is rapidly increasing around the globe. Automakers are spending heavily to develop more fuel efficient vehicles. In my opinion, it's time for investors to add auto stocks in their portfolio.
Disclosure: I have no positions in any stocks mentioned, and no plans to initiate any positions within the next 72 hours. I wrote this article myself, and it expresses my own opinions. I am not receiving compensation for it (other than from Seeking Alpha). I have no business relationship with any company whose stock is mentioned in this article.