It begins. This week, India allowed 5 private sector banks to import gold. The Reserve Bank of India (RBI) has allowed gold imports by HDFC Bank (NYSE:HDB), Axis Bank (OTC:AXBKY), Kotak Mahindra Bank (OTC:KMBKY), IndusInd Bank (OTCPK:IDCBF) and Yes Bank (YESB.NS), officials at the respective banks told Reuters.
This is major news because this will double the amount of gold imports to India from the current level.
As you know, Indian gold imports were flat in 2013 due to the tax imposed on gold imports in August 2013. Imports have been sharply down more than 50% ever since. But now that these 5 Indian banks are allowed to import gold, we expect the Indian gold import number to double again to its previous levels.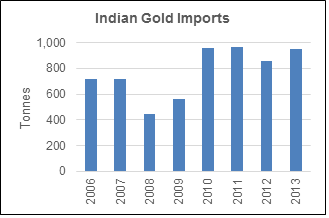 Monthly India Gold Trade (Koos Jansen: In Gold We Trust)
Premiums have soared to more than 20%. But I expect these premiums to come back down to the 10% level as imports double from the current level.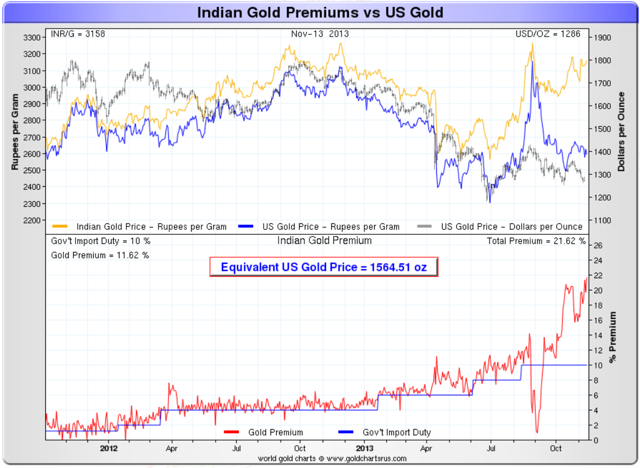 India Gold Premium
Will India become the largest gold importer once again? If this happens, then we can be sure that world gold mine supply will be gobbled up by these two countries China and India.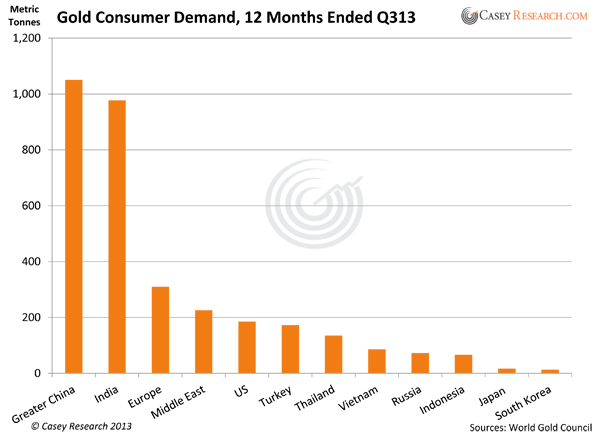 So the demand side in gold is very positive, what about the supply side? I think the fundamentals at the supply side are very positive for gold.
Mine supply is currently at around 2969 tonnes per annum and isn't expected to increase much due to the low gold prices. High grade mines are now being mined and that supply is slowly going to die out in 2015.
The second source of supply, namely the ETF outflows, has actually disappeared.
Since 2014, the GLD ETF has seen inflows instead of outflows. We're seeing a whopping 1300 tonnes loss of supply per annum because investors are buying gold instead of selling gold into these funds.

The last source of supply, which is gold recycling, stands at 1371 tonnes per annum. This source of supply is declining due to low gold prices.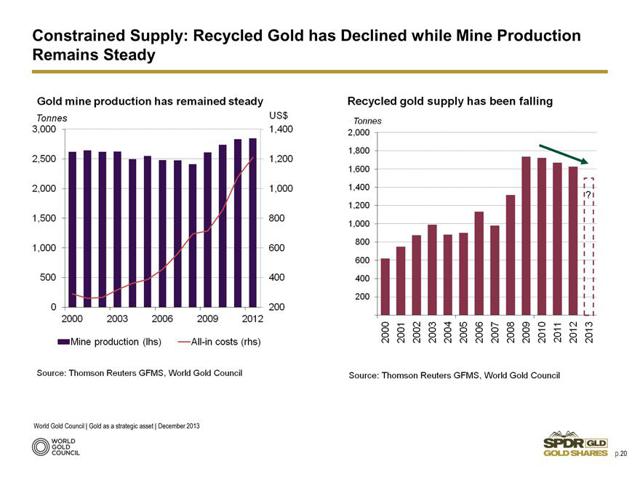 Gold supply from mine production and recycling
I don't expect gold recycling supply to come back up and these numbers back it up. The U.S. people have run out of gold scrap, they are tapped out. U.S. gold scrap exports have collapsed since 2011. So gold recycling will have to come from other countries and I don't think anybody will want to sell their gold at these low gold prices.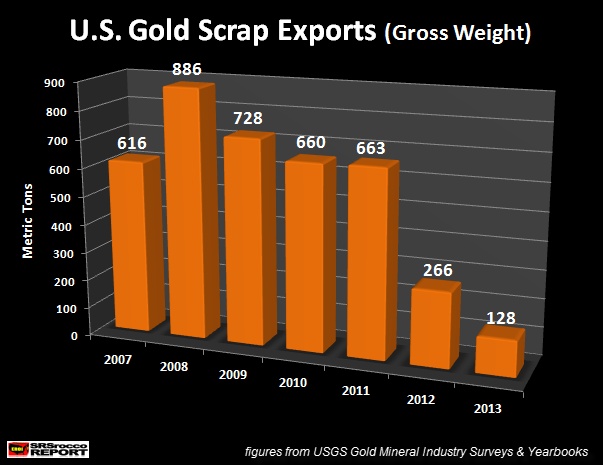 Conclusion:
Brace yourself for a rise in gold (NYSEARCA:GLD) as all fundamentals are lining up for it.
Disclosure: I have no positions in any stocks mentioned, and no plans to initiate any positions within the next 72 hours. I wrote this article myself, and it expresses my own opinions. I am not receiving compensation for it (other than from Seeking Alpha). I have no business relationship with any company whose stock is mentioned in this article.