There is a lot of attention being paid to the gold market today as the precious metal moves close to $1,300/ounce. We have seen a fresh move lower after a long and steady move higher off of the lows and our guess is that the bears have finally decided to test the bulls' resolve. It appears to us that the $1,300/ounce level will be the battleground and we should be given a glimpse into what the market has in store for the pricing of the commodity depending on which way it moves when reaching that benchmark.
Natural gas prices are also drawing attention, but the correction there has been underway for some time and anticipated by many in the industry. When a commodity spikes higher on weather, it generally retreats not long afterwards and this was a point we have tried to stress during this past winter season.
Chart of the Day:
The gold market ran into resistance in the $1,400/ounce neighborhood, so now the bears have the chance to press the issue as pricing approaches the $1,300/ounce level. The big question is whether the bulls will move back in and start buying. For those looking to trade this one way or another, we would use the SPDR Gold Shares (NYSEARCA:GLD). At this time we do not see enough meat on the bone to go long or short, but if that changes we would use the SPDR Gold Shares for our trade.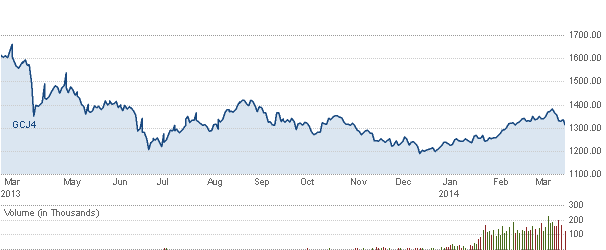 Source: CNBC
Commodity prices this morning are as follows:
Gold: $1,309.50/ounce, down by $26.50/ounce
Silver: $20.005/ounce, down by $0.305/ounce
Oil: $99.42/barrel, down by $0.04/barrel
RBOB Gas: $2.9191/gallon, up by $0.0112/gallon
Natural Gas: $4.296/MMbtu, down by $0.017/MMbtu
Copper: $2.946/pound, down by $0.0045/pound
Platinum: $1,428.80/ounce, down by $7.20/ounce
Utility Companies
Investors have seen the utility stocks perform well as of late, with some of the larger names such as Duke Energy (NYSE:DUK) and Southern Company (NYSE:SO) make decent moves higher before we saw some selling. Although Southern has held most of its gains, Duke has not. We have more news out today regarding Duke and further issues regarding coal ash, this time in South Carolina.
Although we think Duke is a buy on the negative pollution news, it does appear that Southern is a buy based on momentum. We like the story in the long-term at both companies as well.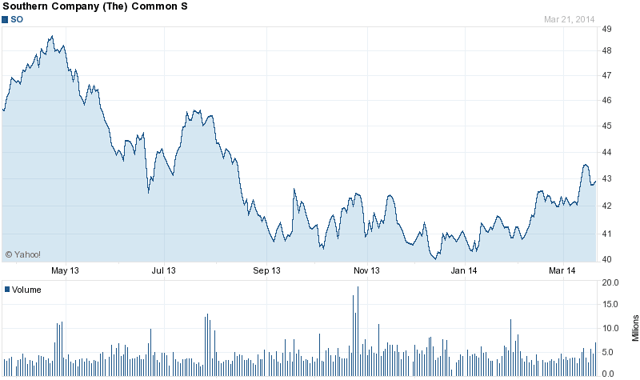 Source: Yahoo Finance
For long-term investments we still like both names, and have recommended both names for portfolios. The recent news should only be a short-term issue for Duke, but has proven to be quite toxic in terms of PR with headlines in the papers we read locally (in South Carolina and North Carolina) condemning recent spills as well as national organizations picking up on the news. We would be buyers on any weakness in Duke Energy shares caused by this news.
Houston Oil Spill
A spill in the shipping lane to Houston has caused the area to be closed down as clean up crews contain and gather the shipping fuel which leaked from a barge that was struck by another vessel. Although the shutdown should be relatively short lived as the rest of the fuel was removed from the crippled vessel, there could still be movement in oil prices, the WTI Crude (NYSEARCA:USO), and refiners like Valero (NYSE:VLO) if the important Houston Shipping Channel remains shut down. With the flood of shale oil hitting the region, any issues with the movement of supply, either finished or unfinished, could have an effect on deliveries and more importantly production of key materials.
We are not recommending a long/short trade here as the spill is only 4,000 barrels, but we did want to alert readers to the situation as a prolonged shutdown could play havoc on supply chains and cause some issues during earnings season due to bottlenecks in the system.
Disclosure: I have no positions in any stocks mentioned, and no plans to initiate any positions within the next 72 hours. I wrote this article myself, and it expresses my own opinions. I am not receiving compensation for it (other than from Seeking Alpha). I have no business relationship with any company whose stock is mentioned in this article.
Additional disclosure: DUK and SO have previously been recommended.