The Duke Clinical Research Institute (DCRI) in Durham, NC, is the largest academic clinical research organization in the world. (DCRI) has already seen major medical innovations coming from their various research projects. Recent efforts have placed their work on the cutting edge for working with what could be the next breakthrough technology for a variety of vascular medical treatment needs. This being the emerging class of therapeutics known as aptamers, relating to DNA or RNA molecules. With initial funding from a variety of venture capital funds, including Caxton Advantage Life, Domain Associates, and Quaker Bioventures , the pioneering work by the Department of Surgery at Duke Medical Center was spun-out as a private company that could develop what they had discovered as a potentially new breakthrough therapeutic. Last year, this company, Regado Biosciences (RGDO), was taken public with an IPO.
The Company's proprietary platform technology enables the discovery of an oligonucleotide-based drug antidote pairing with any target protein. Their first drug is concentrated on addressing the acute care for an injectable antithrombotic drug. This represents a multi-billion dollar market that needs an improved safety profile not seen in current drugs on the market. In order to give one an idea as for the size of this market, they might read an article by Dr. Oscar Rosales, the Director of the Cardiac Catheterization Program at Memorial Hermann-Texas Medical Center, in Houston, Texas. In Dr. Rosales' article in the Houston Chronicle (3-22-14), he cites peripheral arterial disease being a condition that affects more than 200 million people globally. He further states in advanced stages, the condition manifests as critical limb ischemia, or severe artery blockages. Such conditions can lead to amputations (150,000 in the US on a yearly basis), resulting in devastating psychosocial and financial consequences for patients and their families.
The Regado drug is known as REG1, and is currently in Phase III testing. REG1 is a two-component drug, consisting of an aptamer-based anticoagulant and a matching antidote. The REG1 anticoagulant component (RB006) is a single-stranded, nucleic acid aptamer. Factor IXa is a body component that is critical to blood coagulation, and the (RB006) component is designed to selectively bind to Factor IXa. The other component of REG1 is known as (RB007) and is considered as being the antidote that causes the predictable reversal of (RB006), thus allowing a patient's blood returning to normal.
This ability for REG1 being able to turn on and off this process dealing with thrombotic issues, is what makes the Regado compound of such great interest in the medical care profession. The future potential of this drug could have application with acute coronary syndrome (ACS) and other revascularization procedures that would benefit from the availability of an antidote-reversible agent. In order to assist one visualizing the need that Regado is working, the following is taken directly from their website: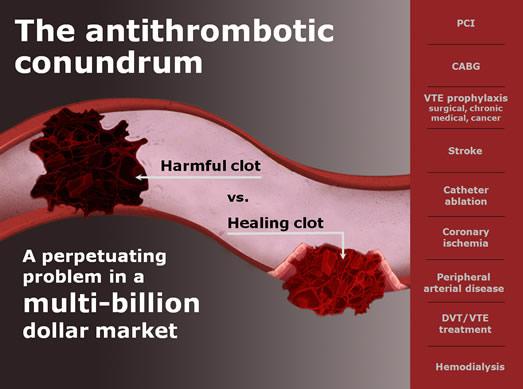 "Our focus at Regado is on a conundrum that has existed since the introduction of the first antithrombotic therapy. Simply put, the antithrombotic conundrum that physicians face comprises the desire and need to prevent harmful clots while allowing healing clots to form and develop normally. Our initial efforts with the REG1 System (REG1)are in the area of arterial thrombosis and Percutaneous Coronary Intervention which is a large and growing market. In addition to PCI, there are myriad unmet medical needs and commercial opportunity for Regado Biosciences across all applications captured in the right hand column of the graphic."
As mentioned, REG1 is in Phase III testing, and YTD Regado's stock has been on an upward movement due to critical milestones that have occurred. The following are some of these YTD events:
Ended 2013 with a cash balance of $30.7 million
In February a secondary placement that netted $18.7 million thus giving them funding that should take them through key second interim data that is expected in the third quarter of this year. Therefore, investors should expect that another secondary offering or alliance partnership will occur before this third quarter event as additional funds will be in order to maintain the Phase III trial to the final data collection.
Expanding their drug platform, where they announced on February 13th they had filed an IND for REG2, and it had been accepted by the FDA. Plus, they extended their patent portfolio coverage for their aptamer based platform.
March 10th, Regado announced that the FDA had given them Fast-Track designation for REG1 for the percutaneous coronary intervention (PCI) indication. Such a designation gives Regado the ability to work with the FDA on an expedited basis with the goal being the drug will become available sooner than the normal testing and review process time frame. Such a designation is normally given for drugs that address a serious condition, and where there are many patients whose needs aren't being meet by current treatment methods.
With Regado being a small biopharma firm, it appears to me that they have done a great job of designing their clinical trials as the medical staff supporting their efforts come with experience at some of the world's finest medical centers. Dr. Robert Califf, Vice-Chancellor for the Clinical Research Center at Duke leads this team as the Chairman. Supporting Dr. Califf are medical professionals from Harvard(2), Cleveland Clinic, Columbia Medical Center, University of Paris(France), University of Alberta (Canada), MacMaster University (Canada), Uppsala(Sweden) DeBakey Heart Center(Houston, Texas) and another two doctors from Duke.
There is no doubt that the area that Regado is addressing with their drug development program has a huge market potential as currently the available drugs aren't meeting the needs for this growing space in medical care. With an increasing number of elderly patients this area of vascular episodes and ensuing treatment needs will only continue to grow in this critical requirements space. However, with that said, the fragility of patients and the history of drugs used in this area of treatment, the drug approval process has been troubled with failures, even when early clinical trials had looked promising. This issue can be best shown by the fact that Regado will involve approximately 13,000 patients in their ongoing Phase III trial. These trials are being conducted in about 20 countries from around the world with planned trials being in between 300 and 450 clinical sites.
On September, 17th, 2013, Regado dosed their first patient in the current Phase III trial. Regado has entered into this huge trial based on data that has been accumulated through extensive clinical work and then Phase I and Phase II trials. In order to give one an appreciation of why Regado apparently has their aggressive and large 13,000 patient trial can be shown in a peer reviewed article published in The Journal of Invasive Cardiology in their November, 2013 edition. A host of physicians share the data they had compiled in the Phase 11b RADAR Trial and thus giving justification for moving on to the current Phase III trial. The article is titled -- "Safety of Very Early Sheath Removal in Patients Treated with REG1 for Acute Coronary Syndromes: Insight from the RADAR Trial." This trail involved 640 patients suffering from acute coronary syndrome (ACS). The Journal of Invasive Cardiology has a clearly stated policy of their material being copyrighted; however, the following is a link where you can read this entire article. The conclusion section of this article gives clear guidance and justification as to why the Phase III trial is warranted by Regado.
Regado has a well-defined goal of confirming the advantage of their drug in a direct comparison to a current drug in this market, that drug being bivalirudin. I cite bivalirudin only because it's the comparator drug that Regado is using to show the dual action benefit of their drug, REG1. Bivalirudin is a viable option for only one aspect of treatments physicians might need in dealing with vascular episodes. One must understand that the issue isn't having drugs that address these medical events in patients, the issue is that the initial drug being used to create adequate blood flow could allow residuals from the drug remaining in the body thus allowing occurrences where the reverse issue of stopping unintended bleeding, thus, requiring another counteracting drug being dosed. It should be noted that the Regado drug is unique as pointed out by their CEO where he has been quoted-"None of the existing products on the market or in development are able to address both sides of problem at the same time. You have classes of drugs that are very good at preventing clots, but those drugs have side effects associated with bleeding. There are other drugs that do a better job of handling bleeding, but have higher rates of ischemic events, like heart attacks and strokes." This quote and other information can be found at the following link and where it begins on page 566 in this business journal article.
This superiority test is designed to demonstrate a 20% advantage in the final efficacy end-point, and thus be available to show a reduction in cost to the payers for this treatment need. Another key point is that due to the extensive number of the patients in this Phase III test, Regado is attempting to include the greatest range of the population that will benefit from their drug. Such a trial makes it more expensive; however, this is critical in impacting the market when and if the drug is approved by the FDA. Safety and efficacy are precarious issues as the wrong dosage and follow-up for patients needing coronary intervention narrows the options that any new drug has for coming on the market and taking market share from the established drugs. With REG1 having the ability to perform the dual action by having the antidote component, this makes the drug potentially having the greatly increased potential of rapid uptake by the attending physicians and hospital formularies, upon approval by the FDA.
Coming Events That Will Impact the Stock Performance:
The Phase III trial with the aforementioned numbers that will participate, the enrollment isn't scheduled to be completed until the fall of 2015. However, Regado has built into the trial opportunities to have interim analysis of the data. The first is scheduled early in the second quarter of this year, therefore, we are looking at seeing some data on the first 1,000 patients in just a few weeks. The key from this interim report will be the extension of only enzyme negative patients to including patients that are enzyme positive patients.
Considering that the first patient in this Phase III trial was dosed last September, we are looking at 1,000 patients being enrolled in a mere six month time period. It is my personal opinion and based on looking at historic time frames for enrolling patients in a FDA approved trial, this rapid enrollment indicates that attending physicians are having large numbers of patients agreeing to become involved in this study. It is also my opinion that doctors are aware of the previous data collected for REG1 and thus having ample information to advise patients as for the pros and cons of joining this ongoing clinical trial. Another factor is with the FDA giving fast track approval review for REG1, there are multiple criteria for such action on their part: 1) Available data has influenced the FDA as for the potential merits of REG1. 2) The FDA is fully aware of the current unmet need in this area of medical treatment.
The next interim data will come this summer and based on 25% enrollment and will only deal with the safety profile of the patients. This is a critical point for , as safety is a major concern with this type of drug and the underlying condition of the patients.
Then in the fall and based on 50% enrollment we will learn about statistical safety and efficacy results at this stage of development. The previous events are important but it's this stage that is most critical as Regado wants and expects to see their drug trending positively against the comparator drug, bivalirudin. A positive result addresses the utility issue that is now ongoing in the trial.
Conclusion:
From the time (Mid-December, 2013) I identified Regado as a biotech with an intriguing drug that is in final Phase III testing, the underlying stock has been on a rocket ride. YTD the stock is up more than 150% and is trading on improving volume that gives support for the stock at these levels. Ironically, when the company did their IPO in mid-2013, the support for the IPO didn't materialize, and it might be suggested that the IPO didn't go well. However, now that the aforementioned events have occurred, two key firms and their biotech analysts have come on board with buy ratings on the stock.
Stocks that have risen 150% in a matter of weeks have to digest this move at some point, so one should consider their entry point based on factoring in this consideration. Another consideration is that within weeks we will have critical input available based on the planned interim look at the first 1,000 patients and the issue of patient's enzyme levels allowing expansion to other identified enzyme typed patients.
With each stage of these interim reviews the bar will be lowered for achieving FDA approval should the data meet the desired goal. However, any glitch will stop the momentum until we get to the next stage and if further trials are warranted. One has to make their own decision as to whether they will hold long-term or trade on the pending event. My mantra for investing in biotech is-Timing and Good Science! At this point I'm in the holding mode, as the positive factors at this juncture fits the mold from what is potentially a life changing drug in a critical market need area.
As previously cited, the market for a new antithrombotic drug is huge. There are current drugs on the market, however, attending physician face major hurdles dealing with these drugs. The human body and our various organs offer a very complex system where the nourishment of blood is the mode that keeps everything working and maintaining a living body, with only the cornea being a body part that doesn't have a constant supply of recirculating blood. Ironically, there are good blood clots and there are bad blood clots as the result of the thrombin factor in our blood supply. However, due to the often fatal aspect of many of the conditions relating to this issue---strokes, myocardial infractions-physicians currently face the issue that the current anticoagulants used can linger in the body long after they have been administered. Then the doctor is faced with a myriad of compromising decisions in dealing with the potential of bleeding episodes. Regado's drug and what is so unique in this area can be exemplified as REG1 being both the ON switch for starting normal blood flow and the OFF switch to prevent excessive bleeding during critical medical events for patients. Should the Phase III trial show the desired 20% advantage in the final efficacy end points-one can say that at least we on the road to finding out by late 2015. However, coming milestones will give investors an idea if we are on the right road.
Good luck with your investing and stay tuned-interim data will be forthcoming in a mere few weeks!
Disclosure: I am long RGDO. I wrote this article myself, and it expresses my own opinions. I am not receiving compensation for it (other than from Seeking Alpha). I have no business relationship with any company whose stock is mentioned in this article.