Swiss drug maker and Income Portfolio member Novartis (NYSE:NVS) is on the verge of shaking up the market for multiple sclerosis drugs. The neurological disease, also known as MS, affects some 2.5 million people worldwide. It has a growing drug market, expected to reach $15 billion by 2015.
Late last week, an FDA advisory panel voted 21-3 in favor of Novartis's Gilenia drug to be "generally recommended" as an initial treatment for MS. Gilenia would be the first pill used to treat the disease, whose current therapies are harder to maintain because of difficult administration and/or harsh side effects.
While the panel voted unanimously in favor of the pill's efficacy and safety, it does not come without its own side effects, including heart, lung, and liver risks and infections. With these in mind, the panel voted to suggest a study of lower dosing amounts: 0.25 milligrams a day, versus the current 0.5 milligram proposed daily dose. The study, which Novartis says could take some five to six years to complete with 2,000 patients, can wait until Gilenia is on the market, according to the panel.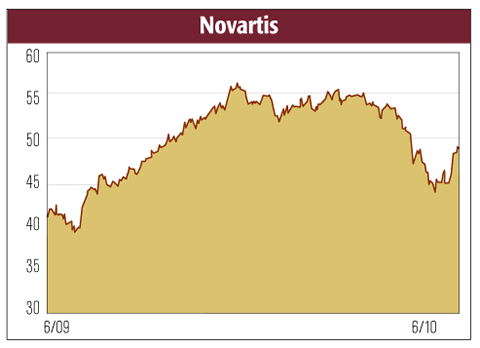 While the favorable ruling from the panel does not ensure FDA approval as the agency is not required (but usually does) to follow the panel's recommendations, it gets them much closer and an approval becomes the likely outcome. Baseline estimates for sales of the drug are above $1 billion a year, and could be markedly higher as such a noninvasive pill (as opposed to an injection), could easily become the first-choice option for doctors. And while this is very positive for Novartis, it's a clear negative for Merck who has faced a bumpy regulatory road in its efforts to be first to the market with a MS pill. The FDA rejected Merck's submission in November as incomplete, and the company (and shareholders) can't be pleased to see Novartis' drug receive such glowing reviews from the panel.
Beyond Gilenia's future implications for the company, we continue to like Novartis for its current metrics. While much of the major pharmaceutical companies are facing patent expirations on large components of their drug portfolios, Novartis is able to mitigate its own losses via Sandoz, the company's generic drug division. As a standalone company, Sandoz would rank as the second largest generic drug manufacturer in the world (behind Growth Portfolio's
Teva Pharmaceuticals (NYSE:TEVA)
); the unit accounted for $7.5 billion of the overall company's $44 billion in 2009 revenues, and could boost earnings growth as it begins to produce competitor's newly off-patent drugs.
The company is further diversified into vaccines and diagnostics as well as consumer health, including impressive eye care offerings. While earnings growth will remain in single digits, the company's valuation and dividend are compelling. Shares trade at 10 times 2011 earnings estimates and yield 4 percent. With a high quality balance sheet and a promising product portfolio, Novartis remains a top health-care choice for conservative investors.