Has the stock market reached a top? In the last couple of years, a number of market leaders have been known as "momentum" names. These are stocks that trade more on momentum than on fundamentals. These names have seen tremendous gains, especially in the past year, and many of them soared to levels where valuations seemed ridiculous to many. Recently, these names have been hit hard, and the momentum bubble seems to be bursting. Today, I'll discuss the recent falls in these names, and discuss what some of them need to get back to their recent highs.
The consumer group:
When I say consumer, I'm being a bit broad here, but there are three names that provide goods and services to consumers that have been considered momentum names in recent years. Streaming giant Netflix (NASDAQ:NFLX) is certainly in this group, along with Keurig Green Mountain (NASDAQ:GMCR), and Tesla Motors (NASDAQ:TSLA).
Netflix shares have come well off their highs recently, making my short argument above $425 looking pretty good. We saw Netflix shares dip about this same time last year, and there's a good reason for it. Generally speaking, Q2 is the weakest quarter of the year for Netflix, and the company keeps telling us this. Domestic sub adds are low, and so revenue growth and other items are weakest during this quarter. Additionally, Netflix will be entering a major international market later this year, which will hurt profitability. When Netflix peaked at more than $450 a share, shares traded for more than 110 times this year's expected earnings and 5 times sales. Additionally, Carl Icahn's selling has changed some investors views on the stock. Netflix ideally needs a blowout Q1 to get this stock going again, assuming guidance isn't too bad.
Keurig Green Mountain has pulled back off its post Coca-Cola (NYSE:KO) deal hype, allowing investors to have a realistic view of the stock. Obviously, Green Mountain stock exploded after the Coca-Cola news, mostly due to short covering. During February, short interest went from roughly 32.9 million shares to 13.6 million shares. It seemed obvious that the stock would pull back, and it has declined from its near $125 high. The addition of this name to the S&P 500 has helped slow the pullback, but shares are still off. The key for this name will be the next quarter's report, when there is the expectation that no big deal will be announced. The company gave terrible guidance at its last report, which was overshadowed by the Coca-Cola deal. This time around, it will all be about results. Many think that low guidance was given to set up a beat for this quarter. If that is the case, shares will head higher. If not, they will continue to head back to their pre Coca-Cola deal prices.
Everyone's favorite automaker right now, Tesla Motors, has fallen as well. Perhaps the pullback was needed after the strong rally from roughly $35 to $265 over the past year. However, some recent concerns about peaking sales and US state legal issues are holding back the name. A recent analyst report shows how Q2 numbers could be awful for Tesla, with revenues perhaps missing current street estimates by almost $200 million. Tesla investors are still looking forward to the next few years, so this name is likely to be volatile for a while. I think some weakness is priced in currently, but if Q2 numbers are as weak as the analyst above notes, concerns about peaked demand will increase, and the stock will continue to fall.
Biotechs getting crushed:
One of the best performing sectors in the last year or two has been biotech. The iShares NASDAQ Biotechnology ETF (NASDAQ:IBB) more than doubled over a two year period, but has been one of the biggest losers in recent weeks.
Gilead (NASDAQ:GILD) has been one of the biggest losers, down more than 15% as House Democrats are targeting the pricing of Gilead's Hepatitis C drug Sovaldi. As we've seen with a number of high priced drugs or treatments, the argument is that you can't treat patients who can't afford the drug/treatment. A California panel also called Sovaldi a low value treatment. The selloff in biotech accelerated on the recent Gilead news.
When many of the top holdings are dropping, the ETF is going to have a hard time staying elevated. While Gilead may be one of the worst performers, two other top 5 holdings in the ETF have been hit hard as well. Biogen Idec (NASDAQ:BIIB) is down almost 14%, and Regeneron (NASDAQ:REGN) is 13% off its high as well. With biotechs, the main concern recently was valuation. CNBC noted that at the peak, the sector was trading at around 24 times earnings, while currently the number is around 20. Now that the premium to the market has decreased, biotech's growth may soon be back in favor compared to low-growth major pharma names.
Not in the cloud anymore:
With a shift towards mobile devices changing the world we live in, investors have been pouring into cloud computing names in recent years. Lately, the cloud names have come well off their highs. Salesforce.com (NYSE:CRM) announced a decent quarter and CFO retirement, and that report has been a top. Since its peak, shares of the cloud name are down almost 17%. Like Salesforce, a recent earnings report was the top for Workday (NYSE:WDAY) as well. Workday shares have fallen nearly 20% from their highs. In both of these cases, strong rallies faded after earnings, the old buy the rumor, sell the news. Investors have taken profits.
Large cap tech even feeling pain:
Most of the names I discussed in this article trade on the NASDAQ, so that index has been hit the worst in recent days, especially Monday. The momentum names have certainly been leaders to the downside. There also are a few larger cap tech names, ones will great growth stories, that have helped to recently push the NASDAQ lower. Google (NASDAQ:GOOG), Facebook (NASDAQ:FB), and Priceline (PCLN) have all come off their highs, more so than the overall index.
Of the three, Priceline has been hit the second hardest. Shares of the online travel company hit new highs after the latest earnings report. With shares basically doubling over the past year, investors have been quick to take profits. Priceline shares are down more than 11% from their highs.
Perhaps the biggest winner in large cap tech recently had been Google, which saw its value excluding cash jump above that of Apple (NASDAQ:AAPL). Google investors may be worried about the company's upcoming stock split, which will create a new class of non-voting shares. There are concerns that these new shares may not trade in-line with the company's original trading stock, and that could force Google to compensate shareholders in a big way. Google shares have lost more than 6% from their recent high.
Facebook has also been a loser recently. There has been widespread debate over the large purchase of WhatsApp, an acquisition mostly using stock. That will dilute shareholders. It was a great move to protect Facebook's global moat, but was the price too high? Facebook shares have lost more than 12% from their recent high. Facebook shares had been a big winner, and the company may need to continue blowing out earnings numbers to get shares back up.
Final thoughts / performance recap:
Those that have led the market higher over the last year have been hit hard recently. Cloud names and biotech giants have led the market lower recently, along with many of the traditional momentum names. Even those large cap tech names that are heavily growth focused have been hit hard recently. A large pullback could put some of these names back at realistic levels, and I think that is the situation we are seeing currently. Earnings season is approaching, and that will be the next major catalyst for these names. Recent big winners have become recent big losers, and a pullback isn't necessarily a bad thing. Many of these names have seen pullbacks like this before, only to rally to new highs.
Investors should consider looking at some of these names on the pullback to add some growth potential to their portfolios. I'd consider adding one or two of these if the declines continue, but I wouldn't jump all-in just yet. Averaging down here seems like a decent strategy to take advantage of further declines. Valuations are not as high as they were, and I do think money will start to flow back to these names at some point. In the table below, I've detailed the recent declines from 52-week highs for the major names discussed in this article. For those looking for the market to high new highs, participation is needed from the names listed below.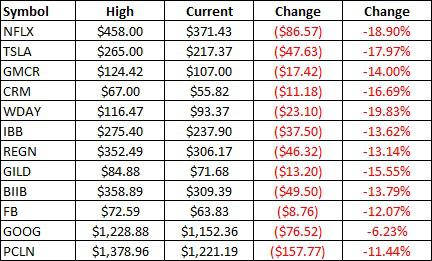 Note: All price data for this article as of 1:15 PM Eastern on Monday.
Disclosure: I have no positions in any stocks mentioned, but may initiate a long position in NFLX, TSLA, GMCR, CRM, WDAY, IBB, REGN, GILD, BIIB, FB, GOOG, PCLN over the next 72 hours. I wrote this article myself, and it expresses my own opinions. I am not receiving compensation for it (other than from Seeking Alpha). I have no business relationship with any company whose stock is mentioned in this article. Author may initiate a position in any name mentioned over the next 72 hours. Will update in comments section. Investors are always reminded that before making any investment, you should do your own proper due diligence on any name directly or indirectly mentioned in this article. Investors should also consider seeking advice from a broker or financial adviser before making any investment decisions. Any material in this article should be considered general information, and not relied on as a formal investment recommendation.