Keurig Green Mountain Inc. (NASDAQ:GMCR) is the leader in specialty hot beverage machines. Their Keurig machines are an innovative concept that has garnered the attention of investors from all over the world. Green Mountain has recently announced plans to pursue the cold beverage market, which is four times larger than the hot beverage market.
For the first half of 2014, Green Mountain can expect to see competition intensify with other companies moving into the K-Cup market offering unlicensed products. Private label companies have slowly been taking a portion of the sales from GMCR, as their patents expired in 2012. Coffee packs are their main revenue, having sold over 20 billion packs since they began and $931 million worth in the first quarter of 2014. Green Mountain has projected lower sales growth for the second quarter because of the impacts of the unlicensed packs of coffee. Green Mountain has seen decreasing revenue growth, from having 100% revenue growth just a few years ago. However, management is taking the right steps and Green Mountain will be a positive looking company heading into 2015.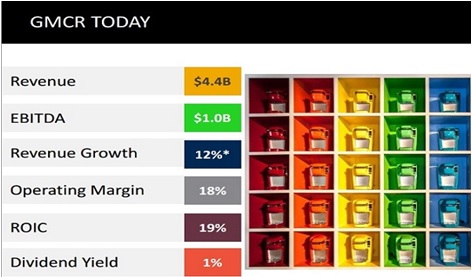 Source: 2014 Annual meeting of Stockholders Presentation
While the next quarter or two may be volatile, GMCR has many new products and innovations coming in late 2014 and 2015 that will help them grow and expand their user base internationally. As their CEO said, "Our new name better reflects who we are as a company today and captures our aspirations for the future." This shows GMCR's management is looking beyond their old name of 'Coffee Roasters' for new opportunities. Green Mountain's management has been able to grow gross margins and net sales every fiscal year since they began, showing how effectively they manage the company.

Source: 2014 Annual meeting of Stockholders Presentation
The first new product expected by the end of 2014 is the Keurig 2.0. Management is extremely excited about this upcoming product as it includes proprietary technology allowing only Keurig licensed packs to be used in the machine. GMCR plans to convert currently unlicensed companies into licensed Keurig partners as well as to bring back lost revenue from unlicensed competitors.
Green Mountain continues to sign high profile licensing deals with names such as, but not limited to: Campbell's (NYSE:CPB), Peet's Coffee (NASDAQ:PEET), Coca-Cola (NYSE:KO) and Starbucks (NASDAQ:SBUX). Recently, Green Mountain reworked the terms of their contract with Starbucks, getting out of the exclusivity in exchange for allowing them to triple the amount of varieties offered. This allowed for the recent deal with Peet's Coffee and as management has said they are looking to convert many more brands to becoming licensed partners. GMCR also just signed a global contract with Coca-Cola in which they bought a 10% stake in Green Mountain for $1.25 billion.
The second big product coming for Green Mountain is the Keurig Cold machine, expecting to be launched in fiscal 2015. This new technology will allow the Keurig brand to grow and be a part of a new beverage category as well as appealing to a broader range of customers. Green Mountain will be working together with Coca-Cola to market this product to consumers worldwide. It is expected the costs of making the "cold pods" will be significantly less because of the ingredients, which should help gross margins improve even more. A KeyBanc analyst expects Green Mountain could add $3.47 per share in earnings over the next 3 to 5 years from entering the cold beverage market.
I believe GMCR is a great investment with a strong future. Green Mountain is now a part of the S&P 500 as of the close of trading Friday and any pullback over the next few months will offer a great opportunity to become a stockholder of this company. They plan to continue to buy back shares with the cash from the Coca-Cola deal, which will help offset a part of the shares issued for the deal. Green Mountain has shown they have a strong management team and they are partnering with the right companies to set itself up for future growth. It will be interesting to watch how these partnerships all work out, and if they will allow them to gain more share of the international market. There is a lot of room for revenue growth with Green Mountain expanding into the cold beverage space and I look forward to watching them transform from a coffee company to a global beverage company.
Disclosure: I have no positions in any stocks mentioned, but may initiate a long position in GMCR over the next 72 hours. I wrote this article myself, and it expresses my own opinions. I am not receiving compensation for it (other than from Seeking Alpha). I have no business relationship with any company whose stock is mentioned in this article.