ARIA a Look Into The Past
Ariad Pharmaceuticals, Inc (NASDAQ:ARIA) has given many the ride of their life over the past six months. ARIA fell nearly 90% stemming back to October 2013 when Iclusig (AKA Ponatinib) was pulled from the U.S. market due to "an increased frequency of blood clots and narrowing of blood vessels since the drug was approved in December 2012".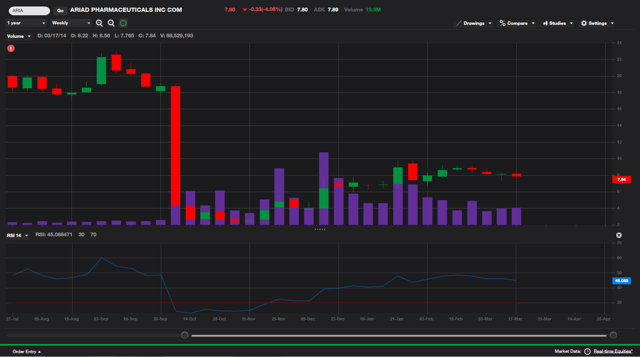 Since this decline, from the FDA hold, ARIA has recovered around 25% of its original market cap primarily from the FDA re-approval, with restrictions, and the company has begun strategic plan implementation of Iclusig commercialization.
Since 31 October 2013's 52 week low of $2.15 new shareholders have been blessed with a 266% share price increase as of 21 March 2014's $7.87 close. Buyout speculation created by an article from UK's Mail Online stating 'US giant Eli Lilly make friendly approaches for Ariad' along with possibly two other major pharmaceutical companies, quickly ramped up the share price to $9.83 on 24 Jan 2014 and a subsequent crash to $7.91 on 27 Jan 2014. Many new investors were left with their head spinning as they tried to make sense of what some believed to be a 'Pump & Dump'.
Now That The Momentum Is Gone
Ariad's recent Q4-2013 quartely report all but put an end to the mass speculation around its future. Harvey Burger (Ariad's CEO) laid out the long term game plan for Iclusig and it's expansion into 16 additional European countries, Australia, and Japan (Expected 2015 depending on Clinical trials currently underway).
Many momentum and swing traders have since exited the stock and many more are questioning where the stock is headed next. With speculation removed ARIA has now become more of an investment stock than ever before.
Iclusig and Potential Revenue
Re-Commercialization of Iclusig in the U.S. started mid January 2014 and anticipated eligible patients were reduced 48% to 1,300 from 2,500 post FDA re-release with the imposed new restrictions. Iclusig isn't a first-line drug but further expansion into Europe and new additions like Australia and possibly Japan are huge opportunities for revenue and share price increase. Analysts expect Iclusig to generate $315 million in U.S. sales by 2019 and Jefferies anticipates Iclusig could generate >$400M in sales for 2019. (Click Image in first paragraph.)
With Ariad's current market cap at roughly $1.46B, net sales of Iclusig of $8.3M for Q4-2013 and $45.2M for EOY-2013, one can see how the current share price of $7.84 could be considered a bargain. Roughly $5M of the Q4-2013 sales were from the U.S. and all of France's sales are being "deferred until we have an established list price."
If we consider Q3-2013's worldwide sales of $16M as a better basis, due to Iclusig limited commercialization from the FDA hold in Q4, then Q4 sales were short roughly $8M and total EOY-2013 sales should have been roughly $53 Million. $400M in sales in the U.S. alone would give Ariad an increase of 7.54 times sales vs 2013 total sales. This $400M figure doesn't factor in revenue from Europe (Including recently added Switzerland.), Japan and Australia. Iclusig future alternative applications like those with Medinol, Lung Cancer, GIST, AML, Medullary thyroid cancer, re-acquired rights for Ridaforolimus from Merck, possible AP26113 approval & sales, or the "best-in-class" (See: 'Next Oncology Drug Candidate' paragraph) mystery drug to be chosen in the second half of 2014 could boost to levels much higher than pre-FDA hold.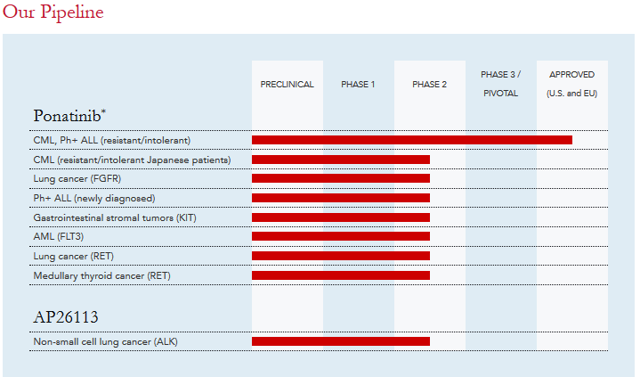 Possible 2014 Revenue
Jefferies anticipates $45M in revenue for the United States in 2014. Ariad has not listed EU's 2013 numbers but did state in the 2013-Q4 report Q&A that roughly $5M revenue was from the U.S.
With around 28% of 2013 sales coming from EU countries (Germany, UK, Austria & Netherlands) we can anticipate $13.56M of 2013 Revenue was from EU countries. Lets use a conservative 20% sales increase for a total of $16.272M (Anticipated) 2014 EU Sales.
Now lets factor in the additional 16 EU expansion countries as possible revenue. We currently have 4 Base EU countries currently selling Iclusig (Germany, UK, Austria, & Netherlands) and expect 16 more countries giving us a possible 4X the current EU revenue. To accommodate a phased-in expansion we will use a 2X multiple (Discounted as actual expansion time frame for 2014 is unknown.) for the 16 expansion countries. Possible EU expansion Iclusig revenue = $32.544M.
| | |
| --- | --- |
| 2014 Iclusig Revenue Estimates | |
| 2014 United States (Jefferies Estimate) | $45,000,000 |
| 2014 Base EU Countries @ 20% growth of 2013 sales | $16,272,000 |
| 2014 Expansion EU using 2X "phase-in multipler" of Base EU | $32,544,000 |
| | |
| 2014 Total Anticipated Iclusig Revenue | $93,816,000 |
| | |
| | |
Note: All figures are based on assumptions and only account for traditional Iclusig sales ignoring possible supplemental revenue from Medinol and other applications like GIST, Lung Cancer, Thyroid, etc
Price Target
Since Ariad isn't a profitable company yet I will use Price/Sales ratio to determine a possible price target. Iclusig was approved in December of 2012 so we will use Fiscal Year 2013 (NYSE:TTM) as our basis for a Price/Sales multiple to determine a possible price target for 2014.
2013 Revenue

Sales per Share = Revenue/Outstanding Shares (186.3M)

Price/Sales aka Multiple = Share Price / Sales per Share

$45,561,000

$0.244

$6.82 (31 Dec 2013 Close) / $0.244 =

Multiple = 27.95 aka Trading at 27.95 times sales per share.

2014 Anticipated Iclusig Revenue

Sales per Share = Revenue/Outstanding Shares (186.3M)

2014 EOY Price Target = 2013 Multiple x 2014 Sales/Share

$93,816,000

$0.504

$14.11
Based on the possible revenue from Iclusig in the United States, Base EU countries and expansion EU countries my End Of Year price target for 2014 is $14.11. Keep in mind that is assuming Jefferies $45M in U.S. sales holds up, 20% growth of 2013 Iclusig sales in Base EU countries and a 50% phase-in expansion of the 16 EU countries mentioned in 2013-Q4 earnings conference.
Risk
The most obvious risk to me is partial or failed expansion into EU but I believe the EMA results in May 2014 will coincide with the FDA re-approval and shouldn't hinder Ariad's EU expansion.
The actual time frame of the EU expansion wasn't noted so investors need to be cognizant of press releases and updates from Ariad.
Ariad has $237.2M in cash as of 31 December 2013 and 'anticipates cash used in operations in 2014 to range from $165M to $175M'.
Ariad anticipates 'sufficient cash to fund operations until mid-2015'. Note: Investors should observe operating cash usage each quarter and revenue to ensure no dilution needed for raising capital to fund future operations.
New Investors Entry & Key Support Levels
If you are a new investor and looking for an entry point or if you are a technical trader and like charts there are several key support levels to be aware of.
Ariad retraced back to and tested the 50-Day EMA on Friday 21 March 2014. So far it held right above the 50 after a horrible day for the Bio Sector.
If Ariad breaks below the 50-Day next week look for a possible test of the $7.44 support level which we bounced off early February 2014.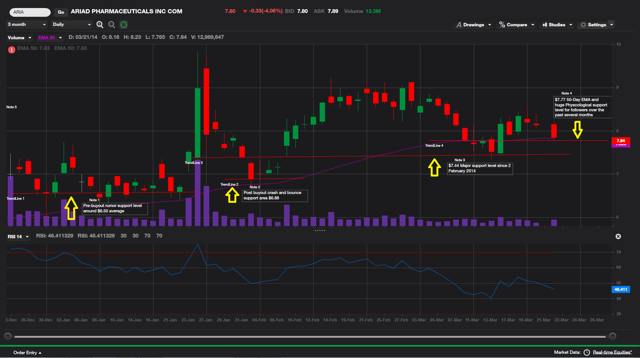 Traders & Long Term Investors
Short-term traders can capitalize on upcoming catalysts like the EMA risk management investigation expected in May of this year, expansion updates and clinical updates on Iclusig and AP26113.
Ariad makes a good long term small-cap biotech investment stock with an approved and commercialized drug. Iclusig has a lot of potential but investors must remember it isn't a first-line drug. Ariad's success hinges on expanding further into markets outside of the United States and expanding the applications of Iclusig. For those with patience and are willing to ignore some of the roller coaster rides a small cap bio stock will bring might be one of the better choices. Don't let the recent wild rides fool you into believing this stock was only a pump and dump as Ariad has a bright future for those willing to jump on board for the long haul.
Disclosure: I am long ARIA. I wrote this article myself, and it expresses my own opinions. I am not receiving compensation for it (other than from Seeking Alpha). I have no business relationship with any company whose stock is mentioned in this article.