Turn! Turn! Turn!
To every thing there is a season, and a time to every purpose under the heaven:
A time to be born, and a time to die; a time to plant, a time to reap that which is planted;
The ancient preacher called Ecclesiastes talked about the times and seasons of life. His words, beginning with "To Every Thing There Is A Season," were set to music in the 1950s by Pete Seeger.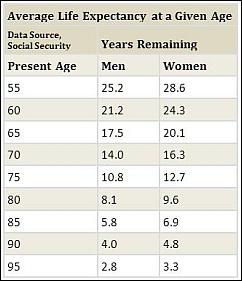 A folk rock group, The Byrds, covered the song in 1965 as "Turn! Turn! Turn!" and it became a No. 1 hit. You can hear it on YouTube if you like. click here
Those who heard the song at age 15 in 1965 are now nearly 65 years old. For them, it is indeed time to turn from the time of planting and nurturing of investments and reap the harvest. It is inevitable that the end of life is nearer with each passing year.
The average time remaining, if you are a man now 65, is 17.5 years; for a woman, according to Social Security data, it is 20.1 years. Here is another way to look at it. This table gives you the odds of living to a specific age, 90, 95 or 100 depending on your age now.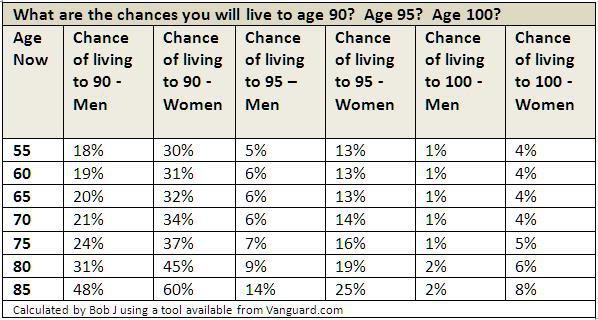 My takeaway from these tables is that if a 65-year-old man plans for age 97 as the end of retirement, he will almost certainly have adequate funds for life. Googling "life expectancy tables" will give you 4,100,000 responses, "retirement planning" 126,000,000. Not all mortality tables appear the same, even if based on the same data. As a Forbes article put it,
"Look at mortality tables used for life insurance and you'll think you have a better chance of dying young; look at mortality tables used to sell annuities and you'll think you'll live forever."
We are taught to delay gratification. However, we should remember that we cannot take it with us. A 50-year-old could wish and hope to live to the age of 110, then retire at 65 and pass at the age of 80 after a needlessly Spartan retirement. An old priest once told me that he had officiated at many funerals but had never seen a hearse with a U-Haul trailer behind it.
Your Bucket List
When you retire at age 60 or 65, you are often in good health. Many take this time of early retirement to travel and enjoy many activities that require a good physical condition. These might include hiking, skiing, tennis and golf, perhaps at exotic venues. One has less ability to do these things as they age and each year may bring with it further limitations. For me, it made sense to take a significant amount of money shortly after I retired and fulfill some lifelong travel dreams. I will mete out the rest of my bounty from my high yielding dividend growth portfolio in a more disciplined manner.
My Personal Plan, Not for the Faint Hearted
My choice is to be nearly 100%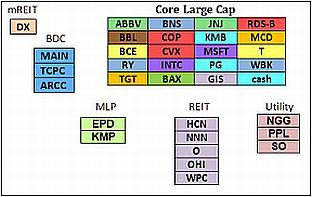 allocated to stocks, 40% of them in high yielding investments such as MLPs, BDCs, mREITs, REITs and Utilities. Except for the utilities, these are company types that are higher risk than my portfolio core of large cap C corporations. You can read about my personal strategy in this recent article, "2014 Dividend Growth Holdings For The Retired Investor, A Core And Satellite Approach." This is a very aggressive, some would say risky, portfolio that requires a lot of attention. It is not for everyone.
A Traditional Conservative Portfolio
There is no one-size-fits-all investment solution for retirement income. In this article, my intent is to show how to provide income beyond that received from Social Security and any pensions earned. The aim is to fulfill key priorities of predictable income, inflation protection, principal protection and a degree of liquidity with the returns from a combination of quality stocks and investment grade bonds. This is the traditional approach to securities investing and it worked for tens of thousands of people over several generations. As our economy and the Fed return to normal, might it be time to consider that traditional approach? It is a lower risk and a more conservative approach to investing than the all-stock portfolios currently popular in some circles. I believe that it best serves most investors and it is the best way I know of to get safety and stability.
Some Great Stocks You Might Be Better Off Not Holding
Stocks not to hold? By that, I mean that there are wonderful companies that are great to own in the accumulation phase of investing but do not serve us well in retirement. The question I would like to pose to the retired dividend growth investors who are holding great companies like ADP (NASDAQ:ADP), yielding 2.4%, Johnson & Johnson (NYSE:JNJ) and Microsoft (NASDAQ:MSFT), yielding 2.8%, Baxter International (NYSE:BAX) at 2.9% or Procter & Gamble (NYSE:PG) yielding 3.0%... would you consider a safe 20-year investment paying over 5% instead?
After all, you would nearly double your yield compared to the stocks above. As far as I can tell, the best yield you can find today is about 4% on a 20-year CD. However, you can get over 5% on a 20-year A rated corporate bond. Within the range of investment grade bonds, that is S&P AAA to BBB-, there are both corporate bonds and municipal bonds available at that rate. There is possibly a heavier "penalty" for early redemption than for CDs, but that depends on how much interest rates increase. However, that is irrelevant if you hold a bond to maturity or for life.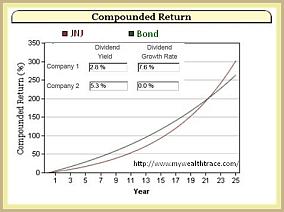 As illustrated in the Compounded Return chart, JNJ yielding 2.8% with a 5-year dividend growth rate of 7.6% takes over 21 years before the compound return catches up to the fixed distribution of 5.3% on an investment grade bond. If at 65 you have an average of 17.5 years remaining, you might as well enjoy the added income now.
Consider the below table. It appears you could build a high yielding bond ladder with the first maturity about 10 or 12 years from now. Maturities shorter than that will mean a lower interest rate, a possible alternative. Having some bonds mature in 10 years, instead of 20 or 30 years from now, will provide some protection from interest rate risk and give you the possibility of buying higher yielding bonds at that time.
I found AA rated Municipal Build America Bonds with a 12-year maturity yielding nearly 6% (not shown on the table). These special bonds are taxable, unlike the interest from usual municipals.
The fixed income desk of any large brokerage firm should be able to give you more information and advise you concerning the right bonds to meet your needs.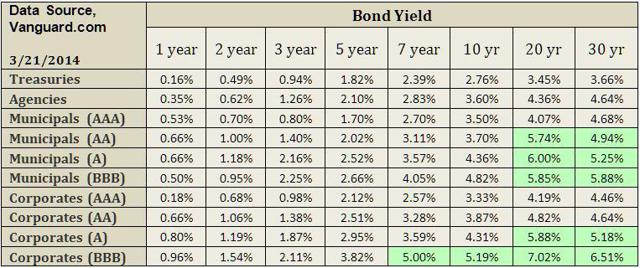 Allocation of Assets in the Portfolio
· 1/3 large cap dividend growth stocks (4.6% yield, 11.5% DGR),
· 1/3 utilities (4.2% yield, 6.4% DGR) and
· 1/3 corporate investment-grade bonds (5.3% yield, 0% DGR).
While each part of the portfolio produces income, each has other important functions.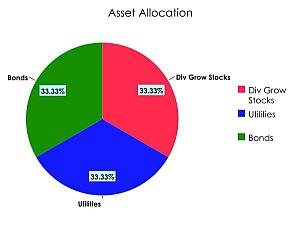 The Dividend Growth part of the portfolio consists of stocks that pay high dividends and that I reasonably expect to raise their dividends on a regular basis. These include the large-cap dividend paying AstraZeneca, plc. (NYSE:AZN), BHP Billiton, plc. (NYSE:BBL), both of UK Registration; BCE, Inc. (NYSE:BCE), formerly known as Bell Canada, the Canadian bank Bank of Nova Scotia (NYSE:BNS) and the large Australian bank Westpac Bank (NYSE:WBK). Five US Firms complement these, as shown in the below table. This collection of stocks draws its components from diverse sectors including finance, telecom, technology, healthcare, basic materials and energy.
The utilities include the large southern powerhouses Duke Power (NYSE:DUK), Southern Company (NYSE:SO) and Dominion (NYSE:D) as well as New York City's Consolidated Edison (NYSE:ED), PPL, Corp. (NYSE:PPL) and fast growing Wisconsin Electric (NYSE:WEC). In addition to a respectable yield of 4.2%, the utilities have a five-year DGR of 6.2%. They too add not only income but dividend growth to the portfolio. In addition, these are solid and safe government-regulated entities, historically known as "widows and orphans" stocks. An added benefit is that this collection of utilities has an average five-year beta of 0.29, which stabilizes fluctuations in the market value of the portfolio.
The bonds are investment-grade issues of U.S. corporations, as rated by Standard & Poor's. They add safety and stability to the portfolio as well as income from a yield of 5.3%. Bonds have a negative price correlation to stocks. That is, in a market correction the bonds will buoy up the portfolio. Bonds are the preferred security for capital preservation. The stability of bonds, compared to stocks, over the past seven years is shown below on this chart from Yahoo Finance.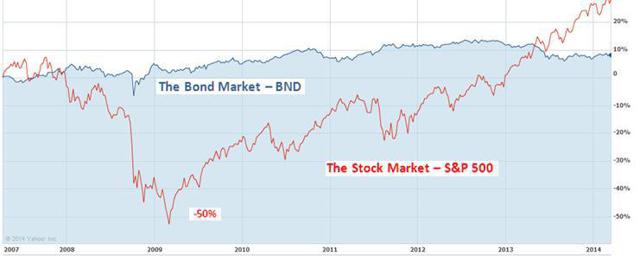 It is likely that interest rates will rise in the near future. However, I do believe that a commitment of a portion of a portfolio to a guaranteed 5.3% for 20 years will serve the average 65-year-old well. It provides more money in hand today than riskier alternatives.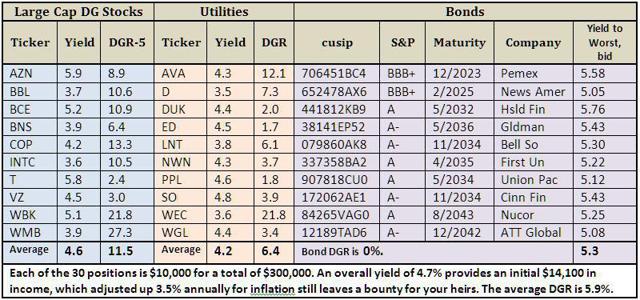 The Power of Dividend Growth
The illustrations below indicate that Dividend Growth Stocks are not only a good thing, but also essential investment for a long retirement. They will keep you from running out of money in your old age, and enable you to leave some money to your heirs.
Without Dividend Growth
If this collection of securities was to yield 5.3%, the rate of the bond interest, and there were no dividend increases, you could take $14,100, inflation adjusted at 3.5% each year and you would run out of money in your 26th year. If you withdrew only 4% a year, that is starting with $12,000 and adjusted it for inflation, you would be out of money near the end of your 33rd year. If you are 65 your money would not last 37 years until you are 92 unless you lowered the distribution to $11,000. The balance at the end would be zero.
With Dividend Growth
Based on the overall yield of 4.7%, the withdrawal is $14,100 the first year and it increases by 3.5% each year, an allowance for inflation. When we add a dividend growth component to that, at only 4.0% to allow for a margin of safety, you never run out of money. In this case, the distribution in year 37 will be $48,648, the same as the first withdrawal but in inflation adjusted dollars. The portfolio value will keep growing for your heirs.
Rewards
The proposed portfolio will provide an increasing high yield for life and beyond. It will be stable and sustainable. Investment grade bonds are among the safest of investments. Dividend growth stocks generally do better than the broad averages when the market falls, so there is lessened downside risk. Utilities further add to the stability as they have a low beta. The foreign stocks have high yields and add a healthy diversity to the portfolio as well as a hedge against the US dollar.
Risks
There is currency risk involved in holding foreign stocks. Buying long-term bonds at this time could be inopportune if you might reconsider the purchase in a few years and wish to sell them. (If that is the case, consider a bond/income fund like PIMCO's PONDX, yielding 5% or a floating rate bank loan ETF like BKLN.) When interest rates rise the value of bonds and bond funds falls. Long-term bonds may go down sharply in price. This will not affect the yield or the bonds' value if one holds them to maturity.
Conclusion
A Dividend Growth Portfolio made up solely of dividend growth stocks is not the only way to use those stocks for retirement. They provide a mechanism for increasing distributions in a traditional retirement portfolio of stocks and bonds. Many advisors consider this kind of balanced portfolio the most sensible long-term asset allocation as well as a sound retirement strategy.
I encourage you to do your own due diligence and your own calculations and give careful deliberation to these important matters.
Enjoy Yourself
By the way, do you remember Guy Lombardo and "Enjoy Yourself?"
"You work and work for years and years, you're always on the go
You never take a minute off, too busy makin' dough
Someday you say, you'll have your fun, when you're a millionaire
Imagine all the fun you'll have in your old rockin' chair
Enjoy yourself, it's later than you think
Enjoy yourself, while you're still in the pink
The years go by, as quickly as a wink
Enjoy yourself, enjoy yourself, it's later than you think.
You're gonna take that ocean trip, no matter come what may
You've got your reservations made, but you just can't get away
Next year for sure, you'll see the world, you'll really get around
But how far can you travel when you're six feet underground?
Enjoy yourself, it's later than you think
Enjoy yourself, while you're still in the pink
The years go by, as quickly as a wink
Enjoy yourself, enjoy yourself, it's later than you think."
Read the complete Lyrics by songwriters Herbert Magidson and Carl Sigman
Hear it Performed by Guy Lombardo and His Royal Canadians (1950)
Disclosure: I am long BBK, BCE, BNS, COP, INTC, T, WBK, PPL, SO. I wrote this article myself, and it expresses my own opinions. I am not receiving compensation for it (other than from Seeking Alpha). I have no business relationship with any company whose stock is mentioned in this article.
Additional disclosure: I also hold publicly traded corporate bonds.