By David Russell
Education stocks have been under pressure amid regulatory concerns, and today the bears are targeting two companies in the sector.
optionMONSTER's Depth Charge tracking system detected unusual put buying in DeVry (DV) and Career Education (NASDAQ:CECO), which operate colleges and training schools. In CECO, the June 26 strike was active as traders positioned for at least a 5 percent drop by tomorrow's close.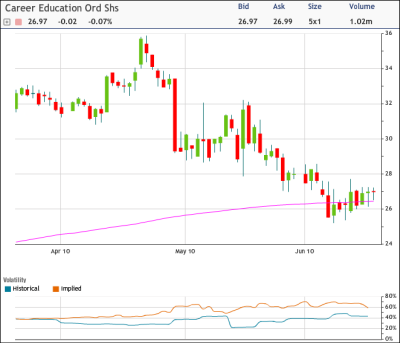 CECO puts traded 13,983 times at that strike, mostly for $0.20 to $0.30, against open interest of 1,294 contracts. The stock rose 0.07 percent in morning trading but has lost more than one-fifth of its value since April 21. The company also faced a bearish trade last week.
Investors have been selling the stocks since Credit Suisse warned the government may tighten rules on student loans and Deputy Education Undersecretary Robert Shireman criticized the industry.
CECO is struggling to hold support at its 200-day moving average (purple line on chart), and today's put buyers apparently think that it could break below that level in the near term.
The bears took a slightly longer view on DV, buying the July 50 puts for $0.75 to $0.95. Some 4,051 contracts traded, representing about 33 times open interest in the strike. DV, which has spent the entire month below its 200-day moving average, fell 0.16 percent to $56.96.
Overall activity was more than four times greater than average in both stocks so far today, with puts accounting for 99 percent of combined volume.

Disclosure: No positions