Lorillard (NYSE:LO) is a company that I usually don't spend too much time analyzing, because I didn't care for the company's lack of international operations and I've been hesitant to embrace a company with seemingly undiversified operations (the company's flagship Newport brand is responsible for 87% of the firm's sales, and the menthol industry is subject to heavy scrutiny from regulators).
My concerns aside, Lorillard has been an absolutely fantastic investment over the past five years from just about any metric you can examine: total returns, dividend growth, profit per share growth, etc.
Just look at this F.A.S.T. Graphs chart of Lorillard's performance over the past five years (with dividends reinvested), which documents Lorillard's 27.7% annual performance.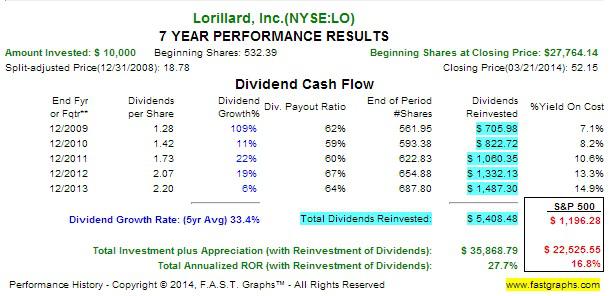 In studying Lorillard's excellent five-year performance, it's worth examining what is driving returns, in addition from the shift from market lows to market highs. In other words, I want to segregate Lorillard's performance into the following: How much have profits per share grown, how much of that is the result of improving business operations, and how much of that is the result of Lorillard using excess profits to buy back stock and stimulate growth per share?
Let's take it line by line.
Over the past five years, Lorillard has increased earnings per share from $1.92 per share to $3.15 per share, for total growth of 64.06%.
Two things are responsible for that 64% growth per share: the company increased its net profits from $948 million in 2009 to $1.18 billion by the end of 2013, and the company has simultaneously reduced its share count from 468 million to 370 million.
In other words, the business itself has grown 24% in total over the past five years, for an annual growth rate of 4.48%. The stock buyback, meanwhile, has retired a little over 20% of the company's share count, meaning that the company buys back 4.5%-5% of its shares outstanding per year. The buyback program is responsible for about half of the company's increase in earnings per share.
What distinguishes Lorillard from its peers Reynolds American (NYSE:RAI) and Altria (NYSE:MO) is that the company reserves a good chunk of its profits for use beyond the dividend. When you look at Reynolds and Altria, they typically have payout ratios that hover in the 80%-85% range, depending on the year. Lorillard, meanwhile, maintains a lower payout ratio so that it can retire a meaningful amount of stock to complement its natural business growth.
In 2013, Lorillard made $3.15 in profits, while only paying out $2.20 in dividends, a figure of 69% (generally the lowest in the tobacco industry). The dividend has been raised to $0.615 per share (or $2.46 annually). Meanwhile, Lorillard is expected to post profits of $3.55 per share this year, indicating a steady payout ratio in which just shy of seventy cents of each dollar in profit go towards the dividend.
By keeping the payout ratio a tad lower, Lorillard reserves itself room to retire 15-20 million shares per year, depending on the prevailing price at the time. For people who like automatic 10% growth in per share growth in the profits of the companies that they own, Lorillard seems to have the formula down pat: the company grows profits naturally at its business by almost five percentage points per year, and it also takes about five percent of the outstanding shares off the market, allowing the per share profits to hover near the double-digit rate.
For income investors, Lorillard seems to be one of those stocks that lets you have your cake and eat it too. You get a nice starting dividend yield in the 4.75%-5% range that recently grew at 12% and has a habit of double-digit increases before that. Additionally, you get nice total returns as well, because the company saves some of its excess cash to retire shares, so that even though the business is only growing at 5% per year, the company can stimulate high earnings per share growth by retiring shares.
It is completely understandable why someone might avoid Lorillard as an investment; its product mix is not currently all that diversified, and it is a very U.S.-centric company. However, it has one of the most effective buyback programs in the country on an ongoing basis among blue-chip stocks. Since being spun-off by Loews (NYSE:L) in 2008, the company has been relentless at retiring shares. The "worst" buyback year since then came in 2012, when it only retired a little over 3% of shares outstanding (but the company was making e-cigarette investments at the time). This buyback doesn't get a lot of coverage on Wall Street, but it probably should; it is responsible for half of Lorillard's growth. When you're automatically reducing your share count by almost 5% per year, it only takes business growth of a percentage point or two above inflation to stimulate 10% returns. Lorillard seems to have this intelligent buyback formula down quite well.
Disclosure: I have no positions in any stocks mentioned, and no plans to initiate any positions within the next 72 hours. I wrote this article myself, and it expresses my own opinions. I am not receiving compensation for it (other than from Seeking Alpha). I have no business relationship with any company whose stock is mentioned in this article.