By Carla Fried
It's no secret that the just-now-emerging-from-the-ruins Eurozone sports stock valuations that are still below their historic norms. But as explained in a recent WisdomTree report, investing in a compelling relative valuation doesn't require taking a gambit on one of the regional basket cases of the past few years.
It turns out that Germany, home of Bayer (OTCPK:BAYRY), Daimler (OTCPK:DDAIF) and Siemens (SI) and the "healthy" adult in the Eurozone, happens to have one of the most compelling stock valuations. According to WisdomTree the estimated P/E ratio of stocks in the MSCI Germany index, at 14, is 13% below its norm for the past 15 years. Moreover, the estimated P/E for Germany is below the level for the entire MSCI Europe index.
Another telling valuation metric: The 7% earnings yield for the MSCI Germany index is five percentage points higher than its 10-year bond rate, a two percentage point gap is normal. Sure, all earnings yield spreads look good these days given the abnormally low level of bond rates, but even so, Germany's spread is notable. By comparison, the current spread for the S&P 500 earnings yield compared to the 10-year Treasury is 3 percentage points, compared to a long-term norm of 1.5%.
And it's not as if German stock prices have been marking time. Over the past year, the iShares MSCI Germany ETF (NYSEARCA:EWG) has outperformed the Vanguard FTSE European Stock Index (NYSEARCA:VGK), which currently has about 13% invested in Germany.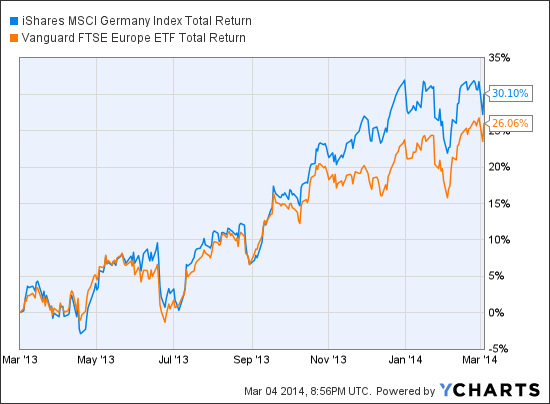 EWG Total Return Price data by YCharts
Year to date the Germany ETF is up nearly 2% compared to a 1.5% dip for the Vanguard FTSE European ETF.
David Herro, lead manager of the standout $30 billion Oakmark International, is a resolute bottoms-up stock picker who doesn't spend a minute contemplating country-level allocations. So it's telling that this deep value fund currently has more than 12% invested in German-based firms, which is nearly double the commitment level to Germany for the average broad-based international stock fund according to Morningstar.
German automotive manufacturer Daimler AG - the Mercedes Benz folks - is one of Oakmark International's top holdings, accounting for 3% of fund assets. It's also in the top five of the iShares Germany ETF and is the largest holding in the recently launched WisdomTree Germany Hedged ETF (NASDAQ:DXGE).
Coming out of the global recession, there's been a pronounced rebound. Unit sales last year rose 7%, led by an 8% gain in the cars division.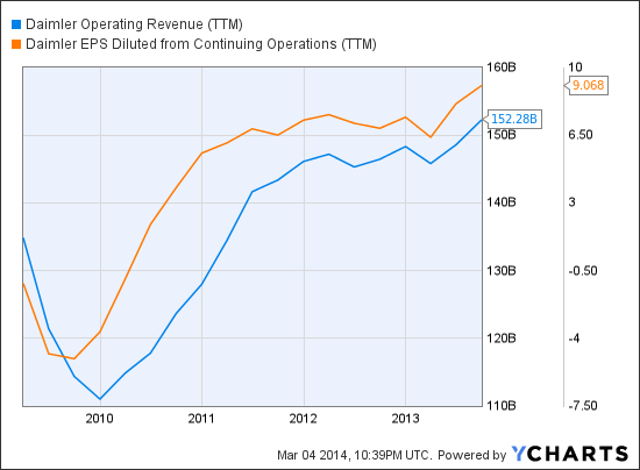 DDAIY Operating Revenue (TTM) data by YCharts
Despite a price jump of more than 50% over the past year, it's not hard to see why value managers like Oakmark International are still holding. In fact, Oakmark International added a small bit to its position in the fourth quarter.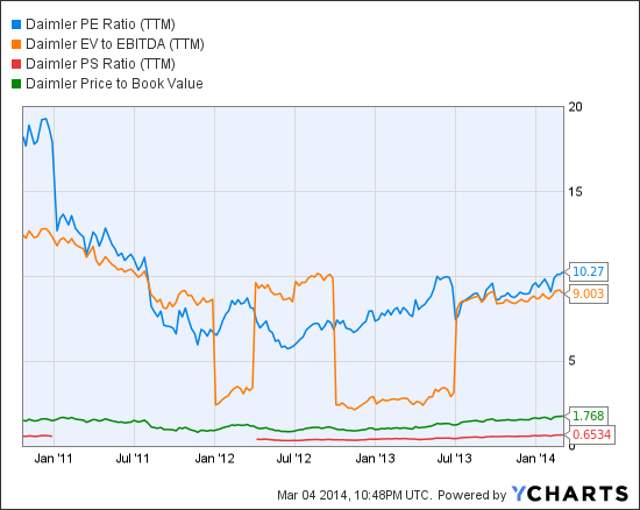 DDAIY PE Ratio (TTM) data by YCharts
Daimler is also a backdoor way to get exposure to emerging markets without having to make a direct investment. Within the Mercedes Benz car division last year, unit sales in India rose 27% and Brazil was up 34%. China reported 15% unit growth for the car division, which is pretty remarkable when you consider all the hand wringing over China's slowing growth prospects.
Oakmark International has owned shares in German insurance and asset management behemoth Allianz SE (OTCPK:AZSEY) since 2007. Last quarter it boosted its position by about 10%. At more than 3.5% of fund assets Allianz is Oakmark's third largest investment, behind Credit Suisse (NYSE:CS) and Intesa Sanpaolo (OTCPK:ISNPY).
Again, a strong price rise over the past year - Allianz stock is up more than 25% - hasn't pushed valuation anywhere near fair or overvalued: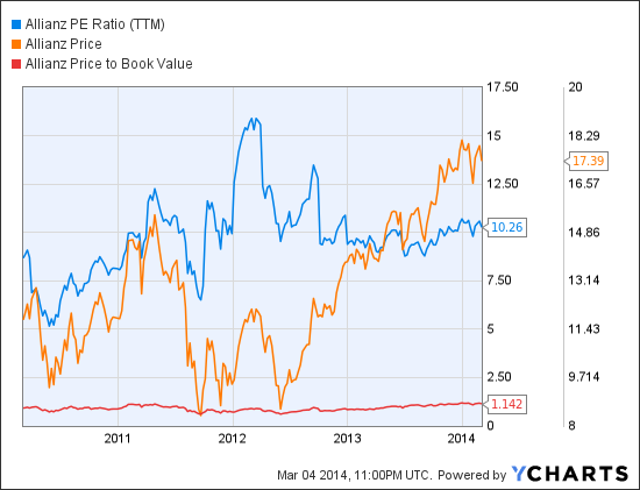 AZSEY PE Ratio (TTM) data by YCharts
Disclosure: None.